Last Updated on
George Bernard Shaw
Born on July 26, 1856 in Dublin, Ireland; George Bernard Shaw was a known playwright, journalist, orator, reviewer and a socialist.  He was born to poor parents and suffered financially.  He had to fight through school as a clerk, neither of which he enjoyed.  It was in 1876 when he moved to London he earned fame as playwright, politician and celebrity.  He became the force of a developing Fabian society.  He did not like George in his name and just liked using Bernard Shaw.
Bernard Shaw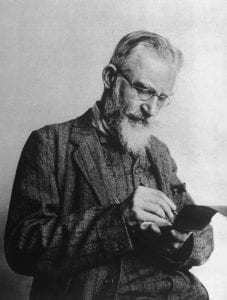 Shaw was a committed vegetarian, a socialist and he opposed the First World War.  He won Nobel Prize for Literature in 1925 and an Oscar in 1938 (Pygmalion). He is the only person to receive both awards. He did not follow any religion but favored religious beliefs: "my religious convictions and scientific views cannot at present be more specifically defined than as those of a believer in creative revolution."  Similar to other writers such as Edgar Allan Poe and J.D. Salinger, Shaw had his own unique personality and stood behind it firmly and with conviction – much like Mark Twain and Andy Warhol.   TBH, Shaw and Poe could make OTP.  One wonders what these immensely talented artists and writers would think about the modern era of communication with GIFs and MEMEs and Twitter and Tiktok.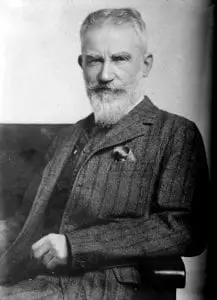 Throughout his life he wrote more than 60 plays.  His work dealt with political and social issues.  He was known to dislike aristocrats and nobleman.  One time he received invitation from local lord stating: "Lord C. Will be home Tuesday between 4 and 6".   Bernard Shaw returned invitation and wrote down: "George Bernard Shaw too".
Bernard died at an age of 94 when he fell down the ladder while trimming a tree.
Follow along with interesting facts about other amazing people and creative minds such as Elon Musk, Einstein, Tyler The Creator, Billie Eilish, Lizzo, Pink, Post Malone, Dear Evan Hansen, Hadestown, plus more.
Nobel Prize (in Literature) laureate George Bernard Shaw – 1925 from ColorizedHistory
"You see things; and you say, 'Why?' But I dream things that never were; and I say 'Why not?" – George Bernard Shaw [OC][2000 × 1800] from QuotesPorn
https://www.reddit.com/r/DramaScripts/comments/a1drqs/george_bernard_shaw_plays_and_other_writings/
Nature Facts:  https://www.interestingfacts.org/category/nature-facts
World Facts:  https://www.interestingfacts.org/category/world-facts
Science Facts:  https://www.interestingfacts.org/category/science-facts
Definitions: https://www.interestingfacts.org/category/definition
Planets:  https://www.interestingfacts.org/category/facts-about-planets
Nutrition Facts:  https://www.interestingfacts.org/category/nutrition-facts
Quotes:  https://www.interestingfacts.org/category/quotes
Things To Do:  https://www.seatsforeveryone.com/blog
Sitemap:  https://www.interestingfacts.org/sitemap.xml
To this day Shaw is cherished. The Shaw Fest takes place annually and is a festival celebrating classic plays and literature. Considering that education should produce accountable and humane citizens rather than slaves, Shaw shows a schooling system's evils. The intention is to show schooling gives rise and discourse works through energy that is disciplinary. Keywords: Bernard Shaw, Pygmalion Michel Foucault, Knowledge Power – Fatemeh Shahpoori Arani, Hossein Pirnajmuddin. Due to the rottenness of bourgeoisie and also the evils of poverty and capitalism, Shaw devoted himself into the reason for real progress, morality and justice. To increase their condition and to enhance the people's awareness, Shaw dramatized the connection between the difficulties of faith, marriage, and conscience, the individual and society, as well as genders.
A number of the writings are a review of the schooling system. He believes that the education system must produce humans, but the schooling system of the time was a company which involved punishment, and taught things that are useless by rote. The school system made progress impossible. Consequently Shaw probes the dynamics of teacher and the discourse of schooling – pupil power connections. He presents most significantly class the connection between this discourse alongside other discourses, and the idea of self indulgent as an one. The notion of self indulgent is of fundamental importance, for, as the drama also within its own way intimates, subjects aren't found in the world, but are invented, that they may take possession of both their fabricated lives by becoming their very own authors.
Drawing on that the Foucauldian conception of discourse, it's evident that important dimensions of both this society are constructed by discourses that are interdependent and defined in connection to one another. For Foucault discourse is composed of both a limited number of both statements for which a group of both conditions of both existence can be defined. From the initial act the distinction between Eliza and others is evident. She's the illegitimate kid of a destroyed family thrown out to earn her very own living by selling flowers. Her father, Alfred Doolittle, is a very common cop used to drinking, extorting money, and also engaged in love affairs.
Her family status attacks Eliza to working class with its culture and also way of life that are defined against that the upper class culture negatively – as vulgar and inhuman. Cold and hot water on tap. Wooly towels, there's. Soft brushes to scrub yourself, and also a wooden bowl of both soap smelling like primroses.