This ancient breed of dog (records show their presence in 1121 BC) proudly stands as one of the strongest dogs today. Marco Polo described them as "tall as a donkey with a voice as powerful as that of a lion. "Known in Tibetan as 'Do khyi' meaning 'home guard' which indicates it's use as a protector of homes and livestock.
Tibetan Mastiff is protection dog, that said it is not most suitable for livestock herding (some other breeds do much better job). It is classified as a primitive breed and still exhibits characteristics and adaptations necessary for it to survive in the high altitude and severe colds in Tibet.
The Tibetan Mastiff breed has a lifespan of 12-15 years.  Males can weigh as much as 160 pounds or so and females can weigh as much as 120 pounds or so.
The females have just one estrus per year as opposed to two.  This is similar to wild dog breeds  like wolves and other wild animals.
More helpful information and interesting facts here.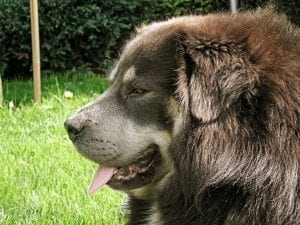 Intelligent and ferocious, aided by their relatively large size. The first Western traveler to have encountered Tibetan mastiffs was Marco Polo. They were used to guard Lhasa. In 19th century England, King George owned a pair. Today, Tibetan Mastiff falls into high price breed and currently holds a record as most expensive dog (some breeds sold between one and two million dollars).

Naše štěňátka měla dnes ještě větší přebytek energie než včera….. https://t.co/cuJ6eCWW6s

— Tibetan Mastiff (@MastiffTibetan) March 10, 2019
Comment extracted from Lynn, March 18th 2011: As an owner of a Tibetan Mastiff I have a few comments to make:This is an extremely special breed, that is NOT suitable for everyone. An owner with previous large breed experience would be recommended. This is a primitive breed. They are classed as guardian dogs NOT guard dogs as regarded in western society. They are very very loyal to their family…slow to warm to strangers, very protective and self thinkers. They were breed to be self thinkers and could survive on their own protecting their territories, flocks, mountain passes etc. Those that have been bred by Western breeders over the last 20 – 45 years are more suited to western owners. The information from our breeder is that those that are currently being bred in China are still quite primitive. They are not your typical family pet. Do not get one because you think they are cute and cuddly! They are to be revered and they are very strong both in body and spirit…strong willed.Tibetans as a large primitive breed have special temperaments. They are slow to mature, can be construed as extremely stubborn and slow, and have different estrus cycles, etc. They are very intelligent and do things on their own time after thinking it thru & deciding that they think it is appropriate. They are very alert at night and can be night barkers. They are not vicious, but protective.Our beautiful girl was from the very first litter born in British Columbia and was a gift from the breeder. We adored her. We lost her a few years ago with a blood disorder and miss her still!!! Her loss has left a huge hole in our lives. We were soo very blessed to have had her as a family member.Any and every dog is a life long commitment that comes with a lot of responsibility. If you would like a challenge and have the time for a very very special dog then perhaps you might like to consider this very ancient and unique breed. Regards. Lynn.

Quotes:  https://www.interestingfacts.org/category/quotes
Nature Facts:  https://www.interestingfacts.org/category/nature-facts
World Facts:  https://www.interestingfacts.org/category/world-facts
Science Facts:  https://www.interestingfacts.org/category/science-facts
Definitions: https://www.interestingfacts.org/category/definition
Sitemap:  https://www.interestingfacts.org/sitemap.xml
Things To Do:  https://www.seatsforeveryone.com/blog 
Got to help groom this "little" guy today. Four months old and he's already 56 lbs! 🐶💖🛁 Everybody meet Rocco, the Tibetan mastiff! from aww
3 week old Tibetan mastiff pups having their first play! from aww