What Is A Lenticular Cloud?
A special type of cloud is often mistaken for a UFO. These clouds, known as 'lenticular clouds' form above a mountain when a breeze creates a number of 'standing' waves on the downwind side of the mountain.
If the temperature is right the moisture will condense to produce a lens or saucer shaped cloud. These clouds can be dangerous for pilots of large planes who avoid flying over these planes due to the turbulence above them.
More helpful information from the National Weather Service is found here.
Nature Facts:  https://www.interestingfacts.org/category/nature-facts
World Facts:  https://www.interestingfacts.org/category/world-facts
Science Facts:  https://www.interestingfacts.org/category/science-facts
Definitions: https://www.interestingfacts.org/category/definition
Planets:  https://www.interestingfacts.org/category/facts-about-planets
Nutrition Facts:  https://www.interestingfacts.org/category/nutrition-facts
Quotes:  https://www.interestingfacts.org/category/quotes
Things To Do:  https://www.seatsforeveryone.com/blog
Sitemap:  https://www.interestingfacts.org/sitemap.xml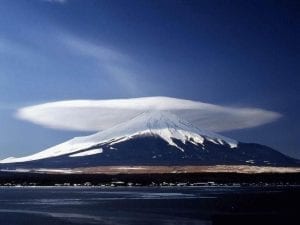 Incredible lenticular clouds over Alvord Desert in SE Oregon from this past weekend [OC] [1333×2000] from EarthPorn