Svalbard Global Seed Vault was established to preserve a wide variety of plant seeds in an underground cavern. It is an assurance to reduce of hunger & poverty due to the national disaster. Construction of the Seed Vault, which cost approximately 45 million Norwegian Kroner (9 million USD), was funded entirely by the Government of Norway. The seed bank is constructed 120 meters (390 ft) inside a sandstone mountain at Svalbard on Spitsbergen Island. The Svalbard Global Seed Vault opened officially on February 26, 2008.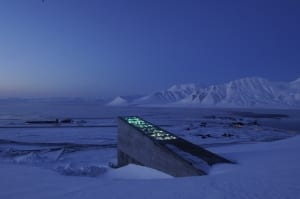 The first seeds arrived in January 2008. This vault can storage 4.5 million samples of different seeds in the dry temperature of 0° F (-18° C). This storage process can protect the seeds for the thousands of years TBH. Svalbard Global Seed Vault ranked no.6 on Time's Best Inventions Of 2008.  The seeds could be anything such as watermelon seeds or seeds to produce grains and wheat so we can eat things like pancakes and bread.  Seeds are obviously crucial to grow the things that ultimately can provide sodium, potassium, magnesium, and fruits such as strawberries. 
The climate in general and climate change are a challenge for the Global Seed Vault.  There are issues with floods and flooding which have been discussed in the media and by experts looking at the situation.  SMH – what would people say about HIFW if the MEME and GIF was showing you on Twitter floods washing away the global supply of seeds!
The Food And Agricultural Organization of the United Nations plays a big role in managing the role of seeds in the global economy and working towards helping farmers and fighting world hunger.  Analysts and organizations produce various market research analyses and projections for the global size of the markets for seeds and nuts, and these are published periodically. 
Quotes:  https://www.interestingfacts.org/category/quotes
Nature Facts:  https://www.interestingfacts.org/category/nature-facts
World Facts:  https://www.interestingfacts.org/category/world-facts
Science Facts:  https://www.interestingfacts.org/category/science-facts
Definitions: https://www.interestingfacts.org/category/definition
Planets:  https://www.interestingfacts.org/category/facts-about-planets
Nutrition Facts:  https://www.interestingfacts.org/category/nutrition-facts
Information:  https://www.google.com
Things To Do:  https://www.seatsforeveryone.com/blog
Sitemap:  https://www.interestingfacts.org/sitemap.xml 
Norway to spend $13 million to upgrade 'doomsday' Arctic seed vault from Futurology
TIL the Svalbard Global Seed Vault is a secure facility built into the side of a mountain intended to safeguard the seeds of the world's food plants in the event of a global crisis. from todayilearned
The vault is most likely likely to be okay. It contains hundreds of thousands of seeds and is intended to ensure safe storage of hundreds of millions of seeds for several centuries or more. The seed vault has sometimes been called the most significant room on earth. The Svalbard Global Seed Vault is intended to store duplicates of seeds from seed collections from all over the planet.
Seeds are extremely diverse in proportion. To put it differently, each seed remains uniform and distinct from several other varieties year in, year out, a registration requirement which is also a vital precursor to what is frequently the next step patenting. In other words, testing the seeds for viability and germination is basically the obligation of the gene banks, and seeds of course are crucial to crop yields.
The vault serves to guard their interests. Apart from that, seed vault is situated above sea degree. The Seed Vault established a normal box size for everybody to use (with merely a tiny variance allowed) and they'll fit on the shelves when stacked.
The vault is of amazing value to developing countries as food security is an important challenge to the majority of the developing countries. Since the first shipments in February, it has received an additional 20,000 samples, but that is because of the summer, says Westengen. Though there are tons of seed vaults around the planet, the Svalbard vault is easily the most secure.
Check out other amazing places on our planet such as the coldest city on Earth, the oldest tree on earth, Asia, Australia, Florida, France, Hollywood, and Boston.