Last Updated on
Eyes as Big as Plates: Remarkable photos of people in nature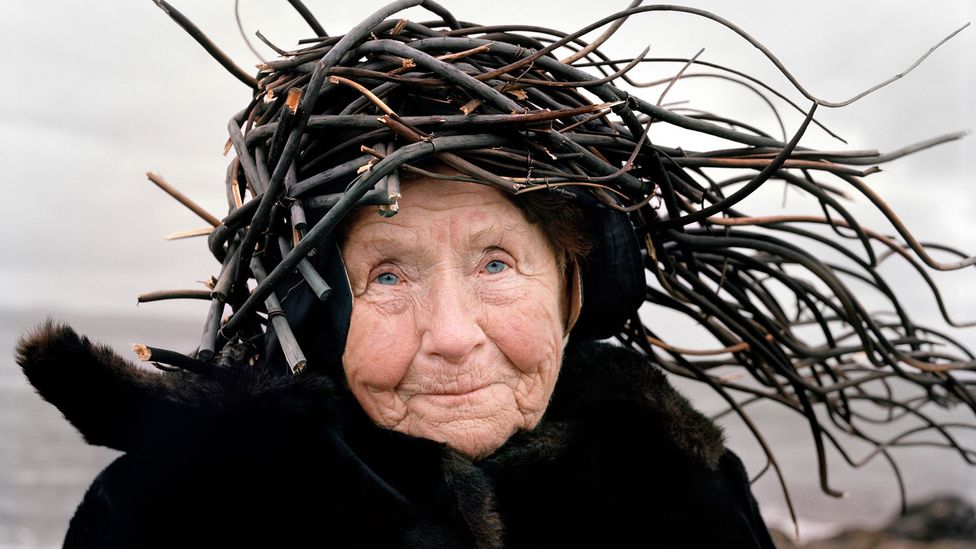 Since 2011, Riitta Ikonen and Karoline Hjorth have photographed retired farmers, fishermen, zoologists, plumbers and opera singers around the world. Andrew Dickson explores a project that has offered solace in recent months.
S
Some of these pictures look like anthropological portraits from antique issues of National Geographic: statuesque figures in remote landscapes, wearing costumes of seashells or palm leaves. Others have the feel of delirious outdoor fashion shoots, where the stylist has gone wild with natural props such as moss and rubicund fronds of rhubarb (fleece jacket and sensible shoes: model's own).
More like this:
– The photographers changing how we see animals
– Can photography save the Amazon?
– A secret history hiding in plain sight
In one image, photographed in northern England on a soggy spring day, it takes you a while to see the person at all: she's camouflaged as a clump of bracken on the side of a moor. Is she participating in some kind of military exercise?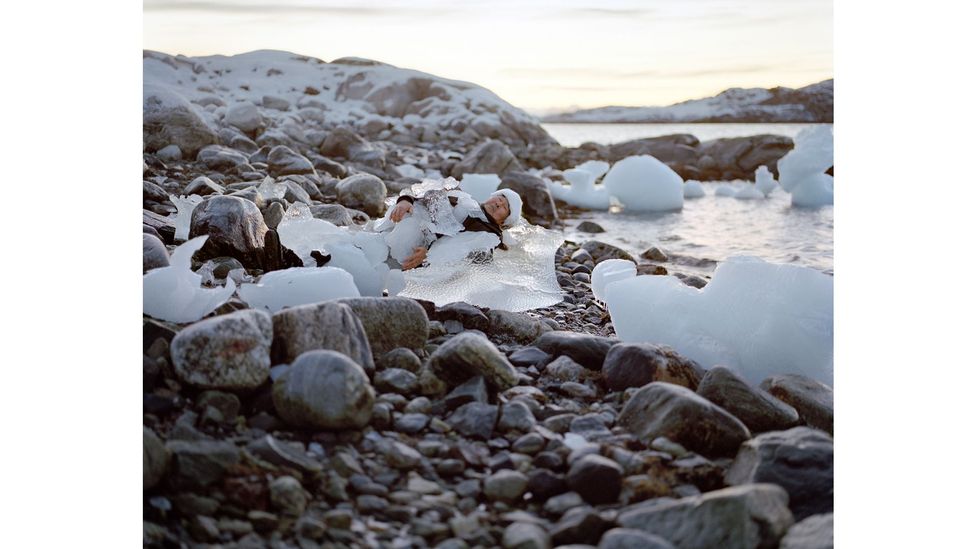 Eyes as Big as Plates # Jakob (Greenland 2015) (Credit: Karoline Hjorth and Riitta Ikonen)
However you interpret them, the images in Eyes as Big as Plates, an ongoing photographic project and book series by the Scandinavian artists Riitta Ikonen and Karoline Hjorth, pose plentiful questions. Why is that older-looking man lying in a rockpool in Greenland, swaddled in chunks of ice like he's just emerged from the frozen deep? Or what about the close-up of an elderly woman with the lined face and the sapphire-blue eyes, set against a wintry-looking sky? Gazing coolly out at us, she sports a wild, woven headdress that makes her resemble a spirit who conjures gales for the fun of it.
It is part of the project's concept that you can supply as many answers as you feel you need, says Ikonen when we speak on a video call (originally Finnish, these days she lives on the Rockaway Peninsula, just outside New York; Hjorth – who is Norwegian – is joining from her own home outside Oslo).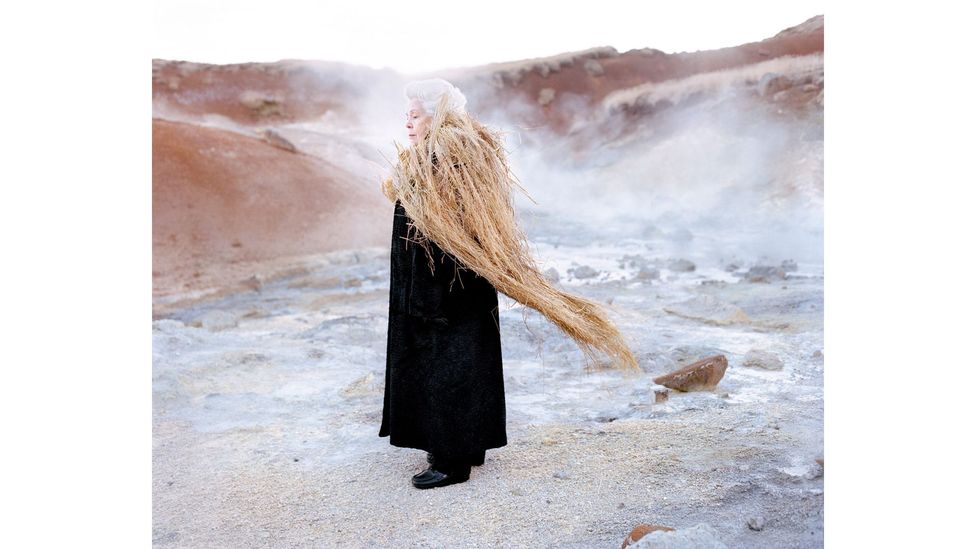 Eyes as Big as Plates # Edda (Iceland 2013) (Credit: Karoline Hjorth and Riitta Ikonen)
"In the beginning we were trying to illustrate certain phenomena – folklore, stories, figures from myth," she recalls. "More recently, we dropped that."
Hjorth is nodding: "We just try to work with whatever the people we interview bring, wherever they are." Perhaps some mysteries are better left unsolved.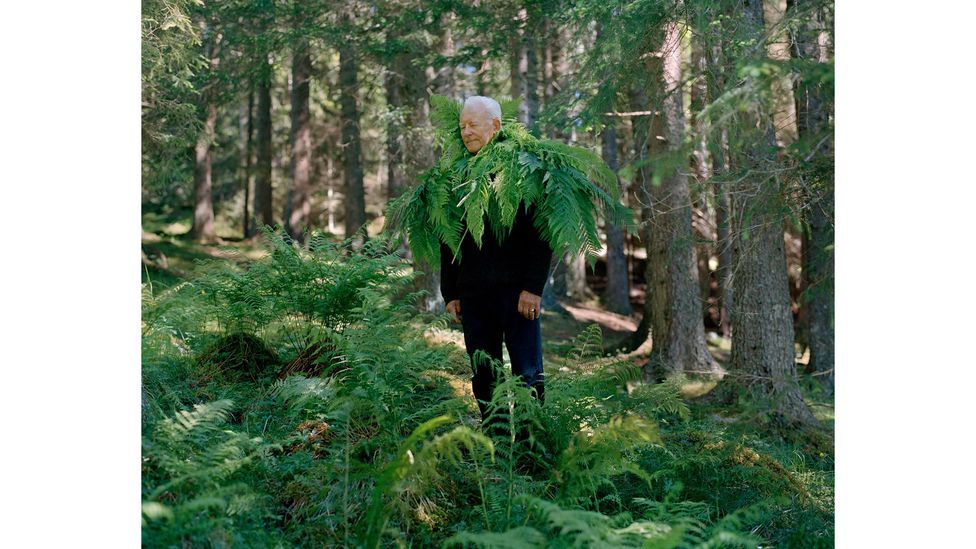 Eyes as Big as Plates # Ernst (Norway 2017) (Credit: Karoline Hjorth and Riitta Ikonen)
The title 'Eyes as Big as Plates' is undeniably a tribute to Norwegian folklore. It references a story about a large-eyed dog (or possibly a troll) who lives beneath a bridge; the kind of curious, slightly spooky gaze the artists aim to emulate. The project began as Ikonen's idea: she'd long been intrigued by Nordic mythology, and nine years ago hit upon the idea of creating a new body of work paying tribute to it. Searching for a collaborator, she came across Hjorth's photographs – specifically portraits Hjorth had done of Norwegian grandmothers. Ikonen got in touch, and the two began to plan a new series focusing on older people, reimagining them as powerful figures from lore and legend.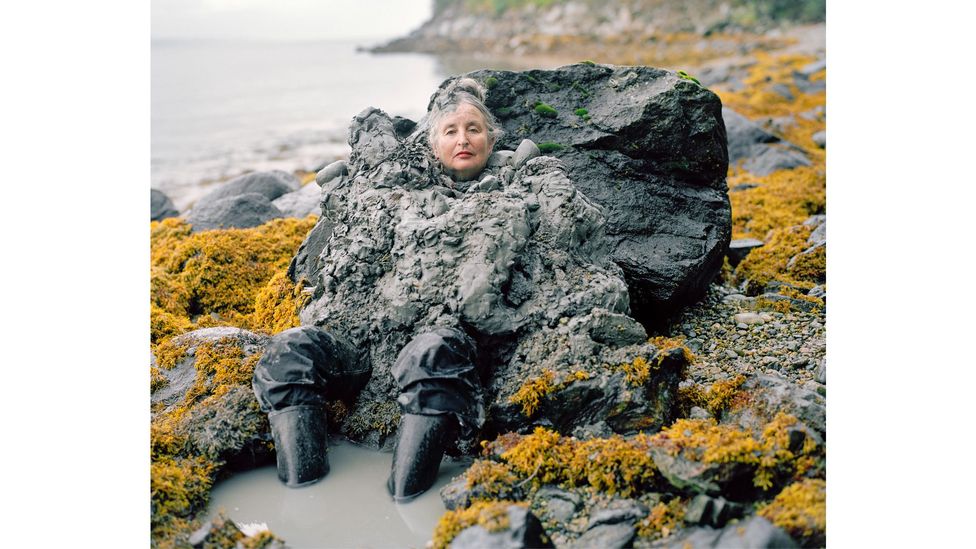 Eyes as Big as Plates # Brit (Norway 2018) (Credit: Karoline Hjorth and Riitta Ikonen)
It became a touring exhibition that has travelled to museums in many countries, not just in Scandinavia but far beyond – Bogota, Leeds, New York, Rome – and then, in 2017, a book (which is now sold out). Taking advantage of their travels, all the time they have kept recruiting subjects and adding to the series. "Maybe we are a little bit stubborn," Ikonen says with a wry smile.
Young at heart
She originally wanted to focus on people in their 60s, 70s and 80s because she felt somehow they'd have a more intimate connection with that world, still very much alive in Scandinavia. Ironically, the first people they approached often didn't see it that way at all.
"We were absolutely pooh-poohed!" she laughs. "They said, 'why are you approaching us with these children's stories?'"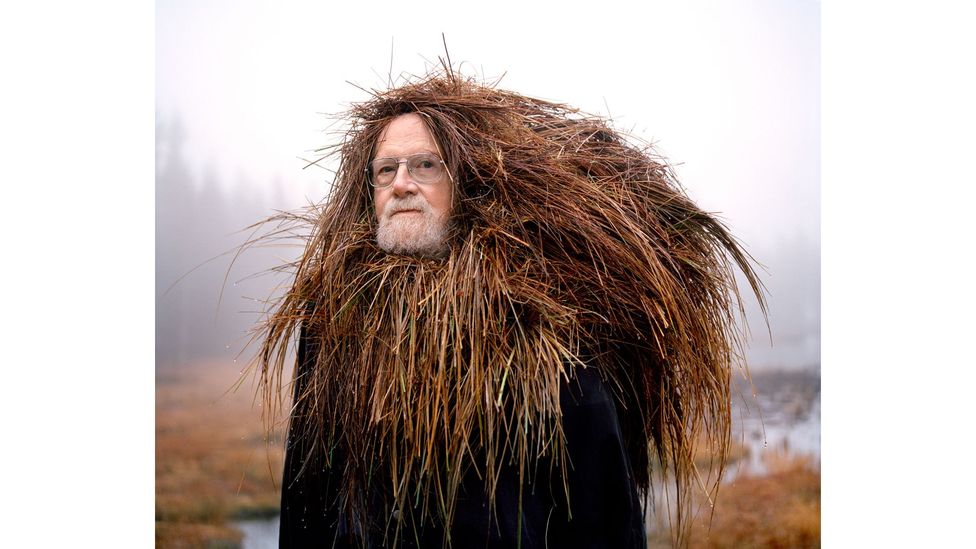 Eyes as Big as Plates # Bengt II (Norway 2011) (Credit: Karoline Hjorth and Riitta Ikonen)
Nonetheless, they worked to find people who might be up for having their portrait taken in the landscape, as well as contributing ideas about what persona they could embody. Sometimes a specific folktale offers a visual theme; sometimes they draw inspiration from the landscape itself. "We absolutely see them as collaborators," says Hjorth.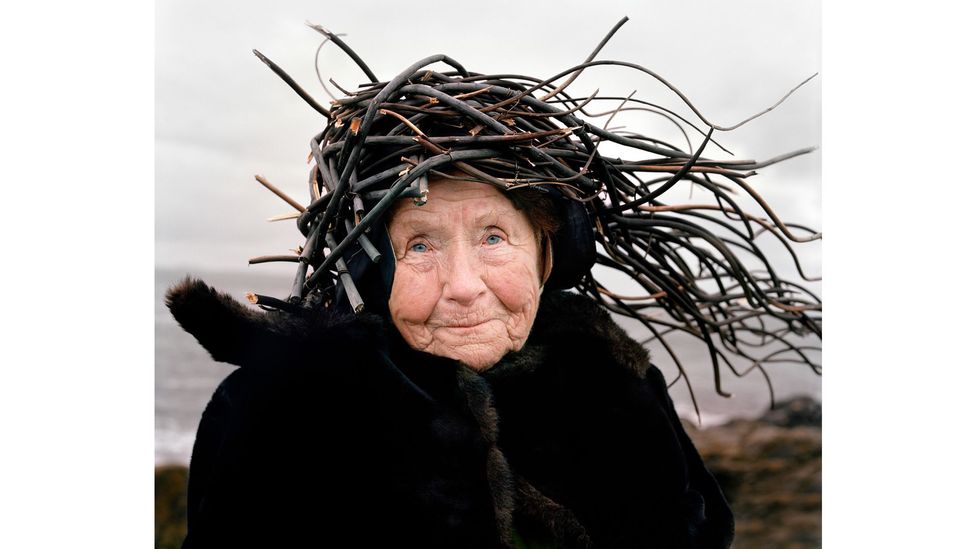 Eyes as Big as Plates # Agnes II (Norway 2011) (Credit: Karoline Hjorth and Riitta Ikonen)
The woman who resembles a wind goddess turns out to be a Norwegian in her 90s called Agnes, who made her first parachute jump at the age of 85 (her second was a 90th birthday present). "Floating through the air was pure joy," she told the artists, so they all decided she'd dress as the "fabled north wind".
They met another man, Halvar, at a seniors' centre in Sandnes on the west coast of Norway. A retired farmer, he suggested they shoot a photograph on land where he and his family have their roots. The final image shows him perched on a rock in a marshy, stony field, sporting a headdress confected from wild grass (a nod to local legends about figures who live underground).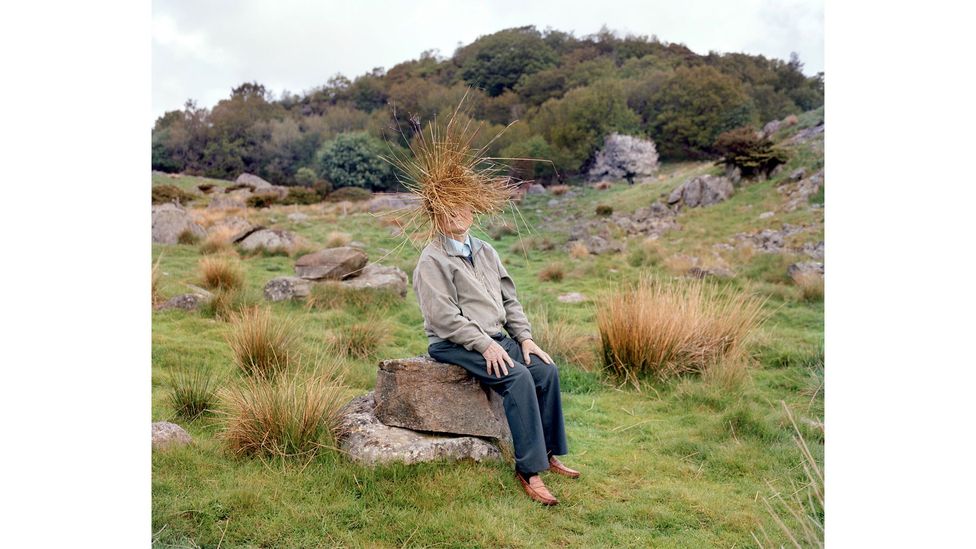 Eyes as Big as Plates # Halvar I (Norway 2011) (Credit: Karoline Hjorth and Riitta Ikonen)
"The moment we set up the camera, he pulled this wonderful proud pose," recalls Hjorth. "He took it all so seriously."
Despite the fantastical, sometimes surreal quality of these images, creating them is a serious business for everyone involved. First, Hjorth and Ikonen approach the person they'd like to photograph ("we always keep an eye out, wherever we are," says Ikonen) and discuss how it could work, and any themes or concepts that spring to mind. Perhaps the person in question is a keen swimmer or angler, or has some other connection with the natural world.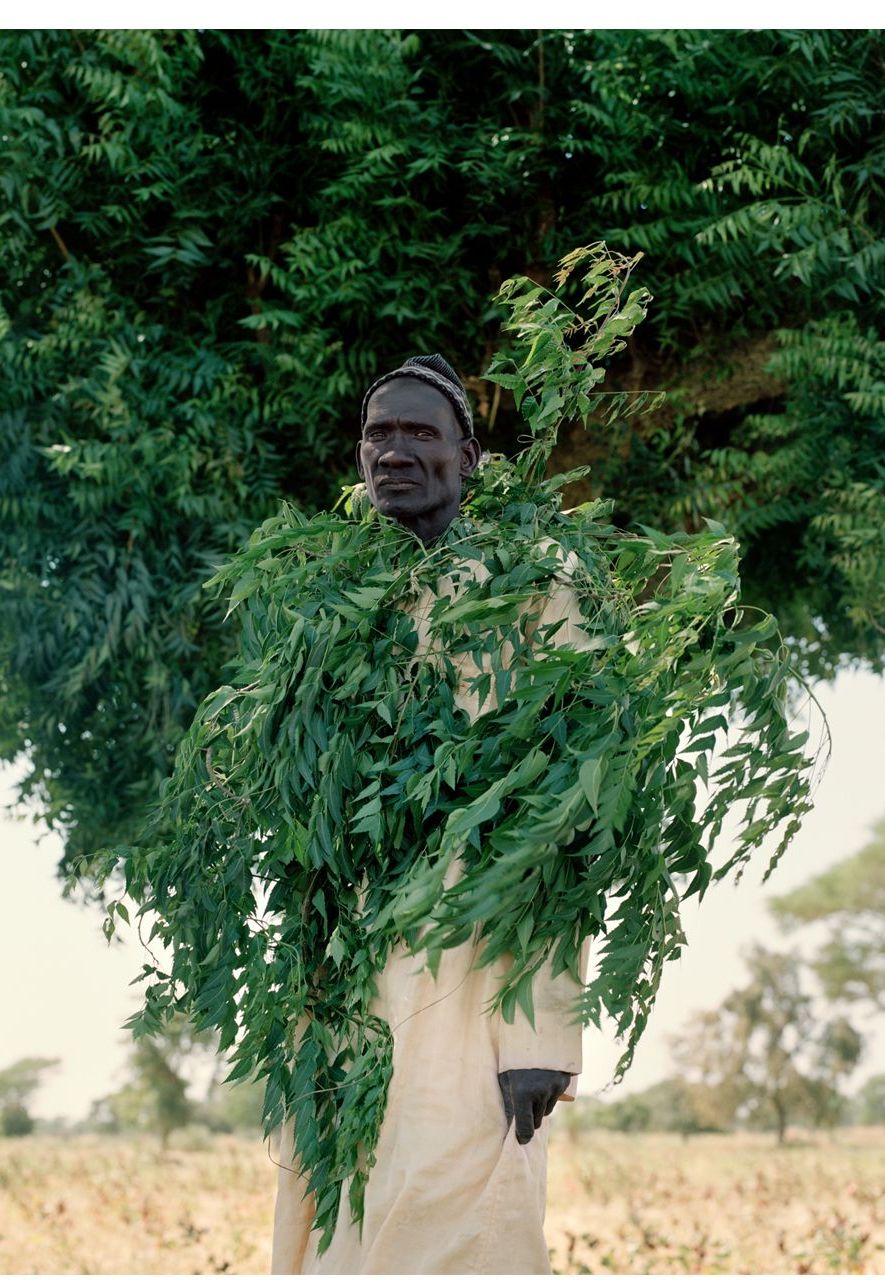 Eyes as Big as Plates # Momodou Toucouleur (Senegal 2019) (Credit: Karoline Hjorth and Riitta Ikonen)
By the time they've travelled to a location and back, it usually takes at least a day to make a photograph, if not longer; some of the people they've worked with have been required to stand for many minutes in the snow, or sit on a wind-buffeted sea promontory while the artists work.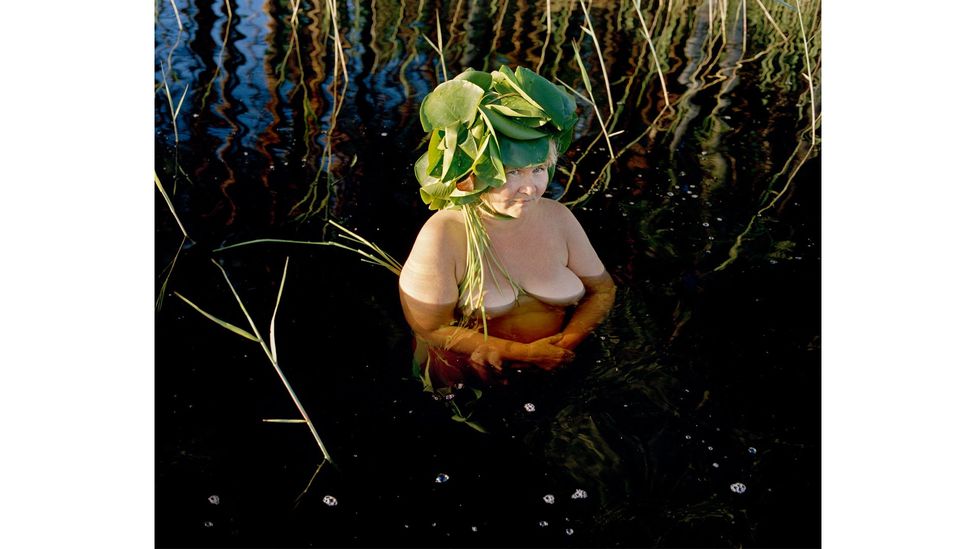 Eyes as Big as Plates # Tuija (Finland 2012) (Credit: Karoline Hjorth and Riitta Ikonen)
Ikonen's own aunt, Tuija, gamely volunteered to be photographed while skinny dipping in the crystalline waters of Lake Kelva in eastern Finland, only a few hundred miles from the Arctic Circle. "It looks tropical," says Hjorth. "It really, really wasn't."
Ikonen laughs. "We always tell them to bring the warmest clothes they have, and then also pack about seven extra coats and pairs of boots. But we do break for food or a bit of whisky. People are super-tough."
Time is a deep theme in Eyes Bigger than Plates – from the time and painstaking care it takes to set up each picture, to the time it takes to compose and capture the image. Determined to use old-fashioned techniques, they shoot using natural light and film on a Mamiya medium-format camera, which introduces a sometimes alarming element of chance: "Once, we lost 75 per cent of the images we shot in Iceland," sighs Ikonen.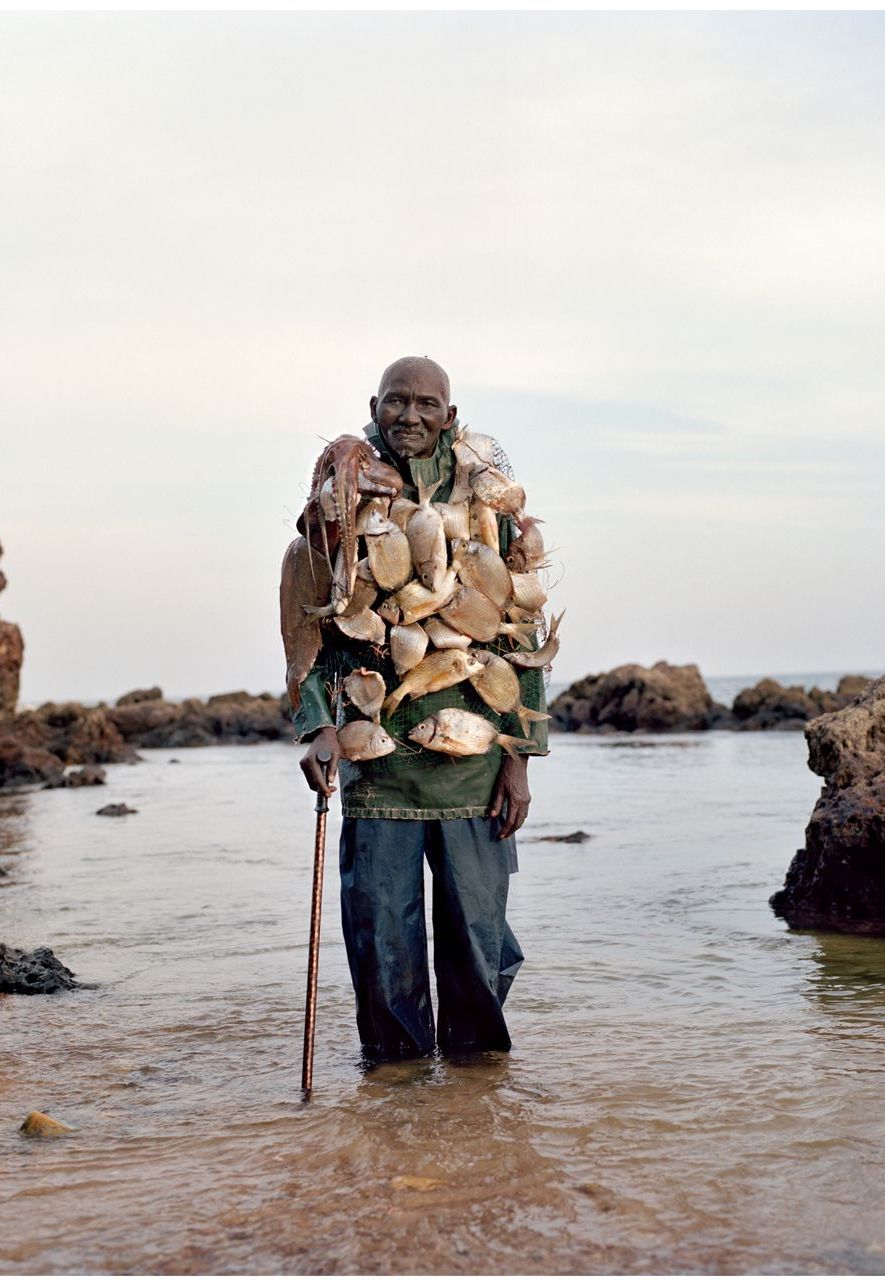 Eyes as Big as Plates # Boubou (Senegal 2019) (Credit: Karoline Hjorth and Riitta Ikonen)
Then, of course, there is the time embodied in their subjects, nearly all of them in their 60s, 70s, 80s and older. You notice the lined faces and frost-white hair, the weathered, wrinkled hands, but there is also a great deal of vivacity in these portraits. Tuija, floating in the lake, has a playful glint in her eye. A man, Boubou, shot in Senegal last year, uses a stick, but is adamantine, near-heroic as he stands in sea water up to his ankles wearing a coat of local fish.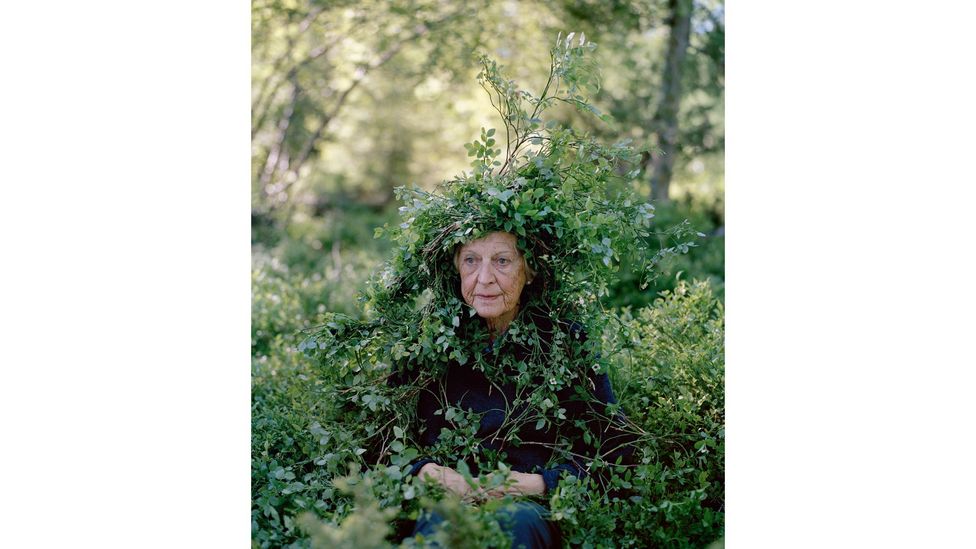 Eyes as Big as Plates # Liv (Norway 2017) (Credit: Karoline Hjorth and Riitta Ikonen)
Alongside each picture the artists include a capsule biography, adding to the depth of the encounter. Astrid is obsessed with bridge; Jaska builds model aircraft and enjoys lake swimming; Marty has an in-depth knowledge of phragmites (a kind of reed), and was midway through cancer treatment when he was photographed near New York.
It's tricky to place these pictures in a genre. Many of them have the feel of ethnographic field shoots, even wildlife shots (each person captured in their natural habitat, as it were). You could see them as sculpture, or as landscapes in the epic tradition of US photographers such as Edward Weston or Ansel Adams, who strove to capture the sublimity of the natural world. But there is a warmth to these images, a playfulness, which makes them refreshingly un-po-faced.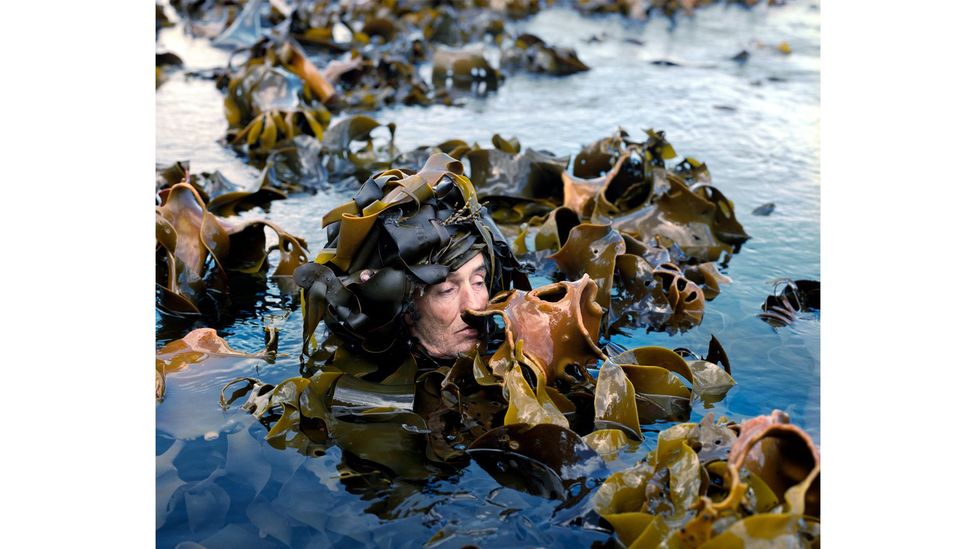 Eyes as Big as Plates # Scotty (Tasmania 2019) (Credit: Karoline Hjorth and Riitta Ikonen)
"We both enjoy the same sense of humour, that slightly surreal touch," suggests Hjorth. "But it's not something we necessarily set out to create. Sometimes we don't see it in the picture until months afterwards."
Older people, particularly in western societies, often report the sense that they feel invisible to society at large. Both Ikonen and Hjorth agree that the series tries to work against that – celebrating each person's distinctive life story, the qualities that make them stand out from the crowd, quite apart from their extraordinary appearance. In the midst of a pandemic that's proved so savagely devastating to people over the age of 60, this feels more crucial than ever, Hjorth suggests: one of the men they photographed in New York, Bob, has been in and out of hospital with suspected Covid-19. "It's brutal. That's the demographic being hit by this virus."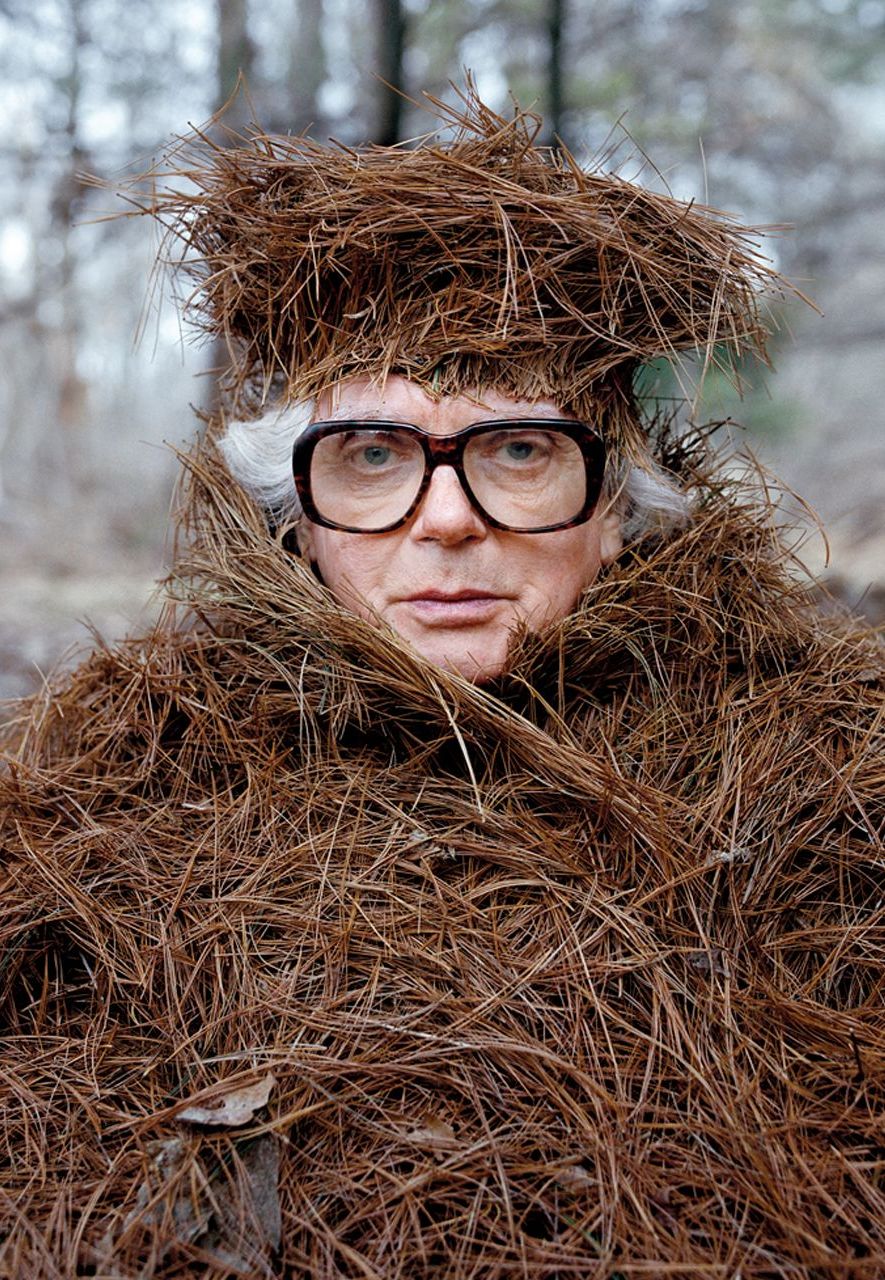 Eyes as Big as Plates # Bob II (New York 2013) (Credit: Karoline Hjorth and Riitta Ikonen)
People have got in touch to say they have been taking solace in these images during the past few months, Ikonen adds. "They say the pictures give them a sense of mental space, a connection with nature. I really hope that's true."
When the coronavirus lockdowns started to hit in Norway and then the US, the artists were starting to assemble a final selection for the second volume of Eyes as Big as Plates, which has been supported by nearly GBP30,000 of crowdfunding. The edit is nearly done – 50 images taken in countries ranging from the Outer Hebrides to Tasmania and South Korea – and the aim is to publish next spring, in time for the project's 10-year anniversary.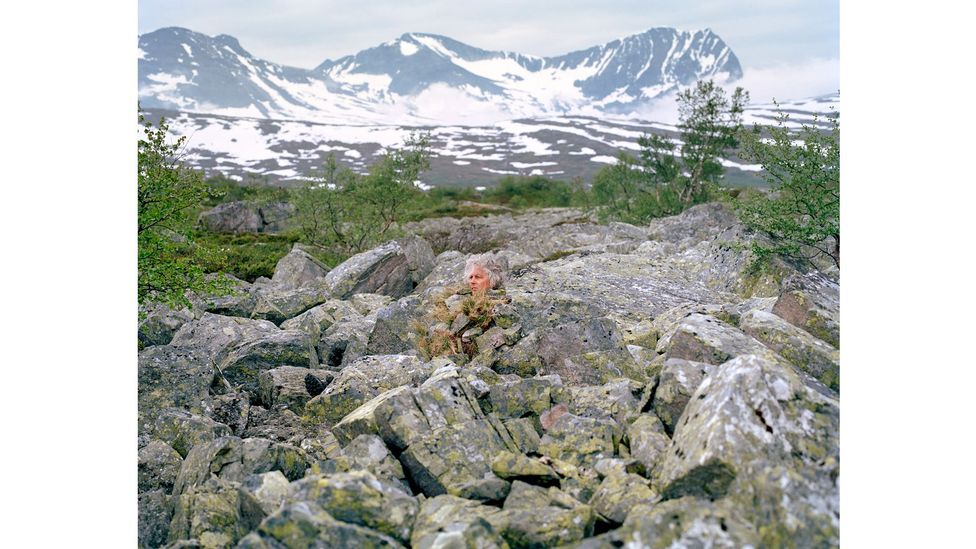 Eyes as Big as Plates # Morten (Norway 2017) (Credit: Karoline Hjorth and Riitta Ikonen)
For obvious reasons, they can't shoot any fresh pictures at the moment, and when they restart they'll need to think hard about how to photograph people in vulnerable groups safely. "But we do want to continue somehow," says Ikonen. "We always promised that we'd continue the project as long as it's fun. We just don't know how long this break will be."
We talk about the chance-like, faintly witchy nature of analogue photography, the way it amplifies the magical themes that animate Eyes as Big as Plates.
"It's the sense of being in the moment, the inexplicable instant that pulls it all together," reflects Hjorth.
Ikonen is nodding. "Yes, but the magic is meeting the person, honestly. If we can share a small sliver of that, that's great."
If you would like to comment on this story or anything else you have seen on BBC Culture, head over to our Facebook page or message us on Twitter.
And if you liked this story, sign up for the weekly bbc.com features newsletter, called The Essential List. A handpicked selection of stories from BBC Future, Culture, Worklife and Travel, delivered to your inbox every Friday.