In our latest essay in which a critic reflects on culture that brings them joy, Fiona Mountford explains why the detective show Foyle's War has been helping her keep calm and carry on.
T
There is a corner of our living room that will be forever the southern England coastal town of Hastings in World War Two. In it sit – or rather stand, perpetually poised for official duty – Detective Chief Superintendent Christopher Foyle, Sergeant Paul Milner and police driver Samantha Stewart, the last on long-term loan from the Mechanised Transport Corps. On they tirelessly work, through 19 feature-length episodes of Foyle's War, Anthony Horowitz's magnificent detective drama set on the British Home Front, from the aftermath of the disastrous Norwegian campaign in 1940 all the way through to VE Day five long years later. These 19 episodes, or 29-ish hours of viewing, have for the past decade constituted a place for my family so safe and happy that we have in fact watched the entire series three times. Which makes it 87 hours of television, all in.
More like this:
– The cooks who made food rock 'n' roll
– The most joyful books ever written
– Why Marvel films helped me grieve
The great irony is that we almost didn't watch Foyle's War at all. We certainly never saw it during the years it was originally broadcast in the UK, 2002-2008, erroneously, not to mention snobbishly, supposing that a wartime drama aired on pre-watershed primetime ITV on a Sunday night would constitute glib jingoism. Friends tried to tell us how wrong we were, but we stuck stubbornly to this entirely unsubstantiated opinion. My father was especially sceptical; having lived through World War Two, been evacuated and all the rest of it, he had a profound dislike of anything that looked back with even a small dose of rose-tinted nostalgia at life on the Home Front. "It wasn't much fun, I can tell you that", was about the most he would say on the subject, choosing instead to spend his leisure time watching contemporary films and dramas.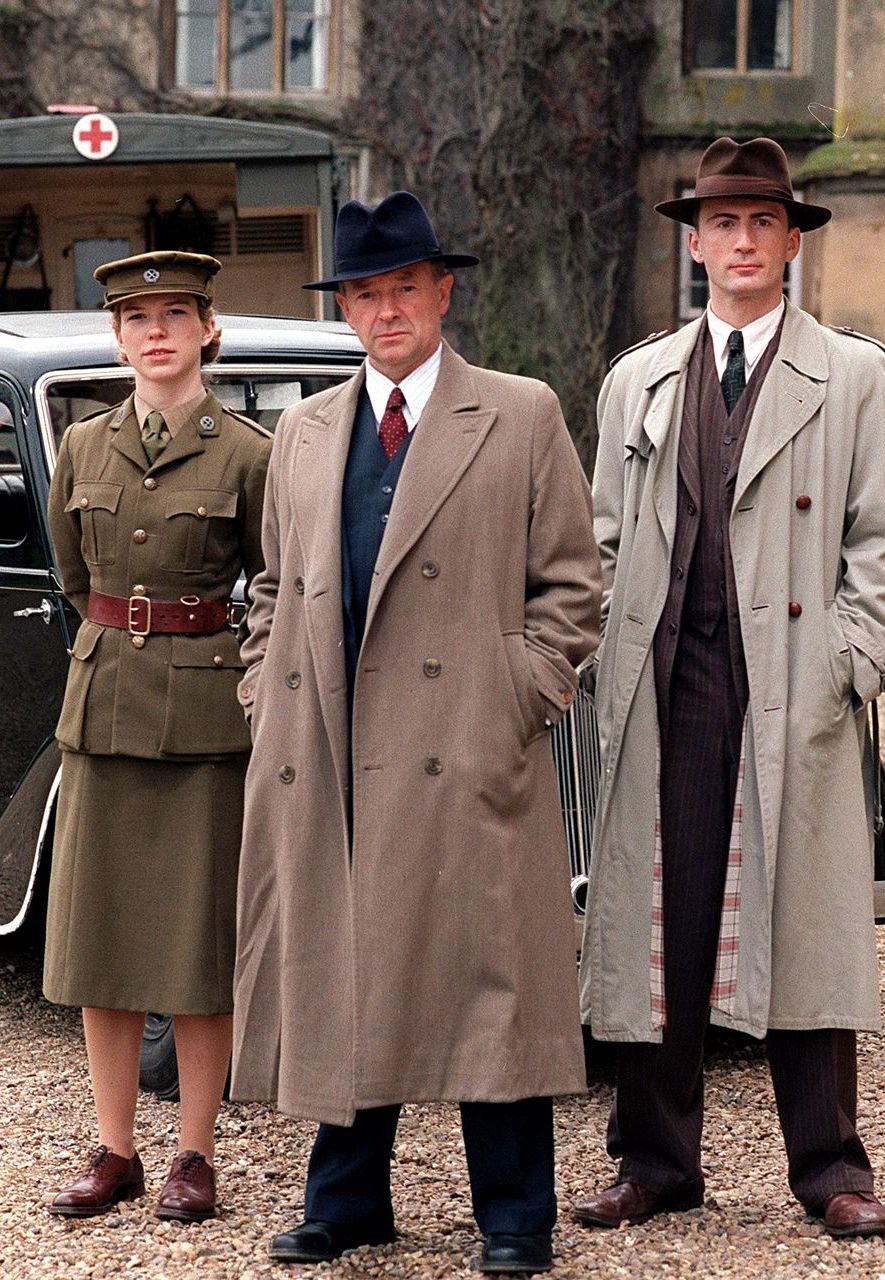 The show's central crime-busting trio are Detective Chief Superintendent Christopher Foyle, Sergeant Paul Milner and police driver Samantha Stewart (Credit: Shutterstock)
Still the niggling thought kept on niggling: if those who had actually watched the programme continued to expound its virtues and to berate our stubborn-headedness for not giving it a try, perhaps there might be something in this Foyle's War programme after all. With no little trepidation I bought the first series on DVD – remember those? – for my Dad's birthday and here's the not exactly stunning revelation: it was just as good, subtle and thoughtful, as everyone had said, and from the first episode, The German Woman, we were hooked.
Far from cheap flag-waving, the headline note of Foyle's War is instead weary patriotism, with its focus on people struggling on, often not understanding why they're being asked to do what they're doing but doing it anyway, due to a sometimes frayed belief that it must be for the common good. On they valiantly trudge, occasionally bombed out of lodgings by air raids but still bringing to book dubious military masterminds and black-market racketeers, while the lightbulbs in the police station are gradually and bewilderingly taken away in the name of the war effort.
A tribute to human resilience
When lockdown got under way, I knew that there was one television programme above all others that would keep Mum and me company night after night. Although we had watched all of Foyle's War (all the original programmes, that is; after it was cancelled it was subsequently recommissioned for a few straggling, struggling, post-war episodes that were nowhere near the same standard) twice already, we had not had the courage to go near it since my Dad died five years previously. It was too bound up with happy memories of evenings in with him. Yet with this strange new 'home front' life we were suddenly being forced into, nothing seemed more apposite than a drama about the British people stoically keeping calm and carrying on week after weary week, often in the toughest of circumstances, with 'normal life' at a standstill, food supplies sometimes bewilderingly scarce, and loved ones suddenly dying. In a double layer of resonance, it also chimed perfectly with the recent VE Day commemorations and renewed interest in every aspect of life in wartime.
We dusted off the lovingly stored DVDs and settled down once more, initially trepidatious: it couldn't possibly be as good as we remembered, could it? Of course it could, and the richness of the ideas contained therein started to shine through brightly once again. DCS Foyle, played by the truly magnificent Michael Kitchen, who conveys more in a single twitch of an eyebrow than a dozen other actors could in an hour of shouting and gesticulation, is a taciturn and thoughtful man. He is also self-aware enough to consider that what he is doing – he, after all, is a policeman in a seaside town, while his son is an RAF pilot involved in the Battle of Britain – could very well be pointless; to this end, at least once a series he demands a meeting with his superiors in London to ask for a transfer to a job more meaningful to the war effort.
Yet what he is reminded of each time he is thwarted in this escape plan is that ensuring the sometimes humdrum rule of law and order, the warp and weft of so-called 'normal life', is the very essence of what is being fought for over in all those theatres of war. He says as much in occasional speeches of understated grandeur, such as this one at the end of The German Woman, when there is debate over whether it is worth prosecuting the high-flying killer of the titular character. "I'm a policeman. I'm here to do a job, simple as that. If I start bending the rules, I might as well pack it in… Murder is murder. You stop believing that and we might as well not be fighting a war. Because you end up like Nazis."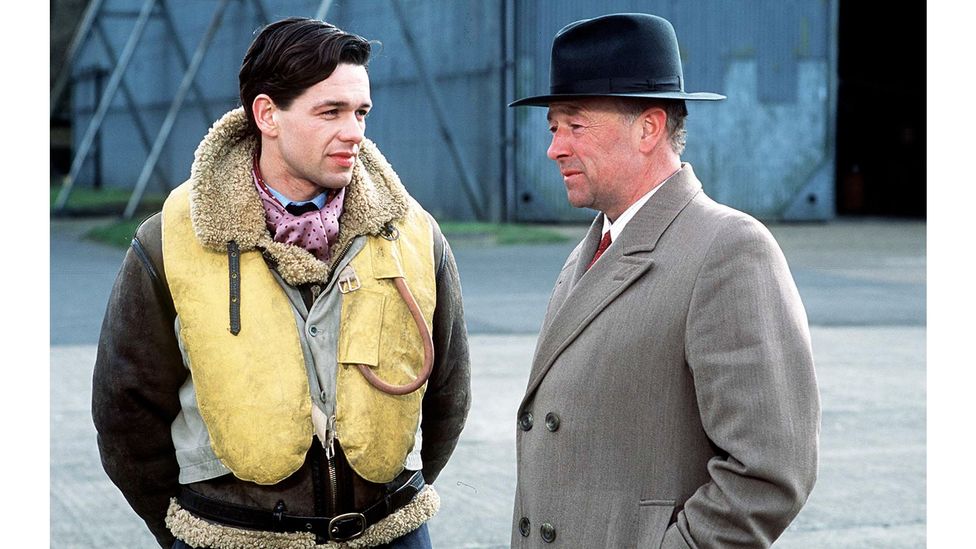 The show intersects with the broader war effort via Foyle's son, who is an RAF pilot involved in the Battle of Britain (Credit: Shutterstock)
My favourite episode, Fifty Ships, covers the desperate yet covert manoeuvres involved in trying to get the US to join the war. Here, even Foyle is not powerful enough to head off the sudden intervention of the powers-that-be in Military Intelligence. The killer, due to his influential standing in opinion-forming US circles, goes free. Well, sort of. In a climactic exchange on the tarmac, Foyle, without ever raising his voice, delivers an epitaph so stinging the perpetrator must have been nursing his injury all the way back across the Atlantic: "No war has lasted forever and neither will this… It will end, and when it does you will still be a thief, a liar and a murderer and I will not have forgotten, and wherever you are I will find you. You are not escaping justice, merely postponing it". Take that, Sir, and have a nice flight.
There are, of course, multiple other pleasures to be found in the generous ration of a 90-minute episode. There is the opportunity to get a sense of domestic life and of working life in a variety of locales. There's the chance to spot a host of famous faces – David Tennant, James McAvoy, Rosamund Pike and Emily Blunt, to name but a few – in early supporting roles. Finally – and plot spoiler alert – there is the opportunity to marvel at how Foyle manages to keep hidden for the duration of the war the not unsalient fact that he can indeed drive. There are also, I am certain, many additional delights, which I have no doubt I shall uncover upon my fourth series viewing.
Foyle's War is available to watch on ITV Hub in the UK and Amazon Prime/Acorn TV in the US.
Love film and TV? Join BBC Culture Film and TV Club on Facebook, a community for cinephiles all over the world.
If you would like to comment on this story or anything else you have seen on BBC Culture, head over to our Facebook page or message us on Twitter.