After being shut down during the pandemic, film and TV shoots are now starting up again. Beth Webb talk to some of those on set about how their roles are being transformed.
S
Since the UK government greenlit the resumption of TV and film shoots under strict new safety measures in June, the cogs of production have been gradually grinding back into motion. But for those returning to sets, this has involved a whole new approach to working: in abiding by new safety guidelines, they have had to recondition themselves as to how they approach their roles.
More like this:
– Will this film save cinemas in 2020?
– Is the age of the celebrity over?
– What we're reading in this plague year
Here are a few accounts, from those on productions in the UK and beyond, about how film crews are successfully navigating through this new phase of filmmaking.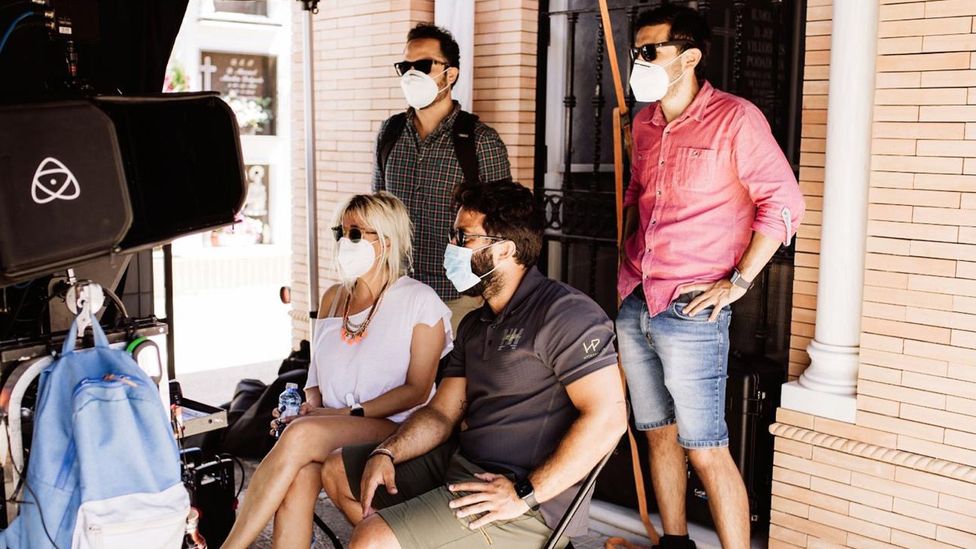 Film and TV shoots have begun to start up across Europe again (such as, above, for Spanish horror La Casa del Caracol) with new measures in place (Credit: Miguel Valladares)
Helen Jones – Producer
Jones is producing British psychological horror film Censor starring Niamh Algar and Michael Smiley, which is due to be released in cinemas in 2021.
At the end of March, Jones was preparing to oversee shooting pickups (shots or scenes recorded after principal photography has concluded) for Censor when Covid-19 forced the production to pause. During her time in lockdown, the producer set to work compiling stringent filming guidelines, in line with the recommendations given by the British Film Commission, before returning to set on 27 July for four more days of filmmaking in and around the Leeds and Bradford area. "We knew that we had a certain window that we wanted to shoot in," she says. "We needed to wait until it was safe to shoot, but we also didn't want to lose any cast or key crew to other projects."
The BFC guidelines – an evolving document that was first released on 1 June – provides a framework for those returning to set but advises that each production should tailor the measures to the specific type and size of their shoot. Jones referred to Censor's guidelines daily, and their line producer (a film's key manager of day-to-day operations) and first assistant director underwent additional training, while a Covid-19 health and safety supervisor was on set every day.
The guidelines advise that productions adhere to social distancing wherever possible – and where the two-metre distancing rule isn't possible, enforce mitigating actions such as limiting the time spent on a particular activity or scene and/or reducing the number of people that each person has contact with.
"On the actual set itself, we had as few crew members present as possible. You had to ask yourself: is that person fully justified to be in that space?" says Jones. "We had camera and sound crew there, but for the most part our costume, hair and makeup departments were away from the set. When that crew came in, there were designated areas that they and their equipment could be in."
Safety measures didn't stop with reducing the crew however: Jones and her colleagues had to introduce new ways for people to carry out their daily work safely.
"Something that worked really well for us was a remote monitoring system, which meant that everyone wasn't huddling around one or two monitors," she says. "Before lockdown we had one monitor which was used by Prano [Bailey-Bond, Censor's director] and one that would be checked by the hair, makeup and costume departments, plus myself and other key crew that needed to see the action. With the new system, those who needed it had a secure link from the monitoring system to their iPads."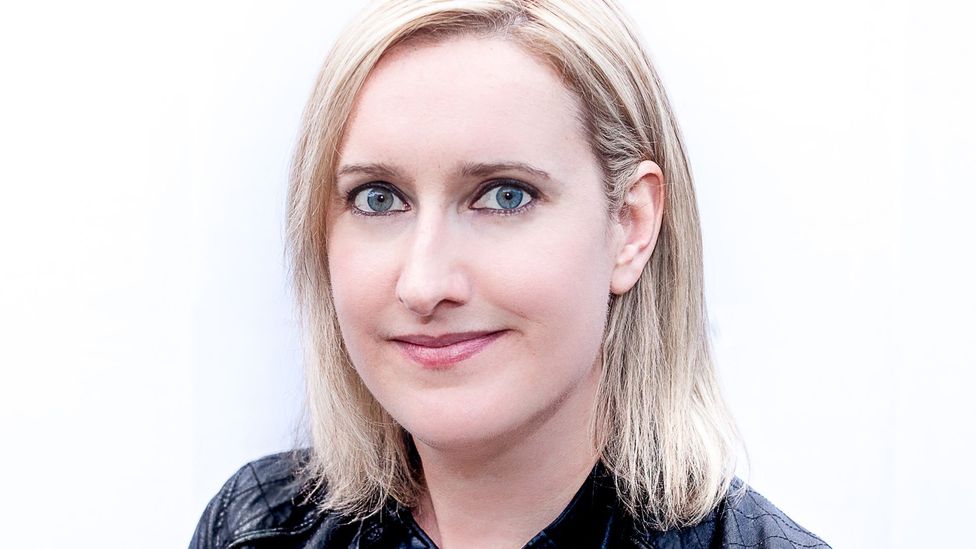 During lockdown, Censor producer Helen Jones set to work compiling stringent filming guidelines, in accordance with the British Film Council's guidance (Credit: Tim Walker)
With Censor being one of a very limited number of films to have resumed shooting in the UK so far, the crew found themselves presented with unique challenges to their work every day. However Jones believes the situation also drew them closer together, and after spending around three months without work, their collective enthusiasm about being back on set contributed to the shoot's success.
"People had slightly different ways of dealing with things, and some cast and crew were more cautious than others," she says. "But I think that going through this type of shared experience helped create a really good atmosphere and ultimately, a successful shoot."
Prano Bailey-Bond – Director
Bailey-Bond is the director and co-writer of Censor, which is her debut feature film and currently in post-production.
As the director on a small-scale shoot, Bailey-Bond helped to devise the new safety guidelines for the film, but also had to come up with creative solutions to the limits that they imposed.
"Our Covid-19 safety officer would say for example, 'you can only have six extras in this space,' so as a director I had to work out how to make it seem like there were more people in that scene than there actually were."
The director recalls filming a scene that took place in a restaurant. "On paper it's just three people sitting having dinner, but because we were filming in a small space it meant that we had to stagger the different departments coming in," she explains. "So the art department would come in to do their job, then you have to let the lighting crew do their bit. It ends up extending your whole schedule."
The film is set in 1985, and stars Niamh Algar as a film censor who sets out to solve the past mystery of her sister's disappearance after watching a strangely familiar 'video nasty'. Bailey-Bond believes that the film's nature worked to their advantage when it came to being able to start up again so quickly.
"I had to do an on-screen risk assessment for each scene, which is something that our financiers asked for. As the film is a psychological horror, we didn't need any hugging and kissing, so I was slightly less worried about the content we were shooting from that point of view."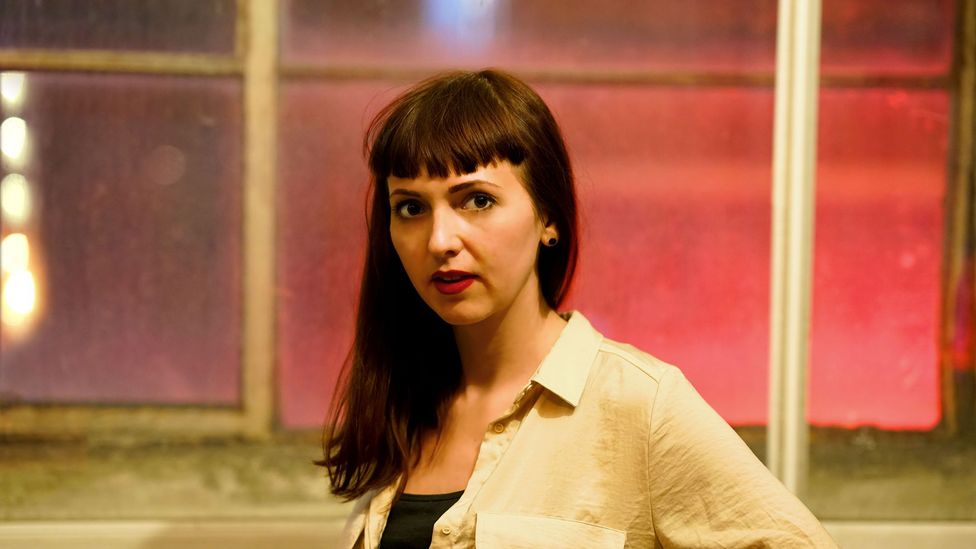 Censor director Prano Bailey-Bond was most concerned about the mental health and wellbeing of her colleagues coming back onto set (Credit: Prano Bailey-Bond)
Instead, the director was most worried about the mental health and wellbeing of her colleagues. "For me, the biggest concern was the cast or crew bringing various levels of anxiety to the set and not feeling comfortable," she says.
Advice on accommodating for this has been provided in the BFC guidelines, which points to resources like the 24-hour support line run by the Film and TV charity for those in the industry. Meanwhile Bailey-Bond and her team spent time leading up to the resumption of the shoot speaking with and catering for people who were nervous about returning to set.
With regards to the immediate future of filmmaking in the UK, the director wonders how the pandemic will alter the kind of films that people make:
"I've been sent a couple of scripts that are mainly focused on solo characters in a room, so it might be that filmmakers are looking to manage social distancing on screen through the content that's being created."
Now in the post-production phase of Censor, Bailey-Bond remains hopeful that she and her peers will be able to continue working, whatever the future holds. "I've been to doctors' surgeries where I don't think they're putting as stringent guidelines in place as they are within our industry," she jokes. "The film and TV industry is so adaptable and you have to be so organised and disciplined to work in it. I think if there's any industry that can handle this kind of thing it's this one."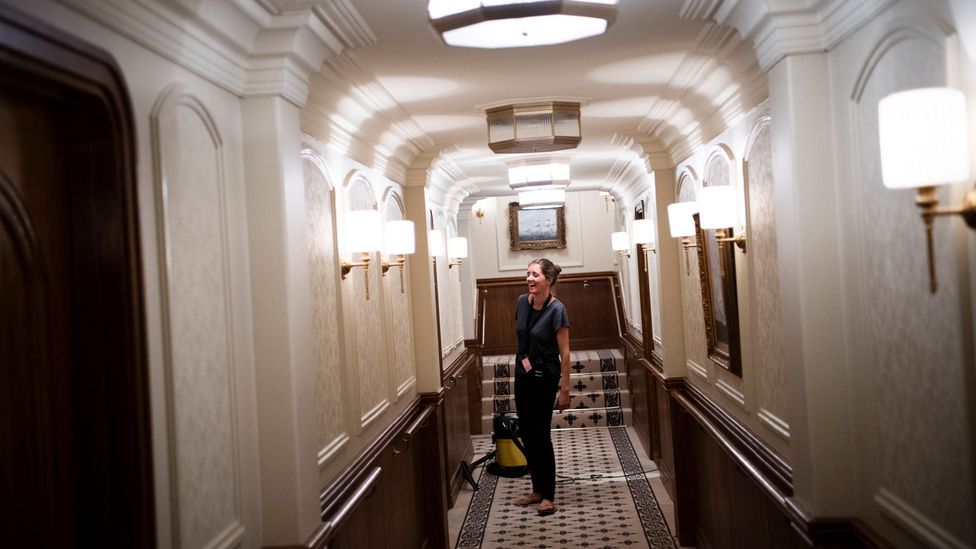 For satire Triangle of Sadness, production designer Josefin Asberg helped create an interior of a luxury yacht, where some of the action takes place (Credit: Robin Aron)
Josefin Asberg – Production Designer
Asberg is working on Ruben Ostlund's first English-language feature Triangle of Sadness, which resumed filming in Sweden in late June.
Production was paused for three months on Triangle of Sadness, a $11m (GBP8.3m) satire from Swedish director Ostlund, best known for Force Majeure and Palme d'Or-winner The Square, and so far it has been one Europe's biggest productions to resume filming. "My department came back to work before the main crew did, and the atmosphere was great," says Asberg, who is responsible for creating the visual world of the film. "Everyone was so happy to return after months without work."
The film is set in part on a luxury yacht, with Asberg working on a custom-build interior in a studio in the West Swedish city of Trollhattan that was assembled prior to lockdown. Ostlund's English-language debut stars Woody Harrelson and British actor Harris Dickinson, and was 25 days into production before Covid-19 forced it into hiatus. When it was confirmed that Harrelson would be allowed to fly over from his home in Hawaii to shoot his scenes, filming resumed under new safety measures.
"On the first day of the [resumed] shoot we were assigned different colours depending on what team we're in – I've been given pink as I'm part of the art department, and also green, which is the main unit that's allowed up on set at the same time as the director, director of photography, and the actors," Asberg tells BBC Culture.
"We get breakfast, lunch and dinner in a box and the restaurant in our hotel is closed. We wear face masks and the costume, makeup and props departments plus anyone who works near the actors have to wear face shields. We've also been given thermometers to take our own temperatures, but I'm healthy and forget sometimes."
On set, the production designer says that the new measures didn't impose any real limitations on her ability to do her job, but at first she missed the social interactions with her colleagues: "I found it strange not being able to hug anybody," she says, "but this has become the new normal anyway so soon it didn't feel so different."
The exception made for Harrelson to fly to Sweden for a week-long shoot was groundbreaking and the result of agreements made with the Swedish Border Police and the Ministry of Foreign Affairs amongst others. A travel ban on international travellers entering the country was enforced on 17 March and remains a strict guideline until 31 August. Exemption can only be made if the person is deemed a highly-skilled professional who cannot do their job remotely, but even then, there is no guarantee of entry as each case is assessed at the border control point by the Swedish Police Authority. When Harrelson was stopped in Los Angeles after the airline KLM believed him to have the wrong paperwork, a call had to be made by the film's producer to convince them that everything was in order.
"Our producer Erik Hemmendorff worked really hard with officials to make sure that Woody was let in as an exception," Asberg says. "When he got here he was very relaxed about everything."
In spite of the continuing pandemic, Asberg remains optimistic about her work: "It seems like a lot of productions are starting up again so things look bright for the near future."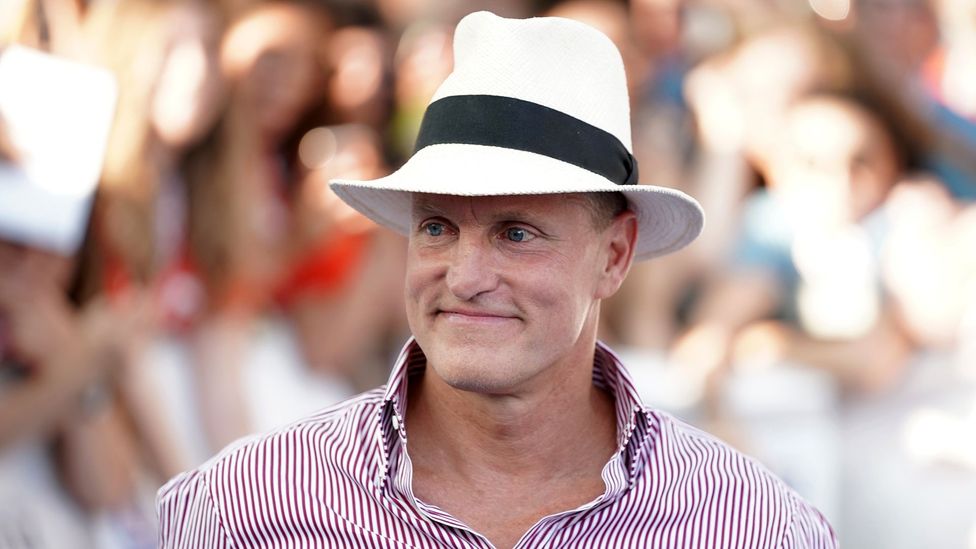 Triangle of Sadness star Woody Harrelson was given a special exemption to enter Sweden for the shoot, despite a ban on international travellers at the time (Credit: Alamy)
Lizzy Talbot – Intimacy Co-ordinator
Talbot is currently working on two projects filming under Covid-19 measures. She has previously consulted on Netflix shows Bridgerton and The Witcher, and founded the Intimacy for Stage and Screen network.
Intimacy coordinators are increasingly becoming a staple on film and TV sets, especially in light of the #MeToo and Time's Up movements and their consequent call for more transparent conversations about women and consent across the industry.
"Our job is to bring the director's vision to life in the safest way possible," says Talbot. The role involves choreographing scenes that feature sexual acts, as well as other scenes involving non-sexual intimacy, such as close contact between families, from determining movements and boundaries between actors to talking with the cast and crew to ensure that the content isn't triggering for anyone. They also help to reach an agreement between actors and directors on what they are willing to do within a scene.
Unsurprisingly, the new post-Covid-19 BFC guidelines pose a host of new challenges when it comes to filming scenes that involve an intense amount of physical contact. But they also stipulate that all sets must now have an intimacy coordinator present to guide the shooting of these sections – something that, pandemic aside, can only be a blessing in the longer term, says Talbot.
"That obviously hasn't been the case overall for lots of productions prior to this," she says. "So the bar is being raised in terms of safety, and I think that consent is being highlighted in a way that it hasn't been before because people have a heightened awareness of boundaries and personal space. If people's considerations of boundaries have increased because of Covid-19, this can only be a positive thing."
Talbot says she cannot disclose specific details about the productions she is currently working on, as information about them is heavily guarded. However as a leading voice in her field, she has contributed to a Film and TV recovery plan compiled by the UK creative industries union Bectu, and helped to draw up detailed guidelines on filming intimate scenes while ensuring the safety of cast and crew. For example, they stipulate that camera tricks and insinuated action should be prioritised above scenes involving bodily contact and nudity.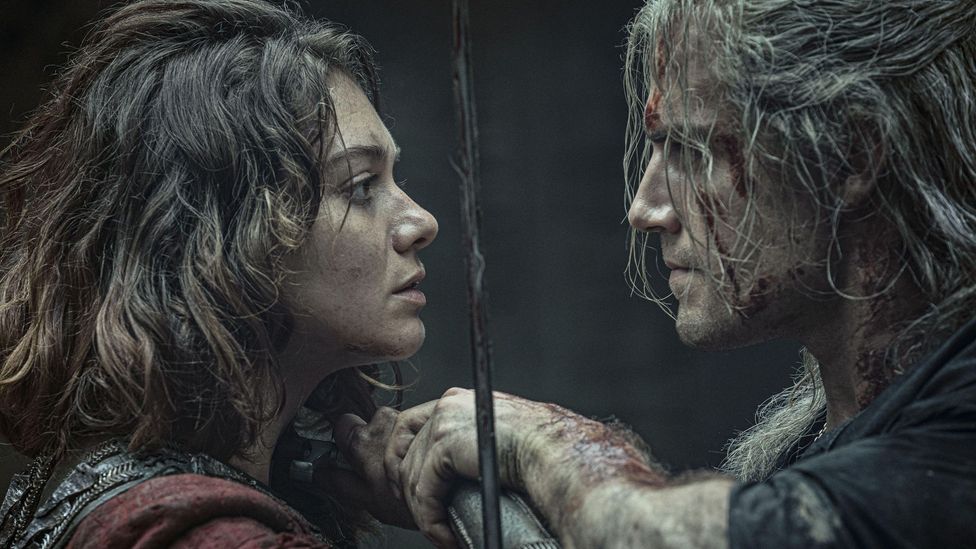 Netflix show The Witcher is among the productions that Lizzy Talbot has worked on, choreographing scenes that feature sex and other forms of intimacy (Credit: Alamy)
The report also asks that modesty garments (guards or pouches that cover actors' genitals when simulating sex on camera) are bought or made for each actor and never shared, and if the actors need to come within two metres of each other, that strict testing or isolation processes are adhered to. It is strongly advised that actors shooting intimate scenes self-isolate for 14 days before coming on set.
If safeguards on set have improved, however, Talbot has also seen some worrying developments with the increasing move to online casting and auditioning. In one recent instance, a predator masquerading as a casting director was caught requesting sexually explicit material from actresses and reported. Casting agents have also tweeted to warn actors that they should never be required to go nude or simulate sex acts during an audition, either by self-tape or in person. "In some ways the casting world has opened up in terms of diversity as anyone can audition from anywhere, which is great, but we need to get this other problem stamped out," says Talbot.
This new phase of post-lockdown filming has already seen production companies finding creative new ways to shoot scenes of an intimate nature. One of these has been bringing in actors' real-life partners as 'love scene doubles', which has been the case with longstanding US soap opera The Bold and the Beautiful.
However "the blur between personal and professional lives makes this complicated," says Talbot. "The emotion is real, and your body is experiencing all these hormones, but the situation is fake. You're two people sitting under spotlights with 20 other people watching." Another especially novel approach, also tried out by The Bold and the Beautiful, has been substituting actors with mannequins.
Thai and Bollywood film sets have banned love scenes altogether, while the Netflix show Riverdale will be ploughing its script full of innuendo in order to replace some of the action on screen.
Ultimately, a knock-on effect of this new, industry-wide emphasis on the personal safety of actors on set will be that the job of intimacy co-ordinators only becomes more fulfilling, says Talbot. "Sometimes when we're brought into productions it can feel a little bit like we're health and safety officers standing in the corner," she says. "[But] a lot of our training is as choreographers, and centred around physical technique and how to safely create dynamic intimacy. So there might be far more opportunity for that."
Love film and TV? Join BBC Culture Film and TV Club on Facebook, a community for cinephiles all over the world.
If you would like to comment on this story or anything else you have seen on BBC Culture, head over to our Facebook page or message us on Twitter.
And if you liked this story, sign up for the weekly bbc.com features newsletter, called The Essential List. A handpicked selection of stories from BBC Future, Culture, Worklife and Travel, delivered to your inbox every Friday.