The 1980s all-female band were dubbed 'America's sweethearts', but as a new documentary reveals, they still had to contend with rampant sexism. Nick Levine celebrates their legacy.
T
The Go-Go's made history in March 1982 when their brilliant debut album, Beauty and the Beat, climbed to the top of the Billboard 200 chart. They duly became the first all-female group who wrote their own songs and played their own instruments to score a number one album in the US. Nearly 40 years later, no other instrument-playing all-female band has managed to match their achievement, sadly, though The Bangles came close in 1986 when their Different Light album peaked at number two.
More like this:
– Pop music's greatest philosopher
– Dusty Springfield's remarkable comeback
Though the term 'girl power' hadn't been invented when The Go-Go's were scaling the charts – it was coined by riot grrrl band Bikini Kill in 1991, then adopted by The Spice Girls half a decade later – The Go-Go's displayed exactly the kind of fearless, 'take us or leave us' quality that we now associate with the phrase. They created their own space in a male-dominated corner of the music world – in their case, the rough-and-ready LA punk scene, where they formed in 1978 – and transcended it with a mix of sisterhood, spirit and irrepressible pop songs.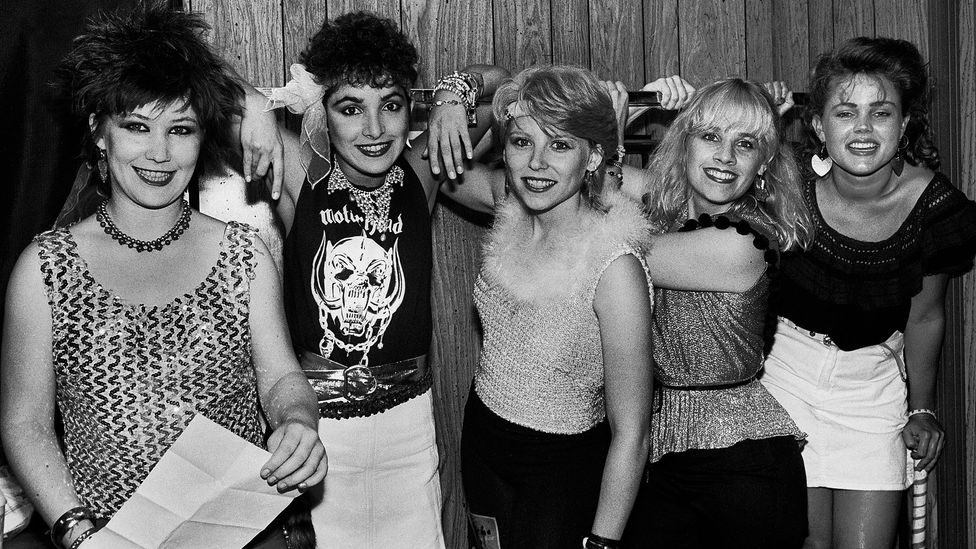 The Go-Go's in 1981, from left, Kathy Valentine, Jane Wieldlin, Gina Schock, Charlotte Caffey, and Belinda Carlisle (Credit: Getty Images)
Director Alison Ellwood's excellent new documentary on the band, simply titled The Go-Go's, shines a welcome spotlight on the five-piece who are frequently referred to as 'the most successful all-female rock group of all-time'. During the band's brief early 1980s imperial phase, The Go-Go's placed seven singles on the Billboard Hot 100 singles chart, including the infectious new wave classics We Got the Beat, Our Lips Are Sealed and Vacation. Still, it's arguable that the achievements of their classic line-up – lead singer Belinda Carlisle, guitarists Charlotte Caffey and Jane Wiedlin, bassist Kathy Valentine and drummer Gina Shock – haven't been fully appreciated yet. In the UK, this can be partly attributed to their relatively low profile and lack of chart success at the time.
"I don't know why they didn't come to the UK more often to promote their music because they could have really taken off here," says Peter Loraine, a leading British music manager and former editor of Top of the Pops magazine. Indeed, less than three years after the band split in 1985, Carlisle would top the UK singles chart with Heaven Is a Place on Earth, setting up a solo career that proved more enduring in Europe than her homeland.
Although the band were huge in the US in the 1980s, their achievements have been sidelined since then, and it's likely that entrenched sexism within the music industry has played a part in that. Loraine, who's been a Go-Go's fan since Beauty and the Beat was released, says it "makes a mockery of the Rock 'n' Roll Hall of Fame that they haven't been inducted yet" – despite being eligible for inclusion since 2005. Still, there's no doubt that The Go-Go's' ebullient, hook-laden music continues to strike a chord: teen stars Hilary and Haylie Duff covered Our Lips Are Sealed for their 2004 film A Cinderella Story, while Vacation features in the end credits for last year's Marvel blockbuster Spider-Man: Far from Home.
Peppermint, an actress and RuPaul's Drag Race alumnus who starred in Head over Heels (a jukebox musical featuring Go-Go's songs which opened on Broadway in 2018) says "performing their music night after night was a dream come true. I grew up on The Go-Go's and used to listen to their music nightly while I was getting ready for my nightclub shows. There's still something so pure and honest about their songs: they're all about great production, great writing and great performances."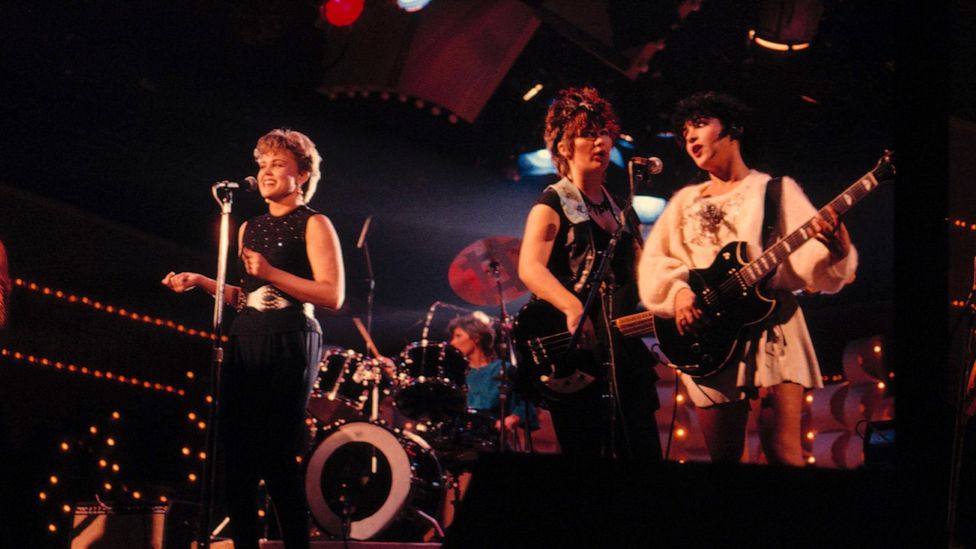 The Go-Go's, pictured here in 1984, were a formidable live band (Credit: Alamy)
As Ellwood's documentary elegantly unveils, The Go-Go's came up against sexism both before and after they became famous. During 1980 tours of the UK opening for Madness and The Specials, male ska fans who weren't expecting to see five women from California on stage greeted them with boorish taunts of 'show us your tits'. Caffey, who wrote or co-wrote most of the band's biggest hits, says it was a formative experience that The Go-Go's gritted their teeth through. "We'd act all tough on stage while they were spitting and throwing crap at us," she recalls. "But then we'd get off stage and cry and be like, 'Oh God, this is awful'."
America's sweethearts
Still, The Go-Go's weren't about to allow a British reception that ranged from frosty to downright combative interfere with their ambitions. Caffey says they'd call highly influential LA radio DJ Rodney Bingenheimer from the UK, and bullishly pretend they were becoming "huge rock stars" there. "That's really what made me understand that we were very different from other girls," Caffey adds. "I mean we just went for it – even with those audiences treating us the way they did, we didn't care and we just kept on going. Those two tours we did [in the UK] really made us a much better band."
When they returned to LA, The Go-Go's became an even bigger live draw, but couldn't land a record deal because male label executives couldn't see past their gender. In the documentary, we see an excerpt from a blithely patronising rejection letter which reads: "Unfortunately, The Go-Go's aren't the type of band we're interested in signing. Best of luck with your enterprising girl band!" Caffey says that at the time, the band was baffled not to have been snapped up sooner. "We were like, 'what is wrong with these guys?'" she recalls. "We were writing all these great songs and we could tell something was happening – it was a constantly growing thing." Eventually, in April 1981, The Go-Go's signed to fledgling label IRS Records, also home to The Police and REM, and it proved to be the perfect fit.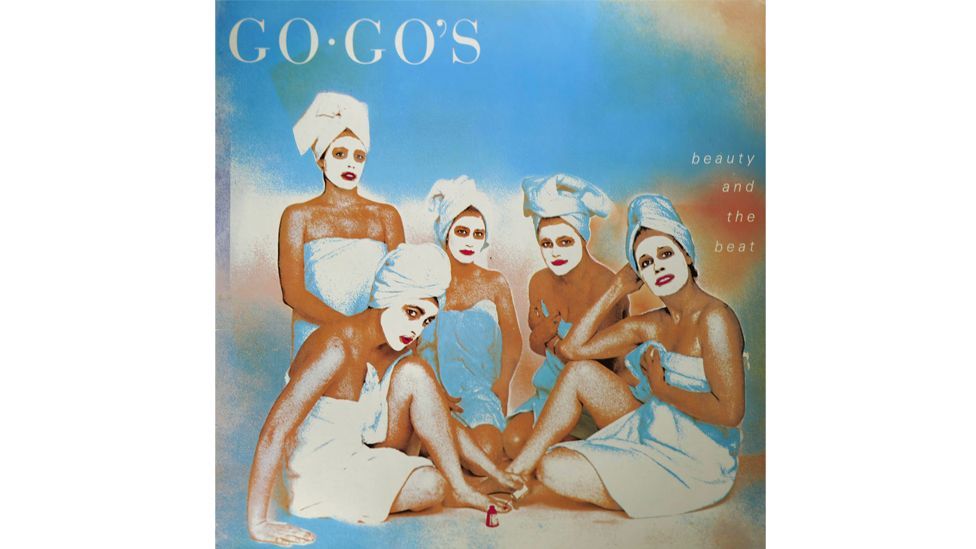 In 1982, the brilliant album Beauty and the Beat climbed to the top of the Billboard chart (Credit: Alamy)
"Nobody was trying to change or mould us – we wouldn't have stood for that anyways," says Caffey, pointing out that "everything from the way we looked and sounded to what we did on stage was completely organic". For the band's now-iconic cover art for their 1981 debut album Beauty and the Beat, they wrapped themselves in towels to create a playful and strikingly simple image that didn't rely on overt sex appeal. At the time, The Go-Go's had such a miniscule marketing budget that manager Ginger Canzoneri gave the band members "strict instructions" to keep the towels clean; that way, she could return them to Macy's department store after the shoot.
Even zeitgeist-grabbing success, during which The Go-Go's were dubbed 'America's Sweethearts', didn't protect them from rampant sexism. The band were delighted to land a prestigious spot on the cover of Rolling Stone magazine in 1982, but several members were less thrilled when the issue hit newsstands. The magazine had added a suggestive strapline, "Go-Go's put out," to the band's shoot with revered photographer Annie Leibowitz that wasn't meant to be sexy: "We were used to that kind of thing – that's just what happened back then," Caffey says sanguinely. "Obviously today things would be very different."
Sadly, The Go-Go's' imperial phase didn't last as long as it might have done. The band members have often said they wish they'd taken longer to record their second album, Vacation, which came out just six months after their debut reached number one, and didn't sell as well. Loraine points out that they only released two singles from Beauty and the Beat – far fewer than a band would today – and says standout album tracks such as Lust for Love could easily have become hits as well. During their original run, the band recorded just one more album, 1984's Talk Show, which embellished their classic pop-rock sound with more keyboard parts and yielded the sparkling singles Head Over Heels and Turn to You.
The following year, the Go-Go's split after hitting the same roadblocks that have halted so many bands: creative differences, drug addiction and tensions over songwriting royalties. Because Caffey and Wiedlin had written the lion's share of Beauty and the Beat, they made a lot more money than Valentine, Schock and Carlisle. Over the years, they've often reformed for summer tours of North America and, more sporadically, to record new music. The 1994 compilation album Return to the Valley of The Go-Go's yielded the band's first ever UK top 40 hit, a gloriously tongue-in-cheek pop-punk nugget called The Whole World Lost Its Head. Then in 2001, they reconvened for their first album in 17 years, God Bless The Go-Go's, which featured a searing lead single, Unforgiven, co-written with Green Day's Billie Joe Armstrong, a longtime fan. A brand new Go-Go's song, Club Zero, will drop on 31st July – the same day the documentary premieres on US network Showtime.
Caffey says she hopes anyone who watches the documentary takes away a clear appreciation of the band's tenacity. "We just went ahead and did it and didn't let anyone tell us we couldn't," she adds. Peppermint notes that "rebellion and vibrancy" is a key component of The Go-Go's legacy. "I think their story is still really interesting and their music has really stood the test of time," Loraine says. When you listen to shimmering Go-Go's singles such as We Got the Beat, Our Lips Are Sealed and Head Over Heels, it's hard to disagree: this band blazed a trail and made some brilliant pop music while doing so.
The documentary film The Go-Go's is on Showtime in the US from 31 July, and later this year on Sky in the UK.
If you would like to comment on this story or anything else you have seen on BBC Culture, head over to our Facebook page or message us on Twitter.
And if you liked this story, sign up for the weekly bbc.com features newsletter, called The Essential List. A handpicked selection of stories from BBC Future, Culture, Worklife and Travel, delivered to your inbox every Friday.