Pink Flamingos: The most outrageous film ever made?
Pink Flamingos was so shocking that it was only widely distributed a decade after it was made. Nicholas Barber looks at how the underground classic became a cult hit.
J
John Waters' legendary underground classic, Pink Flamingos, was made in 1972, but it wasn't until 1989 that a brave video distributor submitted it to the British Board of Film Classification, in the hope it might receive the official rating that would allow it to be stocked in high street shops. The BBFC agreed to grant Pink Flamingos an 18 certificate, but only on the condition that three minutes of footage were cut from five outrageous scenes.
More like this:
– The film the US is finally ready for
– What makes a cult film?
– Is this the ultimate cult film?
"Firstly," notes the BBFC's website, "cuts were made to remove the sight of chickens being roughly handled and killed during a bizarre sexual assault on a woman"; it went on to detail other scenes including one "in which a man flexes his anus in close up, making it look as if the anus is 'singing'". In the end, all of the film's most important sequences had to be left on the cutting room floor.
In case you're still in any doubt, Pink Flamingos is one of the most stomach-turning, taboo-smashing films ever made. lt's great fun, and oddly endearing, but it's almost impossible to watch without clamping your hands over your eyes for 20 per cent of the running time. And that's just the effect that its writer-director wanted it to have. "To me, bad taste is what entertainment is all about," says Waters in one of his memoirs, Shock Value. "If someone vomits watching one of my films, it's like getting a standing ovation."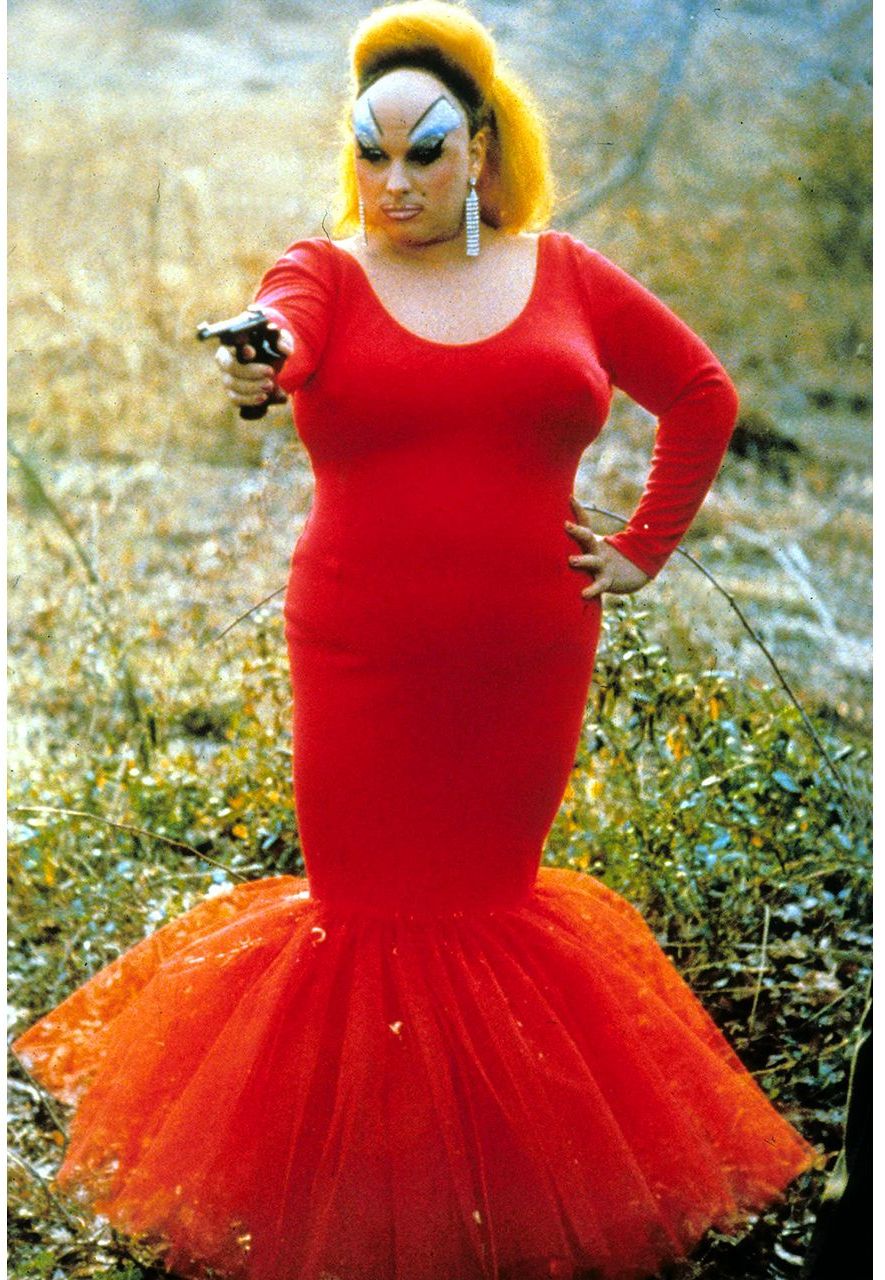 Divine was a key part of Baltimore's countercultural scene, given the tagline "the most beautiful woman in the world, almost" by Waters (Credit: Alamy)
The plot, says the BBFC's website with exquisite understatement, "is unusual but fairly straightforward". Harris Glenn Milstead, better known by the stage name Divine, stars as a woman who is also called Divine, a vision in a tight sparkly dress, with a back-combed coiffure, and iconic eye make-up that reaches all the way up her forehead. Having been condemned in the press as "the filthiest person alive", Divine has adopted the alias Babs Johnson, and fled to a derelict mobile home in the woods with her hillbilly son (Danny Mills), her son's voyeuristic girlfriend (Mary Vivian Pearce), and her mother (Edith Massey), who is described by Waters in Shock Value as "a 250-pound senior citizen who sits in a playpen dressed in a girdle and bra and worships eggs". These are the film's heroes.
Its villains are Connie and Raymond Marble (Mink Stole and David Lochary), "a jealous, publicity-hungry couple" who try in vain to prove that they are even filthier than Divine and her clan. The Marbles make a living by abducting teenage girls, locking them in a basement, raping them, and then selling their babies to lesbian couples. Oh – they also peddle heroin to high school children. Just to be clear, Pink Flamingos is a comedy.
Outsider art
It is also the ultimate cult movie, in that it was always bound to have a select but devoted circle of admirers. "This isn't a failed film that gained a camp following and then became popular," says John Mercer, the author of Gay Pornography. "It isn't like Showgirls or Beyond The Valley of the Dolls. It was made by someone who was an outsider, it was about outsiders, and it was shown at the margins of cinematic distribution and exhibition. It's the paradigmatic example of cult cinema."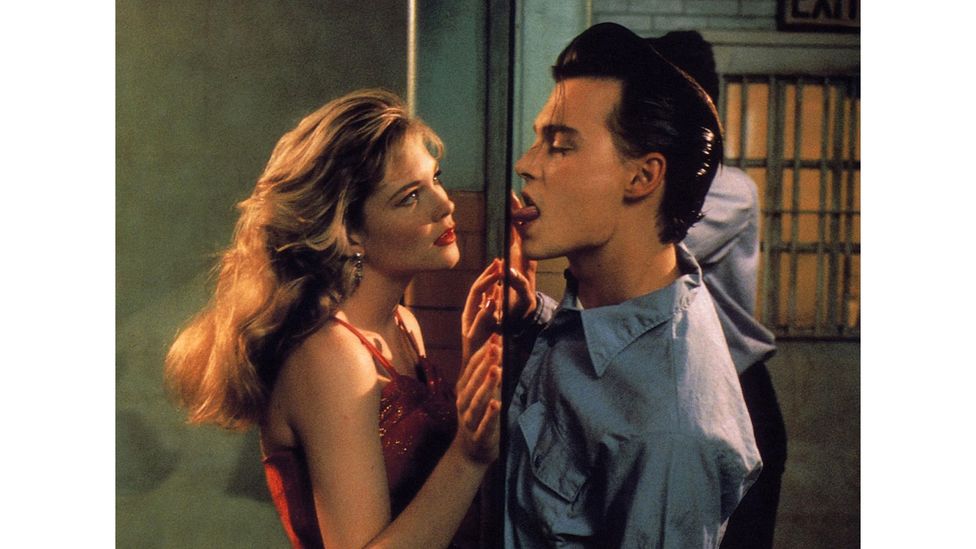 The 1990 film Cry-Baby starred Johnny Depp alongside an ensemble cast including Iggy Pop, Ricki Lake and Willem Dafoe (Credit: Alamy)
Waters would go on to write and direct the relatively mainstream Cry-Baby, starring Johnny Depp, and Hairspray, which was adapted into a hit Broadway musical. But in the early 1970s, it was a different story. The man who called himself 'the king of sleaze' and 'the prince of puke' made low-budget indie films in his home town of Baltimore, sometimes using his own house as a set. His cast was a gang of shoplifting, drug-taking friends he called 'the Dreamlanders', most of whom hadn't acted before. And, as Mercer says, the characters they play are true outsiders who despise society's conventions. In essence, Pink Flamingos is a cult movie about being in a cult.
There was no chance, then, that it would ever be a blockbuster or an Oscar contender. But in 1973 it was booked by the Elgin Theater in New York, the home of the 'midnight movie'. Seven nights a week, queues of thrill-seekers would stretch down the street, certain that they were about to see something unique. "It's a carnival movie," says Ian Hunter, the author of Cult Film as a Guide to Life, "a freak show, in the long tradition of exploitation movies that goes right back to the 1920s and 1930s. At that time, films like Reefer Madness, Sex Madness and Child Bride were often put on in big tents by people who had a carnival background. The promise was that they would show audiences things that they couldn't see anywhere else."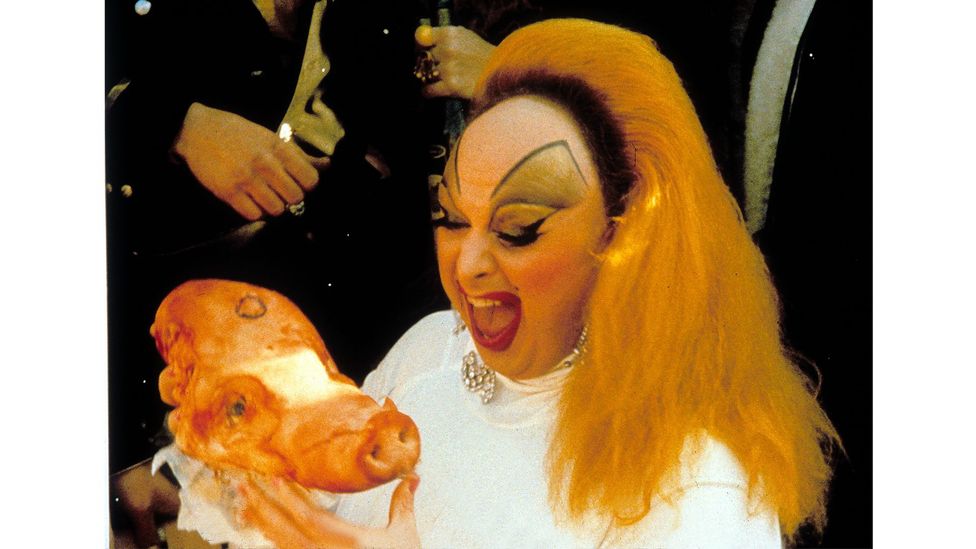 Pink Flamingos was initially banned in Switzerland and Austria (Credit: Alamy)
Pink Flamingos kept that promise. Waters offered up incestuous sex, indecent exposure, a severed pig's head, and a climax which was, he said, "more famous than anything I've ever done". If you're squeamish, look away now. If not, well, the shot consists of a dog depositing a nugget of faeces on the pavement, and Divine picking it up and popping it in his mouth. As there are no cuts or camera tricks, viewers could rest assured, for better or worse, that Waters hadn't switched the doggy do for a more savoury snack. "It was the first scene I had thought up for Pink Flamingos," said the director. "I knew I had only $10,000 to work with, so I figured I had to give the audiences something that no other studio could dare give them even with multimillion-dollar budgets. Something to leave them gagging in the aisles. Something they could never forget."
This scene, like so many others in Pink Flamingo, divides viewers into those who stagger to the exit in revulsion, and those who stand up and cheer. "It's partly about proving that you're hardcore enough to sit through it," says Hunter, "and enjoying the fact that you have an alternative aesthetic. You want to be the person who's laughing at other people gagging. It becomes a collective ritual. You go back not so much to see the film as to be part of an exclusive audience." Watch Pink Flamingos, and you get the liberating feeling that you are almost as transgressive as the people on screen.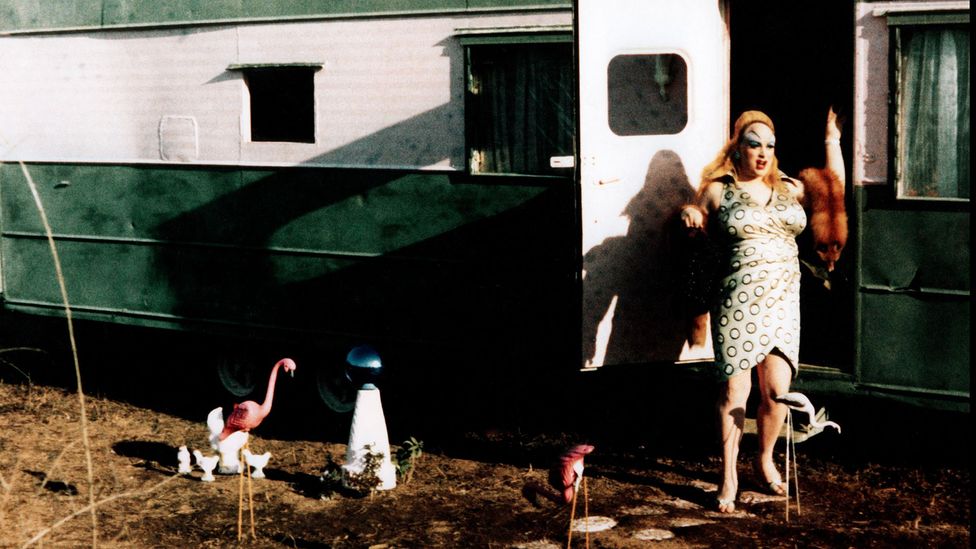 Together with Female Trouble (1974) and Desperate Living (1977), Pink Flamingos is part of what Waters has labelled the 'Trash Trilogy' (Credit: Alamy)
As grotesque as it is, though, the film wouldn't have lasted if it was simply an endurance test. "It's easy to disgust someone," said Waters in Shock Value. "I could make a ninety-minute film of people getting their limbs hacked off." But this, he added, would not be "very stylish or original". Instead, he made a film with a gleefully celebratory mood, some hilariously mock-grandiloquent dialogue, and a pointed satirical storyline about US moral hypocrisy. Pink Flamingos is ahead of its time, too. "It pushes back against the liberation-era gay politics of the 1970s, which were about being nice and fitting in," says Gary Needham, a film lecturer at the University of Liverpool, "and anticipates the radical queer politics of the 1990s which were about a refusal to assimilate."
You can also see the seeds of punk rock in the film's trashy fashion sense, its violent nihilism, and its use of 1950s rockabilly. You can see the kind of degenerate misfit family that would lurk in such 1970s horror films as The Texas Chain Saw Massacre and The Hills Have Eyes. And you can see murderers being turned into mass-media celebrities, 22 years before Oliver Stone and Quentin Tarantino's Natural Born Killers.
You might not be able to see all that very easily, though. The BBFC-approved cut of Pink Flamingos came out on video in 1991, but it wasn't until 2008 that an 18-certificate was awarded to the full, unexpurgated film – and then the distributors decided to cancel the release. Perhaps it was for the best. The place to see Pink Flamingos is in a cinema, preferably at midnight, surrounded by a crowd that is either laughing or gagging or both. Just make sure you know your way to the exit.
Love film and TV? Join BBC Culture Film and TV Club on Facebook, a community for cinephiles all over the world.
If you would like to comment on this story or anything else you have seen on BBC Culture, head over to our Facebook page or message us on Twitter.
And if you liked this story, sign up for the weekly bbc.com features newsletter, called The Essential List. A handpicked selection of stories from BBC Future, Culture, Worklife and Travel, delivered to your inbox every Friday.