In our latest essay in which a critic reflects on culture that brings them joy, Holly Williams writes about the remarkable remedial power of the Icelandic icon's 1997 album Homogenic.
W
We often hear about break-up albums – records made by artists in the throes of heartbreak, destined to be listened to on repeat by fans when they have their own wounds to lick. But there's also a lesser-recognised musical phenomenon: the putting-yourself-back-together record. The albums you get equally obsessed with, but that give you faith that things will be okay again. And for me, the ultimate reconstruction record is Bjork's Homogenic.
More like this
– The greatest pop record ever produced?
– P G Wodehouse and his perfect sentences
– How Marvel films helped me grieve
Released in 1997, it was the third studio LP by the Icelandic artist, and proof of her musical inventiveness. It brings together driving and swooping strings with shifting, jittery beats and scrunching, crunchy electronic textures, creating epic sonic vistas inspired by the Icelandic landscape. Bjork said she wanted to capture her homeland's "earthquakes, snowstorms, rain, ice, volcanic eruptions, geysers… very elementary and uncontrollable".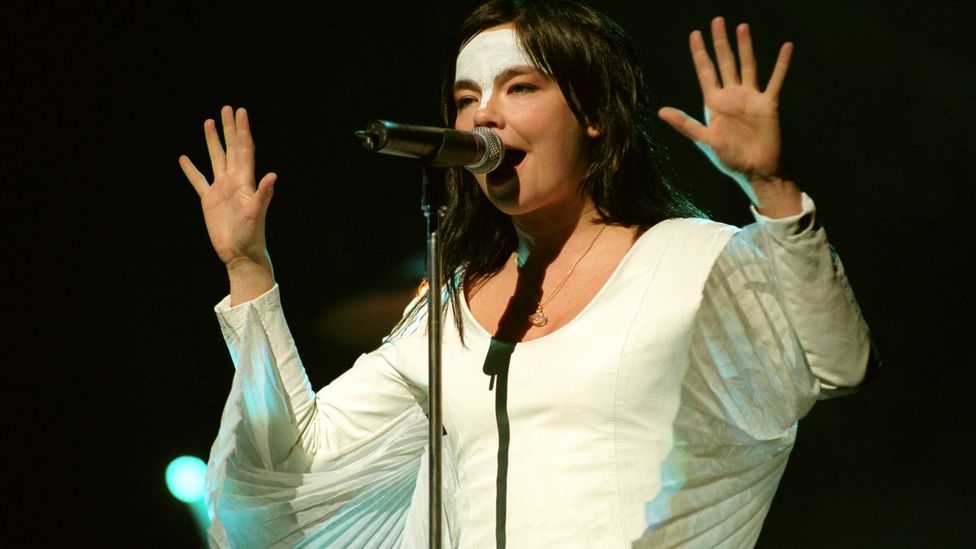 When she released Homogenic in 1997, Bjork was an established star – and the critical raves for this extraordinary record only confirmed her status (Credit: Getty Images)
Homogenic was a critical hit, with Rolling Stone warning that although it was "certain to be rough going for fans looking for the sweet melodies and peppy dance collages of her earlier releases… she offers ingenuity with a human touch [making] Homogenic one of the boldest — and most exciting — albums of the year." Twenty-three years later, and Homogenic still sounds singular, prickly to the ears. Revisiting it in 2017, Pitchfork gave it a perfect score of 10, anointing it "as strange and uncompromising an album as pop music has produced."
It's not just that the record is a great listen, though. Fourteen years after a boyfriend first made me a copy, the emotionally raw journey Bjork takes us on continues to eviscerate me. But it also lifts me up, every time. Homogenic is both a punch to the gut, and a fist in the air.
Its turbulent backstory
The album is as much about "emotional landscapes" – as Bjork sings on the second track, Joga – as it is about Iceland's volcanic topography. The record came out of a turbulent period in her own life, when she had navigated a series of failed relationships (including with Tricky and Goldie), and experienced a sharp introduction to the downsides of global fame. In 1996, Bjork hit headlines for attacking a journalist in Bangkok airport, and again when an obsessed fan shot himself and sent a bomb to her management.
Homogenic is not a wallowing record, however – it's an album that tries to recognise ungovernable emotions, and to grow through, and from, them. It brilliantly trafficks in resilience, self-reliance, and hopefulness.
I've reached for Homogenic in the aftermath of, I think, every complicated romantic entanglement (and what romantic ending isn't a bit complicated?). But it became a truly omnipresent soundtrack during two separate periods of post-heartbreak recovery, almost a decade apart: the album I turned to when I wanted to unleash frustration, to reconnect with my weakened sense of self, and to look to the future.
While it would be wrong to read all the lyrics as necessarily about romantic relationships (Bjork wrote Joga for her friend Johanna Johannsdottir), the emotional tenor of the record does broadly move from exploring mutual dependencies, to a cathartic search for independence, to opening out to new horizons of optimism and acceptance. "Emotionally, this album is about hitting rock bottom and earning your way up. So it's the darkest album I've done emotionally, but it's got a lot of hope," Bjork has said.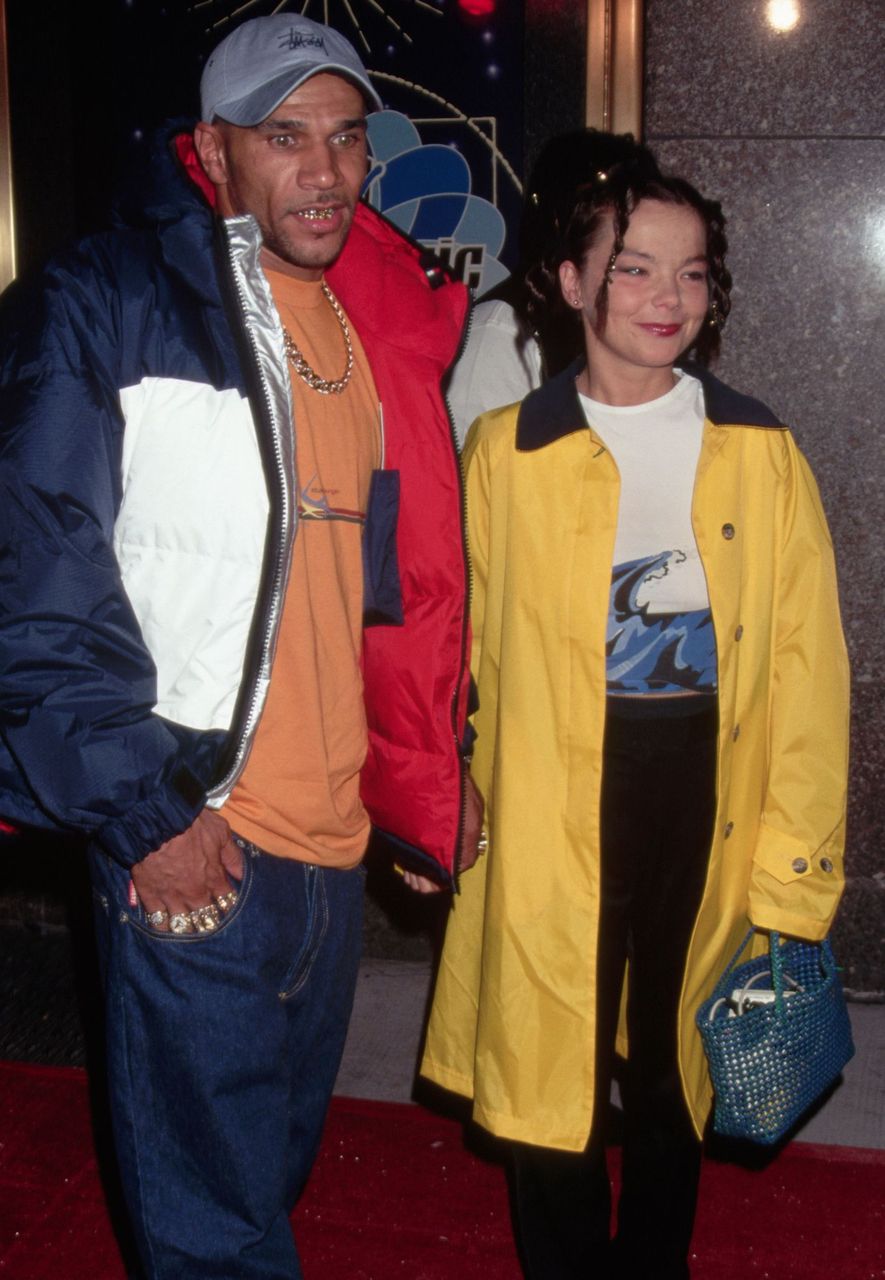 Homogenic was born out a turbulent period for Bjork, which included a relationship with fellow musician Goldie (Credit: Getty Images)
It is a restless record: the first words sung, with steely (self) determination, on opener Hunter, are "If travel is searching / And home has been found / I'm not stopping / I'm going hunting". A tempting mission statement for anyone recently chewed up by a relationship, and newly single…
But if Hunter sets up Bjork's drive for autonomy, the album nonetheless then moves into a series of songs that evoke the intensity of close connections: on Joga ("you see what's inside of me / every nerve that hurts"), Unravel ("while you are away / my heart comes undone"), Bachelorette ("I'm a path of cinders / burning under your feet"), and All Neon Like ("I weave for you / The marvellous web"). There's both joy and pain, healing and destruction in many of these images of interdependence.
Reckoning and release
Then, on the second half of the record, everything really does come apart. But it also feels like Bjork leaps to her feet. There's you'll-never-thrive-without-me scorn for an ex on 5 Years, while Immature is a snap of self-recrimination, asking a question many of us may have wondered when looking back on a failed relationship: "How could I be so immature to think he could replace the missing elements in me?" It's a moment of reckoning: the realisation that a partner is not the solution. You've got to find that inside yourself.
From there, Bjork surges into the irrepressible anthem of Alarm Call, the pounding, explosive release of Pluto, and ends on the beatific, transcendental All is Full of Love. "You'll be given love / You'll be taken care of / You'll be given love / You have to trust it" she insists, in an airy, celestial track that's a firm fan favourite – and a balm to the soul. Stretching out a virtual hand to hold, it promises that you are worthy of love, that everything will be okay in the end.
It seems only appropriate that Homogenic helped me get over the same boyfriend who introduced me to the record. In my early 20s, battling out from the overwhelming experience of first heartbreak – which really did feel elemental, like a blizzard I couldn't see my way through – I probably clung hardest to Bjork's spitting, righteous ire on 5 Years:
"You think you're denying me of something / Well I've got plenty
You're the one who's missing out
But you won't notice
Til after five years / If you'll live that long
You'll wake up / All loveless"
You could borrow the title of its succeeding track to describe it: the raspberry-blowing screw-you sentiment isa little immature… but so was I at 22. And my God, it's also exhilarating, strident songwriting, with a stomping beat that sounds like scrap metal being crushed under giant feet. Bjork sings with hoarse, almost haughty self-belief about her own self-worth. And the way she accuses the former lover of cowardice, and of not being up to the task – "it's obvious, you can't handle love" – will resonate with anyone who's been accused of demanding too much in a relationship, or of being too emotional.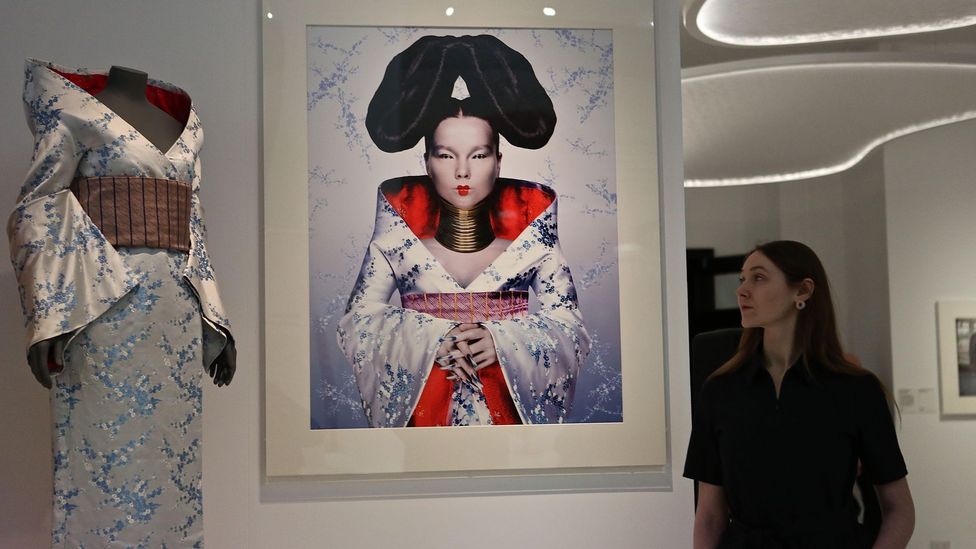 The Alexander McQueen outfit that Bjork wore on the cover of Homogenic is currently on display in a show about the kimono at London's Victoria and Albert Museum (Credit: Alamy)
However while a good break-up record may be seductive in its misery or astringent in its recriminations, a good putting-yourself-back-together record recognises pain, but also reminds you of the joys of life. And Homogenic delivers on that front too – most affirmingly on Alarm Call, one of my favourite Bjork songs. Actually, just one of my favourite songs.
It's a shot of pure optimism, riding on jumpy, hopped-up rhythms and an irresistible bassline. Bjork sings – and I swear you can hear the smile on her face – about wanting to climb a mountain "with a radio and good batteries" in order to free the human race by playing a "joyous tune". She instructs the listener to wake up: "You can't say no to hope / Can't say no to happiness / It doesn't scare me at all."
It is a banger of a reminder that life really does go on. Of course it can be tempting to cocoon yourself in misery and mistrust after being heartbroken, but that's no way to live – fearful of the future, fearful of being by yourself or of all that could go wrong again in a new relationship. Alarm Call is a reminder to run headlong into the future with hope instead; to risk unhappiness in order to find happiness.
After a self-destructive, devastating break-up in my 30s, Homogenic once again became my soundtrack to rebuilding the self. As I began to crawl out of a deep pit of self-loathing – where I listened a lot to Bjork's bona fide break-up record Vulnicura, in fact – I eventually returned to Homogenic. I remember playing it endlessly through headphones while striding around London's streets and parks, determined to remake myself, and to find a new way of living.
That time, it wasn't the necessary scorn of 5 Years or Immature that appealed (or not so much anyway). It was Alarm Call, and its call to the light. Bjork's refrain "You can't say no to hope, can't say no to happiness" became something I repeated, clung to, and – eventually – found to be true.
If you would like to comment on this story or anything else you have seen on BBC Culture, head over to our Facebook page or message us on Twitter.
And if you liked this story, sign up for the weekly bbc.com features newsletter, called The Essential List. A handpicked selection of stories from BBC Future, Culture, Worklife and Travel, delivered to your inbox every Friday.