As a colossal, remastered edition of Prince's seminal LP is released, Mobeen Azhar speaks to the people behind the album to find the secret to its brilliance.
B
By 1986 Prince had already seen the top of the mountain. His 1984 album Purple Rain had cemented – or more aptly bejewelled – his place in history, and in the summer of that year he simultaneously held the number one spots on the US single, album and film charts. But Prince wasn't satisfied with mere star power, and two records after Purple Rain, he changed direction. The result was Sign O' the Times, an album that has repeatedly appeared on critics' most-esteemed lists since it was released in 1987, 33 years ago. Could it be the greatest of all time?
More like this:
– How Bjork helped me deal with heartbreak
– The folk singer murdered for his music
– Pop music's greatest philosopher
For Susan Rogers, Prince's sound engineer from 1983 to 1987, Sign O' the Times was an intentional departure for the artist. "Purple Rain was the work of a brilliant young man," she tells BBC Culture. "Boys are cocky. Sign O' the Times was an album made by a grown man. The charts had moved on and hip-hop was taking over. There was a world outside his door; there was restlessness; there was curiosity; there was the Aids epidemic."
The album is a freeze frame of the time in which it was written – the title track including a line about "a big disease with a little name". Gang violence, crack cocaine and US President Reagan's Star Wars programme are name checked. Like Marvin Gaye's What's Going On and Stevie Wonder's Songs in the Key of Life, the opening moments of Sign O' the Times are a state-of-the-nation address. Listeners expected a new Prince record to be a sexually-charged invitation to dance and sing – they didn't expect the audio equivalent of a newspaper front page. Some DJs read the lyrics to the album's title track on air as an introduction. It was a statement of intent: Prince was in a different place and wanted it to be known.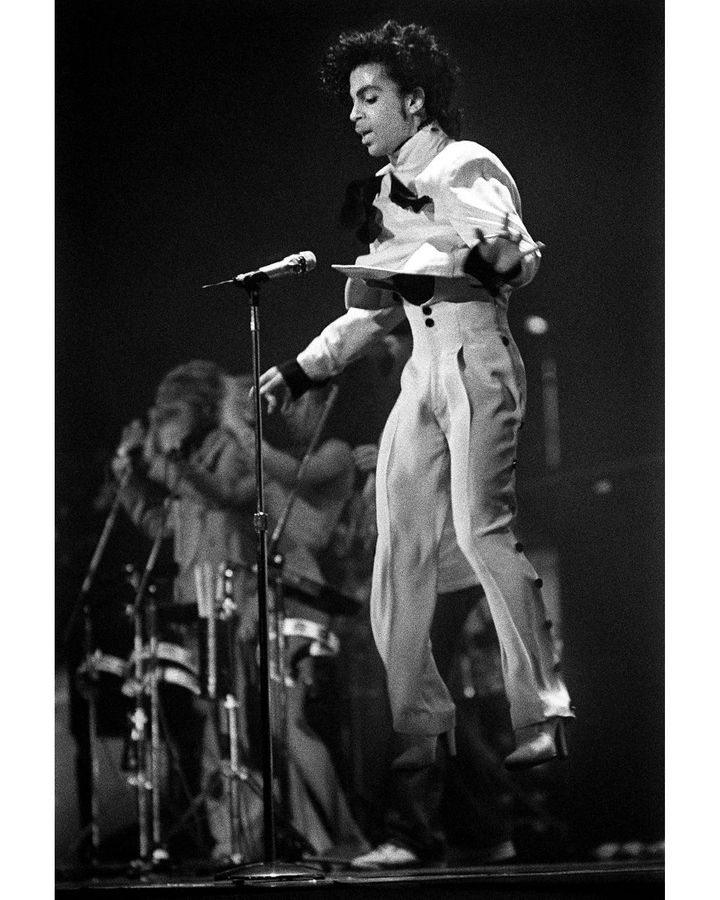 The opening moments of Sign O' the Times are Prince's state-of-the-nation address – its title track includes a line about "a big disease with a little name" (Credit: Getty Images)
Sign O' the Times' subsequent critical acclaim hides its troubled gestation – the result of Prince's original plans being foiled. The follow-up to Parade (1986) was originally called Dream Factory. This evolved into a proposed triple album, Crystal Ball, and at one point, Prince planned to put out a record under the pseudonym Camille. However, neither a three-disc set nor an album that banished the star's name appealed to marketing executives at Warner Brothers. Releasing the double album Sign O' the Times was, in many ways, a compromise. As a result, a mass of material was left on the shelf.
The feverish speed at which Prince wrote and recorded music is established pop folklore. It's also bewilderingly true. Eric Leeds, who played saxophone and flute for Prince, says there are multiple incarnations of what a Prince album in 1987 could have sounded like. "This is a guy who recorded almost every day," he tells BBC Culture. "For a couple of weeks in 1986 we rehearsed and he said we were going to put on a musical on Broadway. That's where the song In a Large Room with No Light came from. It's my single favourite song in his catalogue so I'm glad it's finally getting a release. The Broadway musical never happened". Leeds continues: "You gotta understand, whatever he was working on at the time was the greatest thing in the world to him. I remember rehearsing the song Crystal Ball for a tour. We'd recorded and rehearsed constantly but then many of those songs would disappear."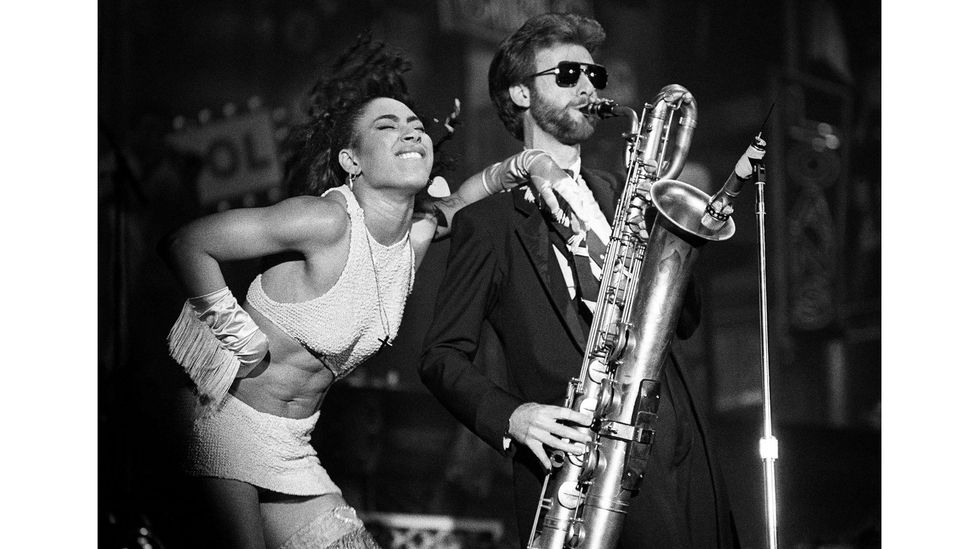 Eric Leeds (pictured with Cat Glover) played saxophone and flute for Prince, and recalls recording almost every day (Credit: Getty Images)
The established pattern of Prince creating music and deeming it crucial, only to then put it on a shelf, is the main reason fans are so eager to hear what artists of a lesser stature would deem outtakes or substandard material. Prince's vault of unreleased songs has graduated from fable to established fact, with each posthumous release shedding light on the quantity and breadth of recordings that didn't make it to the record store in Prince's lifetime.
A parallel Prince universe
This month Prince's estate will release Sign O' the Times: Deluxe, a colossal, remastered edition of the album, which features 45 previously unreleased tracks. That's more music than Michael Jackson put out in the whole of the '80s and more studio recordings than Jimi Hendrix released in his entire career. These unreleased songs present an alternative career, like pop music string-theory. A parallel Prince universe with different singles, alternative album configurations, artwork and proposed tour setlists. The 1987 version of Sign O' the Times was just the part of Prince that he ended up sharing then.
Crystal Ball was the proposed title track of the album that became Sign O' the Times. The song was something he laboured over, according to Rogers. "Whenever he took his time it was clear it was important to him," she explains. "He was about the album, not about the single, and he considered Crystal Ball to be a major scene in what he was creating." A seven-inch version of Crystal Ball, previously unheard by fans, is featured on the upcoming release. Prince references nuclear war and sings about making love through the apocalypse. It is not, thematically or sonically (jazz segues, spiralling orchestration, marimba), a conventional title track or single choice for the mid-80s – or any era for that matter. But it is super-charged, wild-eyed, heart-racing, Prince.
Rogers recalls a playful Prince, high from the thrill of creating such an otherworldly song. "It starts with a long, slow kick-drum intro. When we were doing the mix, he panned the kick drum completely to the left. When played, it would only come out of one speaker. I asked why and he told me 'It will be the first song on the side of the record and people will think there is something wrong. They will jiggle the wires of their stereo'. He was mischievous because he was happy. He was happy because he felt he did something of real importance."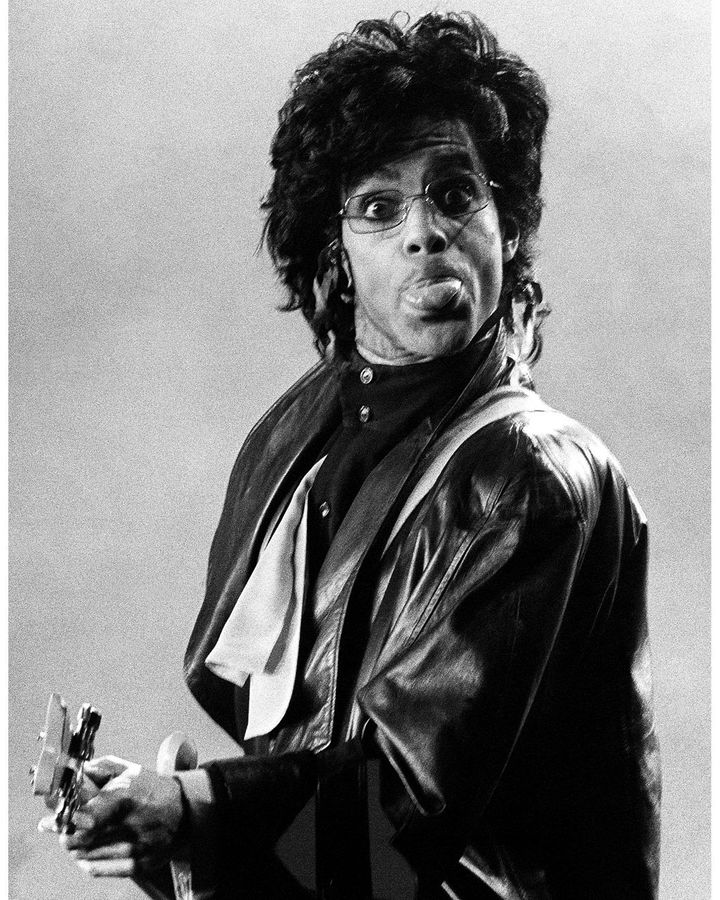 This month Prince's estate releases Sign O' the Times: Deluxe, which features 45 previously unreleased tracks (Credit: Getty Images)
The ethereal aspects of Crystal Ball may have been inspired by far more earthly occurrences than fan mythology would encourage us to believe. Prince was deeply in love with his fiancee Susannah Melvoin, collaborator and twin sister of his guitarist Wendy Melvoin. She asked Prince if she could paint a mural at his home. The mural featured bare-chested nymphs and according to Susan Rogers inspired the lyrics: "As soldiers draw their swords of sorrow, my baby draws pictures of sex". Similarly, the songs Forever in My Life, If I was Your Girlfriend and Adore are audio diaries of a relationship that was in bloom, then troubled, and eventually transcendent.
Where's Wally?
So much of Sign O' the Times tells the story of Prince changing and searching. Part of the way through its creation he sacked most of his band The Revolution, with whom he had conquered radio and MTV. His relationship with his fiancee also ended. This incident in particular birthed perhaps the most sought-after unreleased song of all: Wally. It's a song in which Prince laments a failing relationship by singing to his confidant and bodyguard at the time, Wally Safford.
The story of why Wally was never released has made fans ache for decades. Prince had recorded the ballad, engineered by Susan Rogers, only to demand that she erase the track. Rogers refused and asked him to sleep on it. Undeterred, Prince turned up all the faders on the console and hit the record button, destroying the song and his outpouring of grief. Rogers describes the incident as "heartbreaking", the sense of loss evident in her voice as she tells the story all these years later. Prince did walk out of the session with a mono cassette of the mix, which, officially at least, remains lost to this day.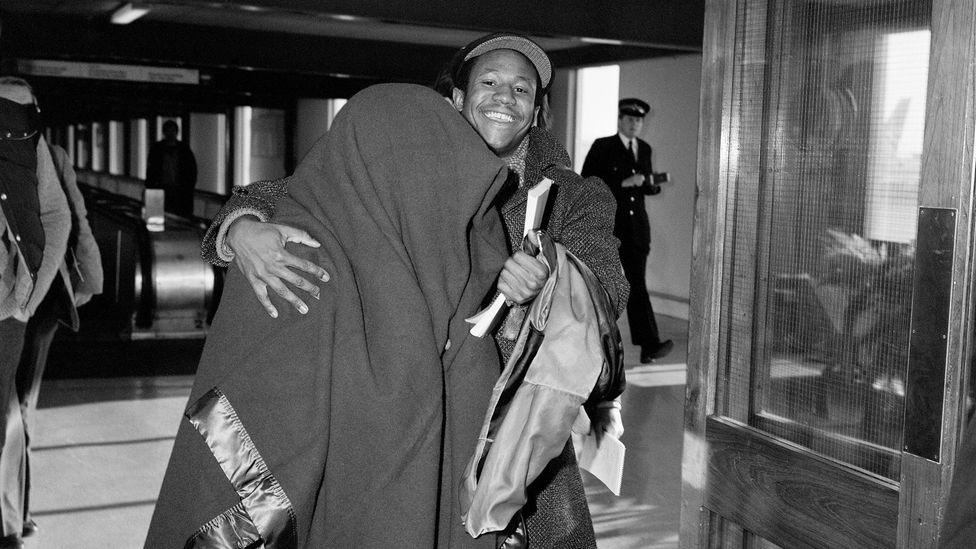 In the song Wally, Prince laments a failing relationship by singing to his bodyguard and confidant, Wally Safford (pictured with Prince) (Credit: Getty Images)
A second version of Wally recorded a few days later is featured on the new release. When Rogers heard it recently she describes it as "same song, different attitude". "The original Wally was a cry of pain," she explains. "It was vulnerable and just beautiful. But he didn't like showing weakness. Even having a cold or flu was something he didn't want to admit to. In this version of Wally, he's saying 'I'll be fine'. That's not the Wally I remember."
Regardless of any individual track omissions and the online gripes of some Prince ultra-fans who believe Sign O' the Times: Deluxe should feature an even more extensive track list, the scale of this new release is monumental. Duane Tudahl, senior researcher for the Prince estate, describes the process of assembling a new version of what many fans consider the holy grail of Prince albums. "We went through everything we could find for this period. It took a year of hard work, focus and dedication. We lost sleep. We wanted it to be so right. The chronology of the track list aims to match when the songs were recorded. It's his story, about being in love or being angry or being spiritual."
Indeed, the first of the vault tracks on this release is a jaunty, hyperactive 1979 version of I Could Never Take the Place of Your Man, recorded a year after Prince released his debut album and eight years before Sign O' the Times came out. Susan Rogers explains that both I Could Never Take the Place of Your Man and Slow Love had extended gestation periods. They were songs that Prince took out of his vault and updated when deciding on a track list for Sign O' the Times. Not only did Prince assemble an album from the bank of material recorded in 1986 going into 1987, he also borrowed from his own history.
'A singular talent'
The result was 16 songs that many consider to be the greatest album of all time, although greatness is, of course, subjective. As Duane Tudahl laughingly points out: "There are some Prince fans who will say Sign O' the Times isn't even Prince's greatest album!"
The impact and longevity of a record, however, can help separate great from merely good albums. Eric Leeds believes Prince changed the trajectory of pop music. "I would put a Ray Charles record or a James Brown record on that list," he tells BBC Culture. "People talk about Sgt Pepper. Think about impact. Of all of those icons of the '80s, Prince was the most remarkable musician. Madonna or Michael Jackson are not in the same league as even the most basic version of Prince. I can't imagine how pop music would develop from the '80s onwards without Prince. Take Madonna and Michael out of the mix and not that much would change."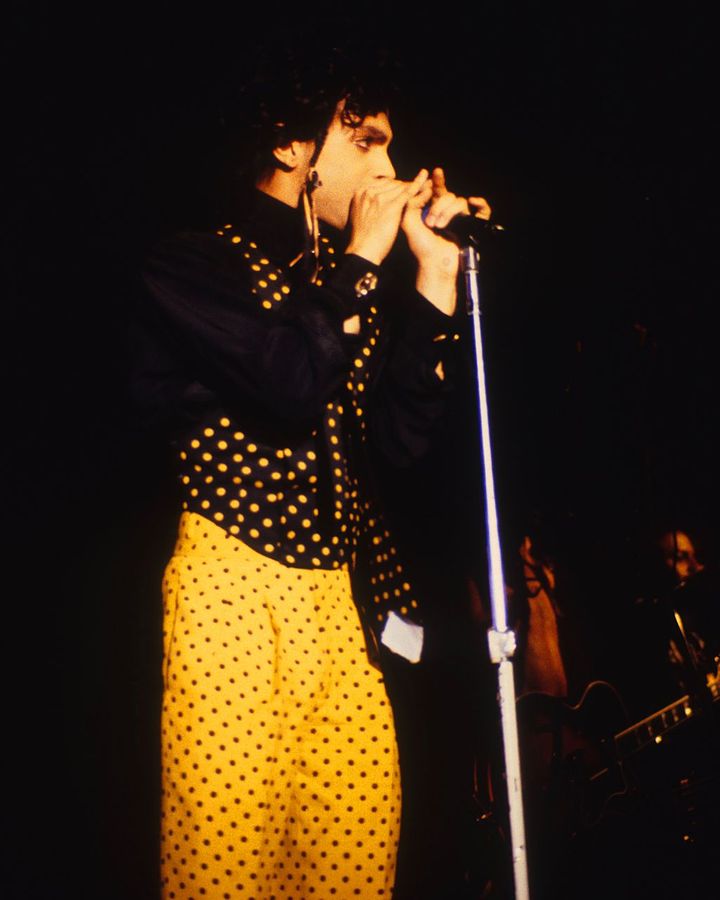 Sign O' the Times: Deluxe invites listeners to appreciate the genius of Prince as a multi-talented musician, composer and songwriter (Credit: Getty Images)
The new, expanded Sign O' the Times presents glimpses of a parallel purple timeline, which invites the world to reassess what this work means.
"Music and culture are a living dynamic," says Susan Rogers. Perhaps we are yet unable to adequately draw conclusions about the impact of the album and of Prince more broadly. To this day he is remembered by many as a pop star. Sign O' the Times and its expanded deluxe incarnation make a compelling case for Prince as a leviathan multi-instrumentalist, composer and songwriter. There is more range on the original album and on the deluxe edition than most pop stars explore in their entire careers. There are powerful invitations to dance, meditate on the carnal and to find God. The songs are consistently brilliant: it is a vision of an artist searching for gold – and finding it.
Rogers suggests that 33 years after its original release, Sign O' the Times still has something new to tell us about the greatness of Prince. "Van Gogh was not considered particularly creative in his lifetime. It was future generations that made reassessments. Then these people were seen as geniuses. The idea of 'best' or 'greatest' is recreation. It's a prize at the fair. What is more important is 'will something stand up?' My hunch is Sign O' the Times will. It exemplifies the work of a singular talent at his heights."
Sign O' the Times: Deluxe is released on 25 September
Mobeen Azhar is a journalist and Prince superfan. He is on Twitter @Mobeen_Azhar
If you would like to comment on this story or anything else you have seen on BBC Culture, head over to our Facebook page or message us on Twitter.
And if you liked this story, sign up for the weekly bbc.com features newsletter, called The Essential List. A handpicked selection of stories from BBC Future, Culture, Worklife and Travel, delivered to your inbox every Friday.