Forty years ago today, the Beatles star was assassinated – and has since held a god-like status around the world. David Barnett looks at the many manifestations of him in popular culture.
J
John Lennon has been dead as long as he was alive – it was 40 years today that he was shot on the steps of the Dakota apartments in New York. And since his death, Lennon has achieved, as is typical for musicians who die young or in their prime, legendary status.
More like this:
– The album that defined an era
– How pop stars can be truly provocative
– The song that unites a divided US
But perhaps that's not right – or at least that's not the whole story. As well as earning the tag "legend", which has perhaps lost some of its power because of its sheer ubiquity, Lennon has been elevated to something equally nebulous and folklorish; a myth.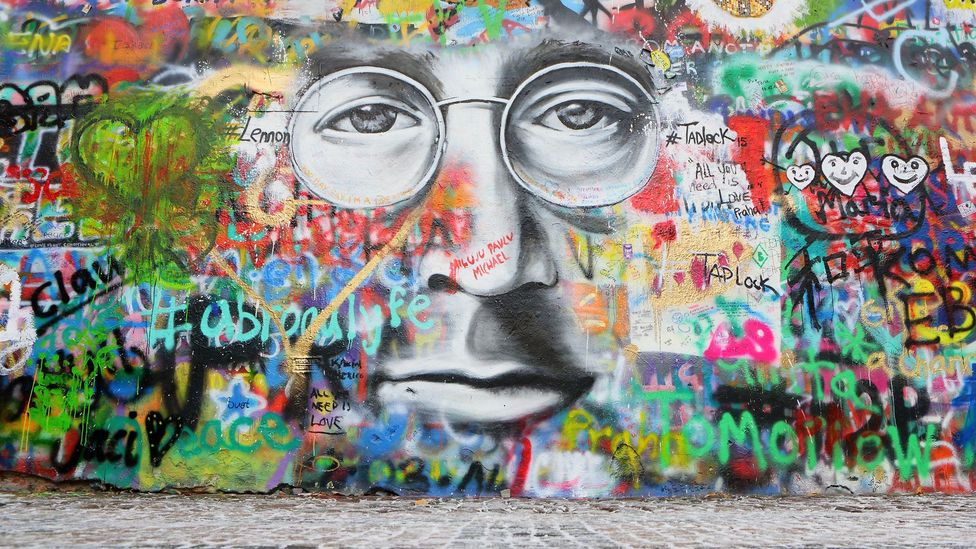 In Prague, a wall devoted to John Lennon is a major tourist attraction (Credit: Alamy)
Legends are for heroes. Myths are for figures even greater than that; gods. And John Lennon has indeed achieved a kind of deific immortality – thanks in part to the appropriation of his persona in works of fiction and drama. With portrayals of him that have cast him as everything from unemployed layabout to Labour Party leader, wise old fisherman to actual psychedelic godhead, Lennon's life has been romanticised, rehashed and rewritten since his death, to the point where the myth is often more real than the man. But more real doesn't necessarily mean more true. And the re-imagining of John Lennon began almost as soon as his life ended.
A misconceived saint
"Soon after Lennon's death – within hours, really – he was portrayed in this really sanctimonious, sanitised way that doesn't do justice to his personality, his sense of humour, or his fellow Beatles," says Rob Sheffield, a writer for Rolling Stone magazine and the author of the 2017 book Dreaming The Beatles. "I always loved what Paul said in the 80s: 'Since his death he's become Martin Luther Lennon.'"
Naturally, the Dakota building became a focal point for fans in the days after the shooting, transformed into a sea of flowers and grief-stricken notes. Hundreds of people held a silent tribute on the steps of Washington DC's Lincoln Memorial. Radio stations played nothing but Lennon and Beatles songs for days, and record stores sold out of the Lennon-Ono album Double Fantasy. Meanwhile further afield, there was similar beatification going on: within days of his death, too, a mural appeared on a wall in a hidden side-street in Prague, which has been added to and embellished over the years to become a shrine. Despite efforts to remove it or have it covered over, it is now a major tourist attraction and regular stop on guided tours of the Czech capital.
"It's understandable that in the first flush of grief, people wanted to pretend he was a saint, but that's the last claim Lennon ever would have made for himself," says Sheffield. "In addition to everything else he was, he was the most caustic, sarcastic, withering wit in the music world. So it sells him short to portray him as a simple-minded optimist."
Lennon certainly wasn't a saint by any stretch of the imagination. Five years ago, a legal document emerged featuring a statement from Dorothy Jarlett, Lennon's housekeeper when he was married to his first wife Cynthia, which painted the star as a serial philanderer who was aggressive and violent to their young son Julian. In an interview with Playboy, published just two days before he died, Lennon admitted, "I used to be cruel to my woman, and physically… any woman. I was a hitter. I couldn't express myself, and I hit."
Yet this is a Lennon we rarely see in popular culture. In Danny Boyle's 2019 movie Yesterday, Himesh Patel's struggling songwriter Jack Malik wakes after an accident in a world where the Beatles never existed. Finding fame performing the classic songs that nobody in this alternative reality has ever heard before, Malik eventually tracks down Lennon, living a simple life – in a hut, with a fishing boat called Imagine – away from the spotlight he never had shone upon him, and dispensing nuggets of homespun wisdom. Which is not a portrayal Sheffield has much truck with.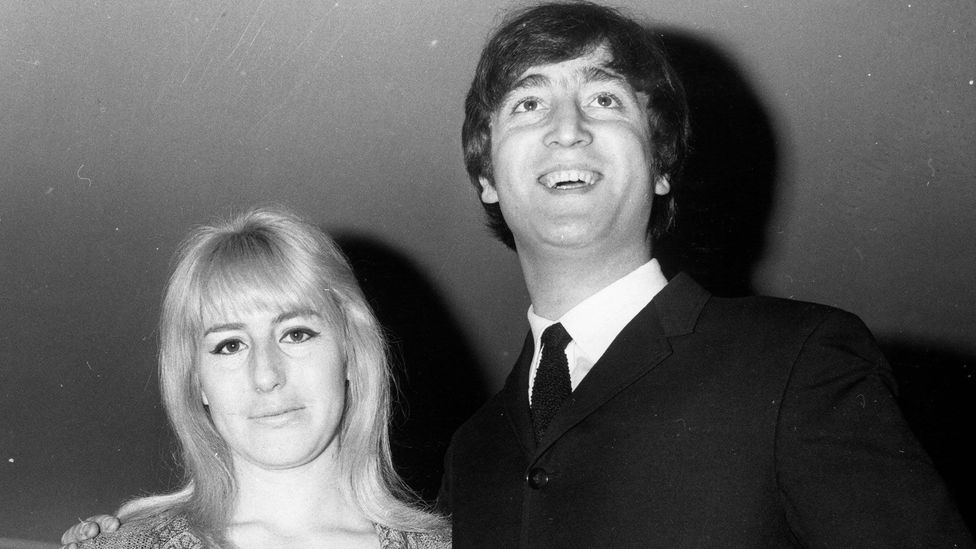 Lennon admitted to hitting women, including his first wife Cynthia, in an interview published two days before his death (Credit: Alamy)
"Can you imagine John operating a boat by himself?" says Sheffield. "Or getting up at four in the morning to go fishing? John never stopped complaining about having to get up at 8am for the Get Back sessions, where all he had to do was plug in a guitar. How could John live alone in that hut, without any roadies or chauffeurs? He couldn't cook, couldn't drive, couldn't fix anything around the house. As George Martin said, 'John couldn't change a lightbulb.' He wouldn't have lasted a week as a fisherman. But he would have laughed his ass off at that movie."
Speculative Lennon fictions
Perhaps a more satisfying parallel-universe portrayal can be found in Ian R MacLeod's 2013 novella Snodgrass, which finds Lennon aged 50, a scruffy, unemployed loser. Like Yesterday it's a "what if…?" story, this time the central conceit being that Lennon walked out on the Beatles in 1962 because he wanted to release Love Me Do as their debut single (as they did in reality) but they went with a different track. However, in MacLeod's vision, It's not just a case of Lennon watching from afar at the life he could have had. Instead, the Beatles never quite achieve the fame they did in reality, such was his influence and integral role in the band.
Snodgrass was subsequently adapted into a TV film, with the script written by former NME journalist and now novelist and screenwriter, David Quantick. "The interesting thing as a writer about Snodgrass was that it liberated you from all the cliches about John Lennon, because you could do what you liked with him. There was no official legend of the Beatles to have to fit into," says Quantick, who also wrote a book in 2002, Revolution, which was a deep-dive into the band's White Album.
"The Beatles have all sort of been whitewashed over time, with Lennon being whitewashed into this kind of slightly cheeky guy who loved peace. And he wasn't like that at all. He'd had a fairly terrible childhood and a very confused life, he'd used drugs and alcohol quite freely and he was a pretty terrible parent and husband the first time round.
"But it's these massive contradictions which make him interesting – not [the false idea] that he was a bland, peace-loving, bread-baking dad. He was a violent man but he was into peace. He was a rich man who told us to imagine no possessions. He was always portrayed as this working-class hero but he was brought up in this rather nice house and surroundings. And all those contradictions are what make him interesting to me, not the fact he was some cardboard character who never did anything wrong."
Snodgrass starred Liverpudlian actor Ian Hart as Lennon – the third time he had played him, following on from 1994 feature film Backbeat, which charted the band's early days and focused on the relationship between Lennon and Stuart Sutcliffe, the band's original bassist, who left the nascent band to pursue his passion for art, and died tragically young in 1962, aged just 21, of a brain haemorrhage. Hart also portrayed Lennon in the 1991 movie The Hours and the Days, which didn't quite present an alternate-universe John but rather speculated on some of the gaps in the real story.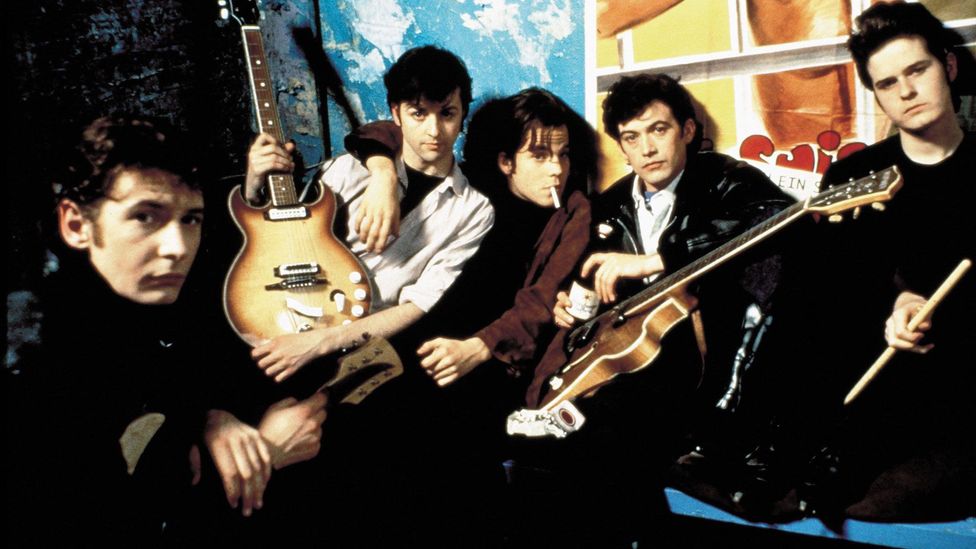 The 1994 film Backbeat focused on the relationship between John Lennon (Ian Hart, front left) and 'fifth Beatle' Stuart Sutcliffe (Credit: Alamy)
In this case, it explored what might have happened when Lennon and the Beatles' manager Brian Epstein spent a weekend in Barcelona in 1963, and presented the episode as a story of tender yet forbidden love between the two. Was it grounded in any reality? In 2015, Yoko Ono said in an interview that Lennon saw bisexuality as natural while Lennon himself said that his relationship with Epstein was "almost a love affair, but not quite. It was never consummated".
Kevin Barry's 2015 novel Beatlebone treads a similar speculative path, looking at Lennon's actual trip to the West coast of Ireland in 1978, and highly fictionalising it into a story about him taking part in primal screaming therapy to "at last be over himself". Beatlebone takes place two years before Lennon's death, and Sheffield says the premise is emotionally convincing in that he might have had a lot to get over at that point in time. "A theme of his final interviews is how hard John was struggling in his adult life to purge the misogyny that he'd inherited, and to learn a way of being an adult male that wasn't rooted in misogyny," he says. "He wasn't trying to excuse his past behaviour; he was trying to understand it so he could leave it behind. And he was talking about it in public so (male) kids like me could understand we didn't have to grow up making the same mistakes he did. I was just a little kid when he died, but John was one of the only adult males I saw out there talking openly about feminism. It's a huge reason I looked up to him."
More evidently factual, and the most high-profile among the various Lennon narratives, is Sam Taylor-Wood's 2009 film Nowhere Boy, which chronicles his younger life and his relationship with his mother Julia and aunt Mimi. Like scholars picking over the childhood of Buddha, we want to understand how Lennon became the man he did, but there's also a purity to this portrayal because it presents Lennon before the prism of fame split him into his kaleidoscopic multitude of facets that allowed artists to imprint their own ideas of what John Lennon was or should have been.
Lennon as fantasy figure
Not all portrayals of Lennon in fiction have aimed for a realistic examination of his life with or without the Beatles. In author and film critic Kim Newman's Anno Dracula novels, which posit a world where the vampiric count marries Queen Victoria and supernatural creatures live openly alongside mortals, Lennon is referenced as being the leader of the Labour Party (and a vampire, to boot). He can even be found in the Marvel comic book universe, via the character of John The Skrull a member of the shapeshifting alien race created by writer Paul Cornell, who routinely takes the appearance of Lennon.
Both foreground different aspects of the multi-faceted Lennon persona. With Newman's books, he's literally turned into the ultimate incarnation of his own 1970 song Working Class Hero. Meanwhile Cornell tells BBC Culture he "wanted someone who'd look at super heroes and couldn't quite join in, but instead stood back and made sarcastic and not always helpful comments. Lennon would be the most likely to do that."
That's not his only appearance in comics: Scottish writer Grant Morrison's cult 1990s Vertigo series The Invisibles presented Lennon as an actual pop cultural, god-like manifestation (possibly of the Hindu god Ganesh), as well as a time-slip moment in which the young Scouse protagonist Dane McGowan, sees Lennon and Stuart Sutcliffe talking about Sutcliffe leaving the Beatles.
"Morrison's making an interesting point that Lennon has actually become a mystical character now," says Quantick. "He's achieved that level where people are using him in magical rituals because of who they think he was."
Nor was that the first time Morrison had referenced Lennon's impact on the collective psyche of humanity. In his 1990 comic St Swithin's Day, a disaffected youth sets out to assassinate Margaret Thatcher. He buys a copy of JD Salinger's The Catcher In the Rye for them to find in his pocket afterwards – just like Lennon's killer Mark Chapman did. In the end, the character disposes of his book, not wanting his plot to be over-analysed.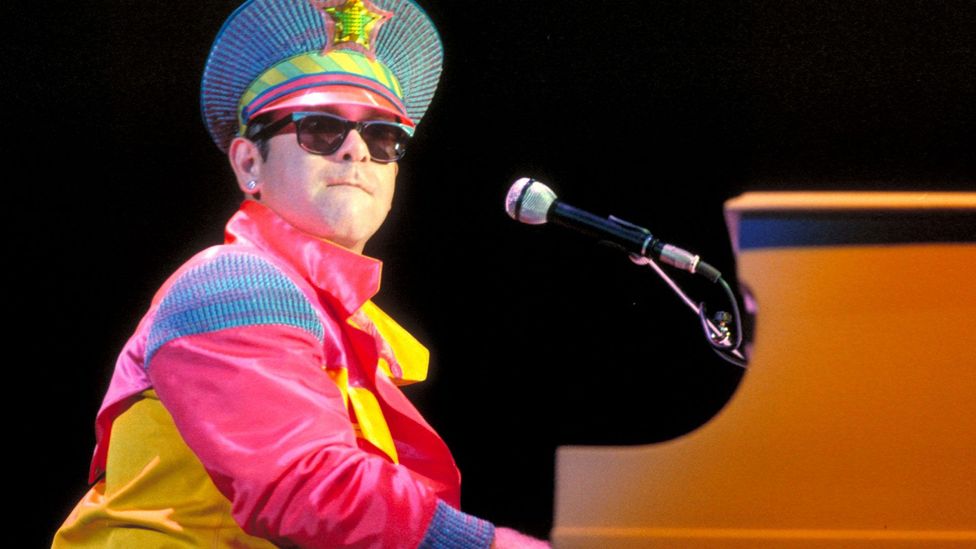 Elton John is one of a number of musicians who have paid tribute to Lennon in song, with his 1982 track Empty Garden (Hey Hey Johnny) (Credit: Alamy)
And as for the impact the Lennon myth has had on the surviving Beatles? Sheffield says that the posthumous canonisation of Lennon after his death was to the detriment of Paul, Ringo, and George. "The view of Lennon that developed sold the other Beatles short, because they were the ones who knew and loved the real John," he says. "After his death people took their grief out on Paul in a really vicious and unfair way. Nobody had a kind word for Paul for years after, and it's just because people wanted to make a saint out of his bandmate."
Understandably, Lennon's bandmates – and the wider pop community – paid their own musical tributes to him in the decades after his death, largely with ruminations on the loss of a friend and great talent rather than any serious attempts to portray him as one thing or another. George Harrison did it with All Those Years Ago in 1981, McCartney with Here Today a year later; Bob Dylan sang about Lennon's death on 2012's Roll On John, while Elton John – a close friend of Lennon – recorded Empty Garden (Hey Hey Johnny) in 1982.
Whether as a saint, a god or a folksy old nobody, Lennon's portrayal in popular culture has taken on a life of its own far removed from the reality of the man himself. But, says David Quantick, all that might pale against the biggest romanticiser of John Lennon – himself. "Lennon was a self-mythologist," he says. "I mean, look at [1969 Beatles song] The Ballad of John and Yoko. He's basically writing his own legend there, the testament according to John. He was self-obsessed to an extraordinary degree. He was massively into mythologising himself, so it's hardly surprising if other people do that too."
If you would like to comment on this story or anything else you have seen on BBC Culture, head over to our Facebook page or message us on Twitter.
And if you liked this story, sign up for the weekly bbc.com features newsletter, called The Essential List. A handpicked selection of stories from BBC Future, Culture, Worklife and Travel, delivered to your inbox every Friday.