Photographer Joseph Khoury and architect Gabriela Cardozo spent five years documenting Ottoman and colonial-era houses that are now at risk of destruction, writes India Stoughton.
F
Five days after the enormous explosion in Beirut that killed more than 220 people and left up to 300,000 homeless, Joseph Khoury and his wife Gabriela Cardozo undertook a painful pilgrimage through Gemmayzeh and Mar Mikhael, two historic neighbourhoods located close to the port. They carried 30 postcards – every photograph in their series Bouyout Beirut (Houses of Beirut), which captures the beauty of Beirut's Ottoman and French mandate-era architecture. Skirting rubble, and searching among facades rendered unfamiliar by catastrophic damage, they tracked down 25 of the buildings. At each, they left behind a postcard – a reminder of what is at stake.
More like this:
– Startling images of the Middle East
– The Middle East's most creative city?
– Hidden histories of the Middle East
"We didn't even know what we were going to end up doing. It was just on the way that we said, 'Okay, we have the postcards here and it looks so different, let's just leave them, and maybe people will remember how they looked,'" says Cardozo, an architect who moved to Beirut from Venezuela six years ago. Amid the wreckage, they were unable to identify the final five buildings. "It was hard to recognise some of them because there are some that are ruins," she explains.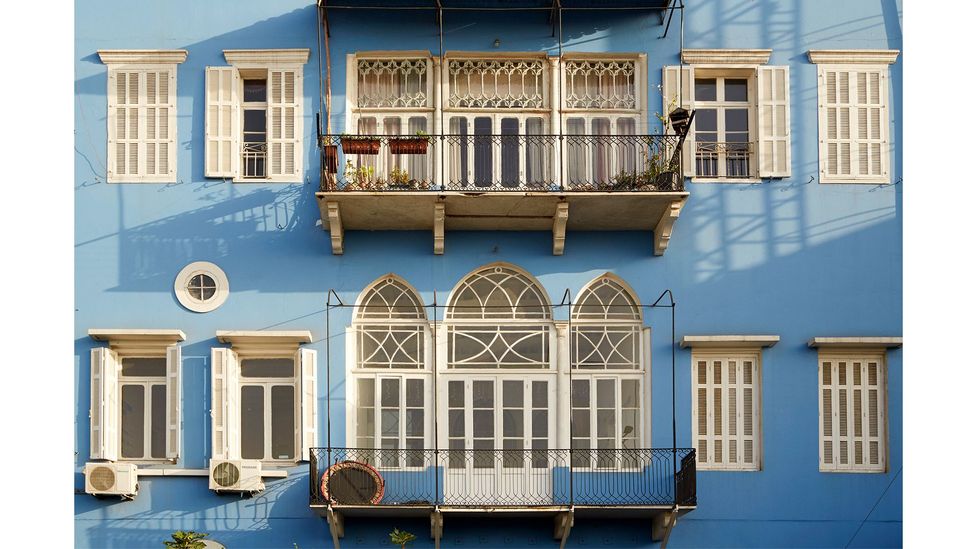 Joseph Khoury and Gabriela Cardozo's photo series Bouyout Beirut captures the beauty of the city's Ottoman and French mandate-era architecture (Credit: Joseph M Khoury)
In the wake of the explosion on 4 August, caused by the detonation of 2,750 tonnes of ammonium nitrate stored at the city's port, concern has been growing about how to safeguard what remains of Beirut's architectural heritage. Thousands of historic buildings have already been lost in the three decades since the civil war ended, as lax state protection allowed developers to tear them down and replace them with modern skyscrapers. Now, many fear that structural damage done by the explosion may be used as an excuse to destroy the few that remain. A series of photographs showing Khoury and Cardozo holding up their postcards in front of the shattered structures has been shared by more than 1,500 people who fear for the survival of the buildings.
Historic Gemmayzeh and Mar Mikhael were among the areas worst hit by the blast. Several buildings collapsed. Holes were blown in the walls and ceilings of others. Stone balconies plummeted to the ground, crushing cars; tiles were blown off roofs to shatter in the streets below; ornate wrought-iron balcony rails buckled, and painted wooden shutters and beautiful arched windows were turned into deadly shrapnel. Unesco, which has pledged to lead international restoration efforts, reported that 640 historic buildings were damaged in the blast. Around 60 are at risk of collapse. The total cost of restoration is currently estimated at $300m (GBP228m).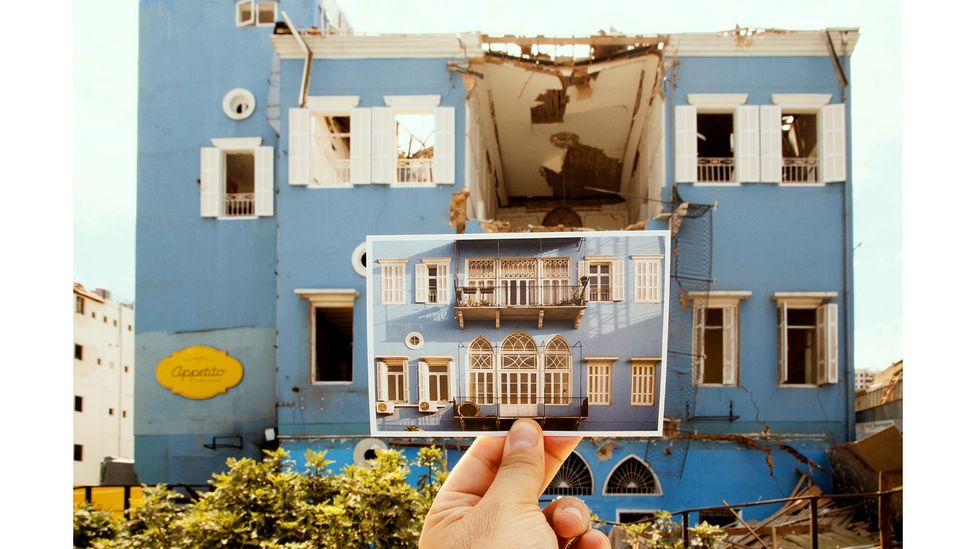 After the explosion, they tracked down 25 of the buildings, and left behind a postcard from their series (Credit: Joseph M Khoury)
The crisis comes at the end of a difficult year for Lebanon. Massive anti-government protests that began last October continued for months as Lebanon's economy collapsed and the Lebanese pound lost about 80% of its value. "The revolution started on 17 October – after that was the pandemic, now the explosion – so it's been more than half a year that you've been hit with all these external factors," says Cardozo, who fears that residents of the damaged buildings will not have the funds to restore them.
She and Khoury began the Bouyout Beirut project in 2016, creating three series of photographs featuring historic houses in Gemmayzeh and Mar Mikhael, which house many of Beirut's cultural spaces and artists' studios, as well as small boutiques and popular restaurants and bars. Their photographs capture the faded glamour of buildings that bear the marks of time, from crooked shutters and broken windows, to the scars left by bullets and shelling during the civil war, which engulfed the country from 1975 to 1990. Even before the blast, some were abandoned, slowly falling into ruin. "We usually see postcards from Beirut that are the same… Everything is very nice and neat. But we felt the need to show Beirut as it is. It's raw. Sometimes it's messy. It's just very real – full of contrasts," says Cardozo.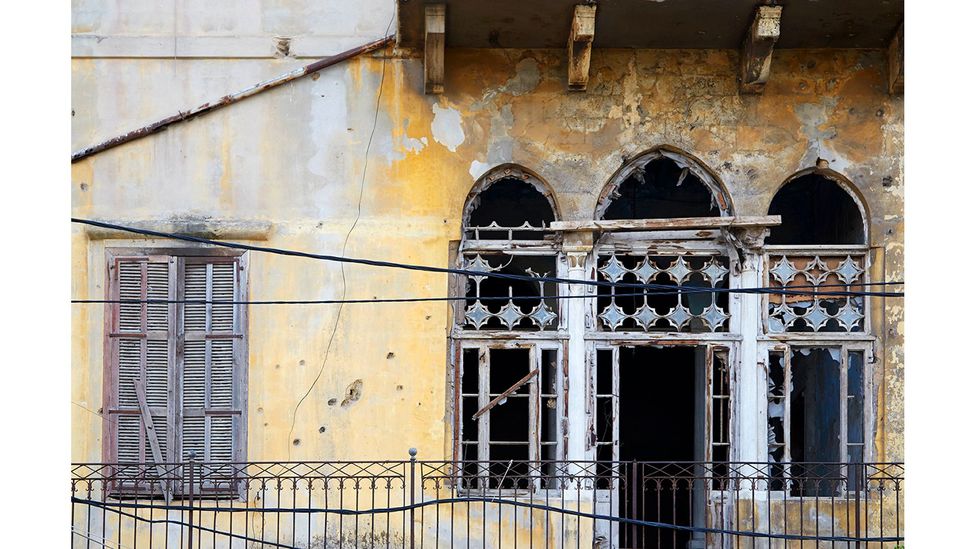 Even before the blast, some of the buildings were abandoned, marked by the civil war, and slowly falling into ruin (Credit: Joseph M Khoury)
Khoury, who grew up hearing stories about Lebanon's pre-war beauty, sees the buildings as a symbol of Lebanon's past but also its future. "They're part of Beirut's identity. They represent the common good and the possibilities of what we still can be," he says. "They give us hope and remind us of days when Beirut was thriving."
A fragile beauty
Gemmayzeh and Mar Mikhael were among the first neighbourhoods built once Beirut started expanding beyond its ancient city walls, explains Antoine Atallah, an architect and urban planner and the vice president of local NGO Save Beirut Heritage. "They are lucky enough to have survived both the civil war and the real-estate frenzy that destroyed so many historical buildings and dismembered so many historical neighbourhoods," he says. Unlike other Ottoman and French-mandate era buildings scattered across Beirut, which are often isolated amid modern high-rise apartment blocks, "they constitute a complete urban fabric that is still safe and intact and coherent".
A new series of photographs shows Khoury and Cardozo holding up their postcards in front of the structures shattered by the explosion (Credit: Joseph M Khoury)
Both neighbourhoods contain Ottoman architecture from the second half of the 19th Century, including spacious two-storey villas with red-tiled roofs and large central halls featuring soaring triple-arched windows. Also historically significant are the buildings dating from 1920 until 1945, when Lebanon was under French control. These mimic many Ottoman design elements but were partly modelled on the architecture of Paris. Attached to create a single long line, most are three or four storeys and feature the addition of balconies with decorative wrought-iron balustrades.
Atallah says the Ottoman buildings were particularly vulnerable to the force of the explosion. "The central hall and the three arches basically cut the facade in two and you just have those very fine, thin marble columns that hold the entire facade," he explains. "You have big windows… You have a lot of voids – all of this in thin sandstone masonry. So this creates a beautiful architecture but at the same time a relatively fragile architecture that was not built to withstand the strength of such an explosion."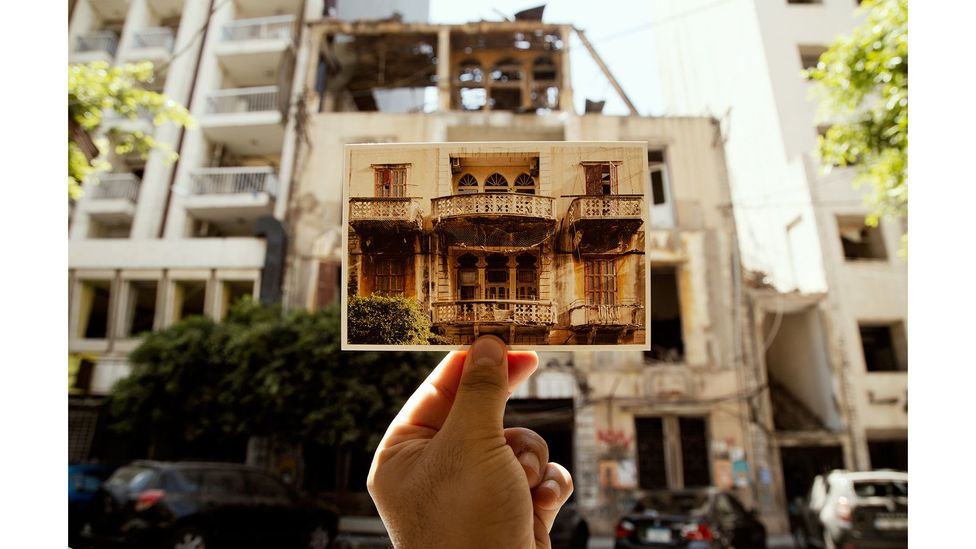 Their photographs capture the faded glamour of Beirut's buildings that bear the marks of time, from crooked shutters to broken windows (Credit: Joseph M Khoury)
Many fear that structural damage may be used as an excuse to tear buildings down instead of restoring them. "There are rumours that the owners are being offered money to sell them… There is a risk that whoever is going to buy the buildings will just knock them down and build a skyscraper to take advantage of the land, generate more money, more profit," says Khoury.
A decree issued by the ministry of finance on 12 August aims to prevent 'exploitation' in the wake of the blast by preventing the sale of any historic building without the permission of the minister of culture. But Atallah says that there are still multiple threats that must be tackled urgently, including the risk of abandonment by those who don't have the funds to rebuild. "During the civil war… we did have situations of people leaving behind their houses, their buildings, and never coming back. We do not want this to happen," he says. Another danger is that with so many families temporarily displaced, some are simply patching up the damage as quickly and cheaply as they can, filling in the historic arched windows to provide shelter from the coming winter rains.
Volunteers have been working to reassure owners and tenants that help is on its way. "They are not alone in this fight… Once the correct system is put in place there will be ways to finance the renovation of historical buildings that were damaged by the explosion. It's really something that is being taken very seriously by many international organisations," says Atallah. "They shouldn't despair – even though they have all the reason in the world to despair. For us it is extremely important… We want to save not only the buildings but the social fabric that makes these buildings alive."
Bouyout Beirut @bouyoutbeirut was created by Joseph Khoury and Gabriela Cardozo.
All photos by Joseph M Khoury @joekhourystudio
If you would like to comment on this story or anything else you have seen on BBC Culture, head over to our Facebook page or message us on Twitter.
And if you liked this story, sign up for the weekly bbc.com features newsletter, called The Essential List. A handpicked selection of stories from BBC Future, Culture, Worklife and Travel, delivered to your inbox every Friday.