Lovecraft Country is a dynamic adventure and a bracing depiction of the power of black culture, writes Caryn James.
L
Lovecraft Country is distinctly part of the Jordan Peele Universe. His world does not include recurring characters as in the Marvel Cinematic Universe. The family from Get Out doesn't pop by to visit the family from Us (although that would be fun). But Get Out and Us, the potent films Peele has written and directed, and the Twilight Zone series he produces, are of a piece, all of them blending tough-minded themes about race with supernatural plots. Ambitious and unwieldy, Lovecraft Country uses historical details, rousing set pieces and a mash-up of genre tropes as it follows a young black man on a geographic and an emotional journey in the segregated 1950s.
More like this:
– Will this film save cinema in 2020?
– Why Octavia E Butler's novels are so relevant today
– The 1968 sci-fi that spookily predicted today
The series was created by Jordan Peele and Misha Green (co-creator and writer of Underground), with Green the steering force as writer, and JJ Abrams (director of two Star Wars films) is an executive producer. In Peele's own sharply focused films, the supernatural sneaks into a world deeply rooted in realism, while Lovecraft Country veers in the opposite direction, with spells, magic potions and blobby monsters near-constantly featuring. It's uneven and unsubtle, but it is also a dynamic adventure and a bracing depiction of the power of black culture, past and present.
When we first see the hero, Atticus Freeman, known as Tic (Jonathan Majors), he is on a bus heading home to his working-class neighbourhood in Chicago. His father, Montrose Freeman (Michael Kenneth Williams), has vanished, last seen being whisked off in an expensive-looking silver car. The early scenes in Chicago establish the texture of the neighbourhood, the streets full of clunky brightly-coloured cars and grungy local bars. We immediately see the family faultlines: Tic is estranged from his father but close to his uncle George (Courtney B Vance), who publishes The Safe Negro Travel Guide, a book guiding black travellers to welcoming destinations. That guide makes Lovecraft Country sound like a response to Green Book, the cringe-worthy 2018 Oscar-winner with a white saviour attitude. In fact, the series is based on a 2016 novel by Matt Ruff, in which the hero is named Atticus Turner. Changing the family name to Freeman is one example of the series' blunt allegorical nature.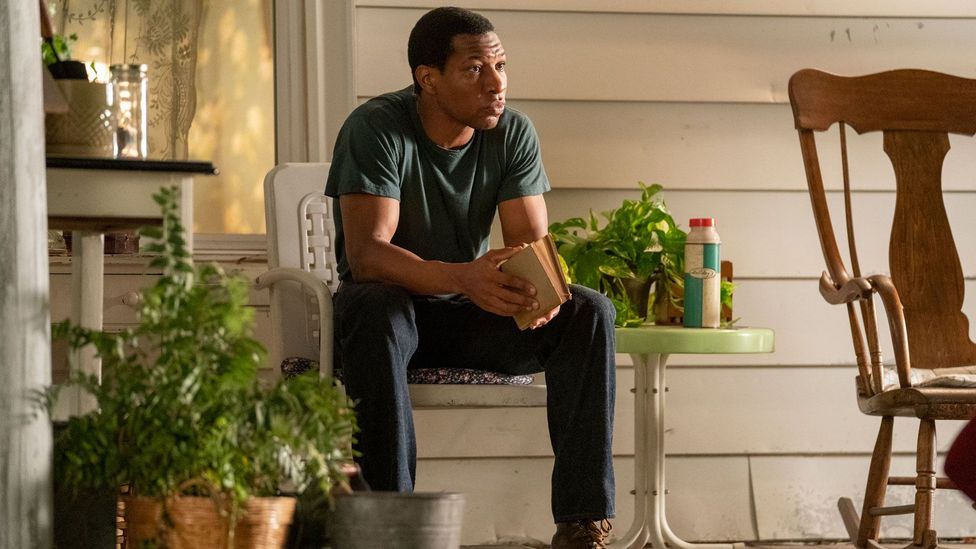 Tic and George discuss HP Lovecraft – renowned horror author and racist – and the series reclaims power from the author (Credit: HBO)
Another sign of the show's bluntness is the pointed way Tic and George discuss HP Lovecraft, the early 20th-Century writer known as a master of horror, and as a blatant racist. Montrose has written to Tic asking him to join him in the Massachusetts town of Ardham, which sounds suspiciously like the sinister Arkham that Lovecraft wrote about. Tic and George can identify the reference because they are Lovecraft fans, despite the racism. Earlier, Tic had told a woman he meets on the bus that he looks at artists the way he does people, trying to "overlook their flaws". She reminds him, "the flaws are still there". The series does not overlook them, as it reclaims power from Lovecraft himself and considers the role of art, and of guilt and forgiveness.
The other main character, who also returns home to Chicago, is Letitia (Jurnee Smollett-Bell), a photographer floundering for a place in the world. Her family squabble is with her sister, Ruby (Wunmi Mosaku), a talented singer who brings a jolt of music to a neighbourhood block party, and the series. Smollett-Bell and Mosaku are especially good, making their strong-willed characters energetically alive. Majors, who played the son in Da 5 Bloods, can display Tic's explosive anger, but too often through the series he registers a single, go-to look: stern.
From this realistic beginning, Tic, Letitia and George set off to find Montrose. In a tense and thoroughly believable action sequence, a racist sheriff tries to run them out of town, pursuing them on a country road. But by the end of the first instalment, they've also encountered supernatural creatures, including a giant octopus-like monster that Tic identifies as a shoggoth, from a Lovecraft story. Threatened during the night, Letitia has a line that could have come from any one of a hundred horror movies: "We just need to survive until Sun-up." The special effects are often as knowingly corny as the dialogue.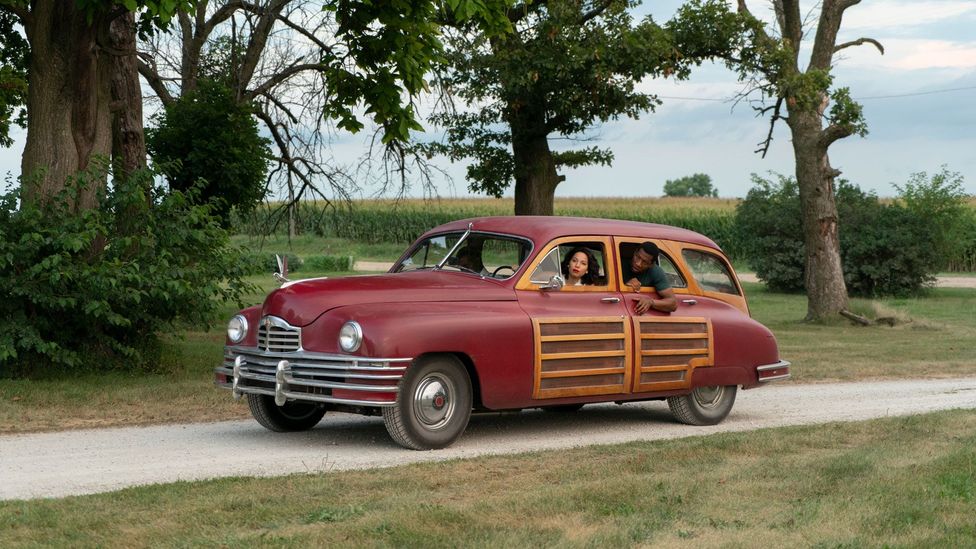 Tic, Letitia and George embark on an otherworldly road-trip to find Montrose (Credit: HBO)
The otherworldly continues to intrude on reality when the trio arrive at a mansion which houses a dark-magic cult known as The Sons of Adam and is owned by the Braithwhite family. Yes, they actually have white in their name. The grown-up daughter, Christina, and her boyfriend, William, are the picture of blonde, blue-eyed Aryan ideals. This place was not in George's safe travellers' guide.
Sexism figures in the story along with racism. Letitia is an oddity as an ambitious, independent woman. Even the villainous Christina is frustrated at being disenfranchised. The Sons of Adam are well-named. No daughters allowed.
From then on, to appreciate the series you have to accept, or maybe forgive, the way it lurches from one genre to another. One episode evokes an Indiana Jones adventure, as characters race against time through tunnels about to flood with water. Another is pure Twilight Zone, when a black character wakes in the body of a white person.
Each episode includes a brief, anachronistic voiceover taken from a major black cultural figure, including James Baldwin and Ntozake Shange. The quotations are not identified, they simply register as out of time and place, yet relevant. The music works similarly, ranging from Ruby's 1950s songs to rap and Rihanna on the soundtrack. It isn't a stretch to see Lovecraft Country and Beyonce's new visual album, Black is King, as similar in their aims, different though they are in style. Both are celebrations of black culture, at a time when Black Lives Matter and social reckoning make their themes particularly resonant.
?????
Lovecraft Country premieres on 16 August on HBO in the US and on 17 August on Sky Atlantic/ Now TV in the UK.
Love film and TV? Join BBC Culture Film and TV Club on Facebook, a community for cinephiles all over the world.
If you would like to comment on this story or anything else you have seen on BBC Culture, head over to our Facebook page or message us on Twitter.
And if you liked this story, sign up for the weekly bbc.com features newsletter, called The Essential List. A handpicked selection of stories from BBC Future, Culture, Worklife and Travel, delivered to your inbox every Friday.