There are echoes of Hitchcock and Basic Instinct in a new TV series telling the origin story of Nurse Ratched from One Flew Over the Cuckoo's Nest, writes Nicholas Barber.
A
Anyone who has read Ken Kesey's One Flew Over the Cuckoo's Nest, or seen Milos Forman's 1975 film adaptation, will remember the formidable Nurse Ratched. Louise Fletcher won an Oscar for playing the role, and Ratched herself keeps cropping up on lists of the greatest ever movie villains. All the same, I doubt more than three people have ever wanted to know what the character got up to before she was the tyrannical head nurse at the Salem State Hospital. There was certainly no need for an eight-part Netflix series revealing her back story, so Ratched might well have you grumbling about the film and TV industry's tedious obsession with prequels.
More like this:
– Why we no longer need superheroes
– Ten TV shows to watch in September
– The reality series dividing viewers
Watch this compulsively bingeable series, and that grumbling won't last long. The character in Evan Romansky's blackly comic melodrama might be vaguely similar to the one in One Flew Over the Cuckoo's Nest, with some background details in common (both were army nurses during World War Two). But Romansky's tone and plotting have less to do with Kesey and Forman's work than with Thomas Harris's and Alfred Hitchcock's. There are echoes of Basic Instinct, too – and that's even before Sharon Stone sashays in with a monkey in a pink dress perched on her shoulder. Imagine all of the most charismatic and dangerous characters from Silence of the Lambs, Hannibal, Psycho, Vertigo and Basic Instinct gathered in a small Northern Californian town in the 1940s, and you'll have a flavour of the lavish banquet of death, depravity and designer millinery that Ratched serves up.
In a long overdue starring role, Sarah Paulson is wonderfully poised as Mildred Ratched, poker-faced and bolt upright, apparently reserved and obviously steely, but with flutters of hidden anxiety. At any rate, Paulson definitely knows how to lend gravitas and power to such lines as, "No one has ever put their name on a peach with a felt tip!" In the first episode, Mildred drives to the Californian coast, checks into a clifftop motel, and then lies, blackmails and poisons her way into a job at a mental institution for her own nefarious reasons. Mind you, who wouldn't want to work there? The institution is an art-deco palace, with huge chandeliers, offices the size of tennis courts, and an airy foyer that would be just right for high tea or evening cocktails.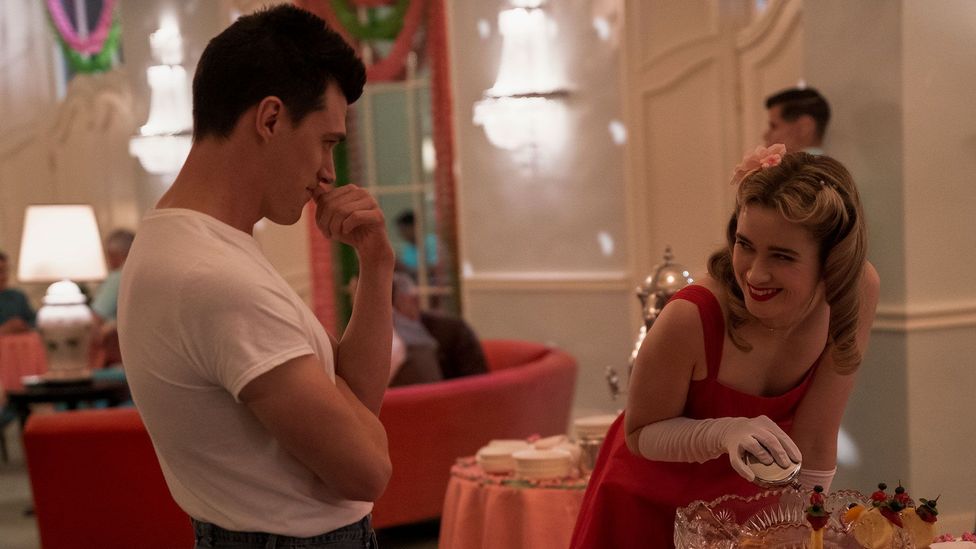 (Credit: Saeed Adyani/Netflix)
Recent US TV series set in the mid-20th Century, from The Marvelous Mrs Maisel to Lovecraft Country, have portrayed the period as a paradise of shiny vintage cars and cool clothing – especially those series developed by Ryan Murphy, such as Feud and the recent Hollywood. (Where would America's classic car restorers be without Murphy to give them steady employment?) Ratched was developed by Murphy, and he has taken his signature aesthetic to intoxicating new extremes. Every character looks as if they've just stepped off a catwalk, and every piece of furniture could be displayed in a museum, so all the dark and devious deeds become horribly pleasurable to watch.
And there's no shortage of dark deeds. The institution is run by Dr Richard Hanover (Jon Jon Briones), a Filipino-American with a suspiciously WASP-ish name who believes he can revolutionise mental healthcare with hypnotherapy, hydrotherapy, lobotomies, and various drugs he samples himself. His latest patient is Edmund Tolleson (Finn Wittrock), an unrepentant murderer who is caged up, Hannibal Lecter-style, in a beautifully vaulted and tiled basement. Hanover is hoping to secure funding from the State Governor (Vincent D'Onofrio), but he needs to win over the Governor's press secretary, Gwendolyn Briggs (Cynthia Nixon), a lesbian in a sham marriage who is enchanted by Mildred. Less charmed by the mysterious new cuckoo in the nest is the institution's head nurse, a scene-stealingly funny broad named Betsy Bucket (Judy Davis).
One of the most striking things about Ratched is just how many great roles for great actresses it has. Each time you think you've seen the female character who is most likely to become a fan favourite, along comes someone just as memorable. There is Louise (Amanda Plummer), a prying motel owner with a jazz-age past and a firm belief in the medicinal benefits of leeches. And there is Charlotte (Sophie Okonedo), a schizophrenic who believes that she is Jesse Owens the Olympic gold medallist, among other people. But the queen of them all must be Stone's casually imperious Lenore Osgood, an amoral multi-millionairess with the best wardrobe, best mansion, best lines – and, indeed, best pet monkey. Her costumes will be a staple of Halloween parties and drag shows for years to come.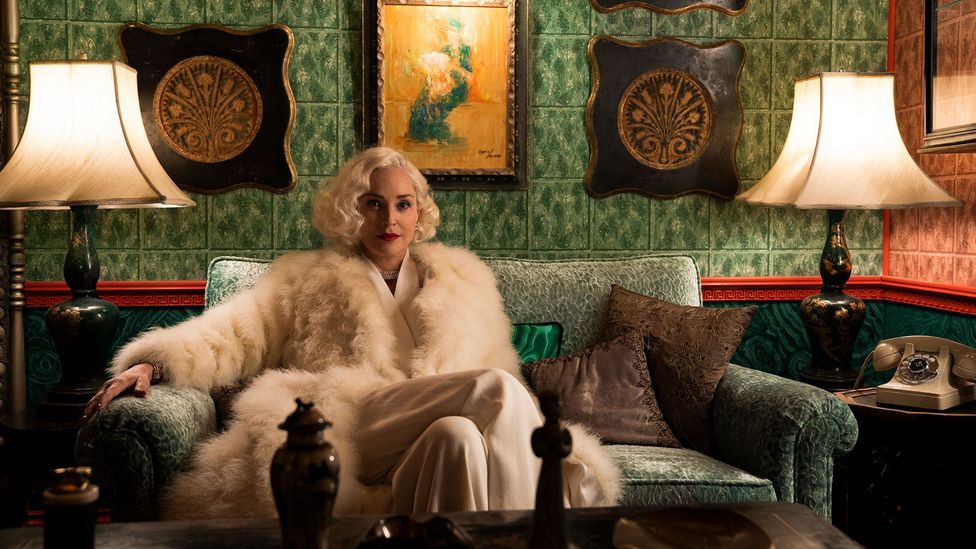 (Credit: Saeed Adyani/Netflix)
So… not exactly quiet, restrained entertainment, then. Ratched ratchets up everything, from the deeply colourful design to the Bernard Herrmann-like music to noir-ish soap-opera plotting that drips with sex and violence. But it isn't pure camp. Romansky's superb scripts keep tight control of the characters and their intertwining stories, and there are some chillingly accurate depictions of brutal 1940s psychiatric treatment. Ratched is also oddly big-hearted for such a gruesome series. The characters are a crowd of villains, with next to no one who could be classed as heroic, but they are all vulnerable, and most of them are motivated by love – even if that love inspires them to hire a hitman to decapitate an old enemy. That goes for Ratched, too. She may be crazier than any of her patients, but she does genuinely want to help people. Still, if she promises someone that she is going to relieve their suffering, don't bet on them making it to the end of the episode in one piece.
?????
Ratched is on Netflix from 18 September.
Love film and TV? Join BBC Culture Film and TV Club on Facebook, a community for cinephiles all over the world.
If you would like to comment on this story or anything else you have seen on BBC Culture, head over to our Facebook page or message us on Twitter.
And if you liked this story, sign up for the weekly bbc.com features newsletter, called The Essential List. A handpicked selection of stories from BBC Future, Culture, Worklife and Travel, delivered to your inbox every Friday.