Twenty years ago, a unique new TV show premiered, which saw a group of guys performing painful or gross-out stunts. Hannah Woodhead explores the legacy of a pop-culture sensation.
T
The dawn of the new millennium brought about a sea of television shows which have since become universally beloved: Gilmore Girls, CSI: Crime Scene Investigation and Curb Your Enthusiasm all made their debut in 2000. However, with more and more homes accessing premium channels through cable and satellite subscription packages, appetites for fresh, innovative programming, alongside more traditional genres, were increasing: when the fly-on-the-wall social experiment Big Brother premiered in the Netherlands in 1999, then in the US, UK and a host of other countries a year later, it became an international sensation. Audiences weren't just looking for sitcoms and glossy dramas anymore – in particular, they were interested in real people, or at least a facsimile.
More like this:
– The world's most offensive sitcom?
– Why the Golden Girls is so treasured
Having found success throughout the 1990s with their pioneering reality television series The Real World, MTV had themselves sought to extend the television love affair with imitations of life. Shows such as Road Rules, FANatic and True Life all followed in The Real World's footsteps, though all failed to achieve the same level of success. Fortunately for the studio execs, though, everything changed on an unassuming Sunday evening in October 2000, when they broadcast a 24-minute pilot episode of a new show they had recently picked up. In the pre-credits opening scene, a grinning face peers out from a comically large cannon, resembling Wile E Coyote from Looney Tunes. "Hi, I'm Johnny Knoxville," he shouts to the camera. "Welcome to Jackass!" These seven words became a catchphrase still recognised some 20 years later, and marked the beginning of Jackass's long life in an industry renowned for its fickleness.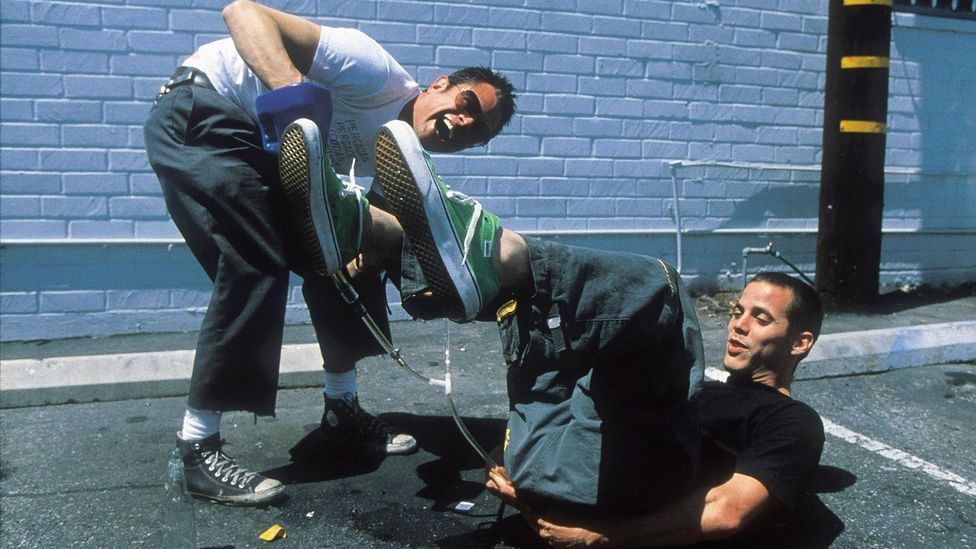 The Jackass crew, including leader Johnny Knoxville and co-star Steve-O (pictured) were brought together via the skate scene (Credit: Alamy)
How did this cultural phenomenon come to pass? In 1990, aspiring actor/writer named PJ Clapp – better known by his nickname, Johnny Knoxville – had moved to Los Angeles, and after years of failing to catch a break, was inspired by his hero, gonzo journalist Hunter S Thompson, to pitch an article which would see him testing various forms of self-defence equipment on himself, including shooting himself in the chest while wearing a bulletproof vest. Jeff Tremaine, editor of cult skateboarding magazine Big Brother (no connection to the show) convinced Knoxville to film the stunt for their VHS video series, which was packed with similar skits.
At the same time, more than 2,500 miles away in West Chester, Pennsylvania, a group of skateboarders in their late teens – Bam Margera, Ryan Dunn, Brandon DiCamillo and Chris Raab – were filming themselves getting up to all sorts of dangerous and gross-out hijinks, under the moniker CKY Crew (short for Camp Kill Yourself). "Bam was a skateboarder, and he was exceptionally better than all the other kids our age," recalls Raab, who was just 19 when they shot the footage that would become the Jackass pilot. "So, his dad got a video camera and used that to tape Bam skateboarding, which led to us taking the camera and recording other stupid stuff."
After coming across the CKY Crew videos via the skate scene, Tremaine, Knoxville, and their co-conspirator, film director Spike Jonze, were convinced that the kids from West Chester should be part of the prank and stunt show that was germinating in their minds. Under Tremaine and Jonze's supervision, a supergroup of all-American delinquents was formed. Headed by Knoxville, it was comprised of staff and associates of Big Brother – one of the other most high-profile people in the Jackass line-up, Steve-O, featured repeatedly in the magazine – alongside members of the CKY Crew.
The secret of Jackass's success
After the second episode saw Jackass earn MTV its highest ever Sunday night ratings, the show was deemed a hit. While prank series were nothing new (Candid Camera began airing on US television in 1948, and in the UK, Beadle's About! had been a leader in the schedules for a decade in the 1980s and 1990s) Jackass tapped into something new. The old-school hidden camera element was still occasionally present to capture candid reactions from onlookers, but for the most part, the stars were committed to making fools of themselves rather than others, with stunts that were a performance of pain, endurance, or general buffoonery. Although its content skewed towards gross-out behaviour, in mostly pranking themselves and each other the show retained a strange sort of purity. The Jackass crew were always the butt of their own joke.
"Jackass arrived at a time when the ground was very fertile," says Dr Ruth Deller, a Reader in Media and Communication at Sheffield Hallam University. "It reinvented the prank format with something quite daring and dramatic, and combined it with the 'lads together' culture which had become popular during the 1990s, typified in the UK by magazines like Loaded and shows like TFI Friday." Raab agrees that the friendship element was key to their success. "That's where I felt we connected with people. Everyone was doing stupid stuff with their friends – we just happened to have a camera."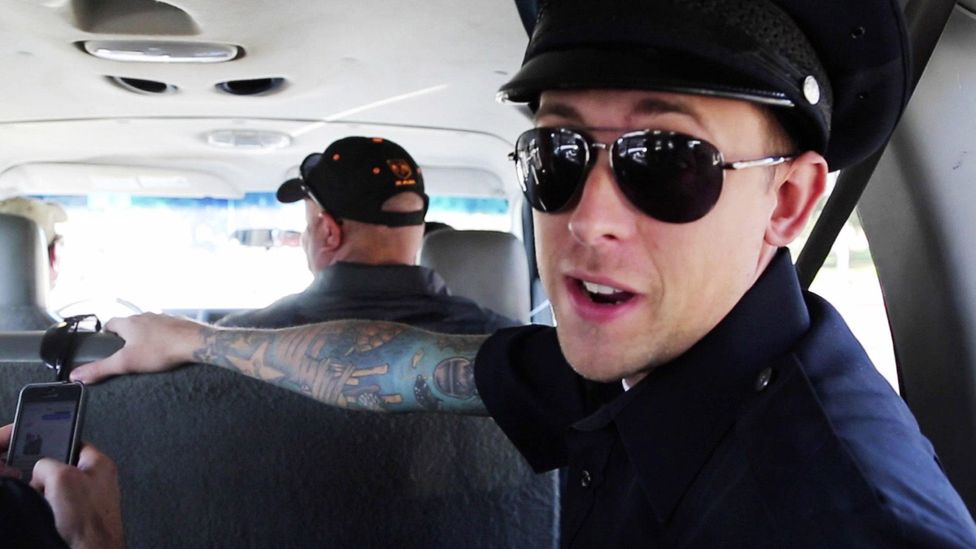 Roman Atwood was one of a new generation of YouTube pranksters who took inspiration from Jackass (Credit: Alamy)
But after Jackass made the cover of Rolling Stone in February 2001, Knoxville began to express doubts over the show's lifespan. Six months later, MTV's highest-rated original show was indeed cancelled, owing to Knoxville's departure to pursue his blossoming film career, complaints from the cast about restrictions placed on their stunts, and ongoing pay disputes. "With this kind of comedy, people become inured to the shock value," Knoxville told his hometown paper the Knoxville News-Sentinel at the time.
Only 25 episodes of Jackass were filmed, but a year later, Jackass: The Movie careened into cinemas, bigger, bolder and grosser than anything the stars had done in their television days. Two more films (plus three spin-off shows, including one with its very own spin-off movie, and a video game) would follow. Free from the restrictions of television, the films pushed the boundaries of taste and decency even further, as the stars cheekily tested what they could get away with. By the time Jackass 3D came along in 2010, so did a $20 million budget and fancy 3D camera equipment, with predictably anarchic results – one scene, shot in ultra-slow motion, shows a sex toy fired at high speed soaring through the air before hitting Jackass cinematographer Rick Kosick in the face. The shift to the big screen was beneficial for Jackass; movie-making gave them more creative freedom and resources, while retraining the chaotic spark which had made the show so popular in the first place.
The Jackass successors
What's more, despite its short-lived tenure on television, Jackass had a seismic impact on popular culture. In 2003 the UK created its own version in the form of Dirty Sanchez, centred on a group of four British lads, who Maxim magazine claimed made "Jackass look like the Teletubbies", as performers clamoured to outdo the kings of gross-out comedy. Since then, prank shows have continued to find success, but the likes of Punk'd! and Impractical Jokers have felt more staged, lacking the gonzo spirit which gave Jackass so much of its charm. It's clear that studios have recognised the importance of a charismatic maestro (or a few of them) in televising pranks, but none managed to match the chemistry seen among the original pioneers.
It's online that the rough-n-ready pranking spirit proffered by Knoxville and co has really found a home, granted a large platform boost with the birth of YouTube in 2005. The video site aided a new generation of would-be Jackasses, who could upload their antics straight to viewers rather than sending in tapes to production studios – still benefiting from the DIY aesthetic which made Jackass resonate with audiences, but cutting out the middle-man. Among the most popular prank YouTubers today are Roman Atwood (15 million subscribers) and PrankvsPrank (10 million subscribers) whose view counts make the glory days ratings of Jackass look like small potatoes. But the stunts seem more mean-spirited: in 2014 Atwood uploaded a video 'Killing My Own Kid PRANK!!' in which he duped his wife into believing their young son had been involved in an accident.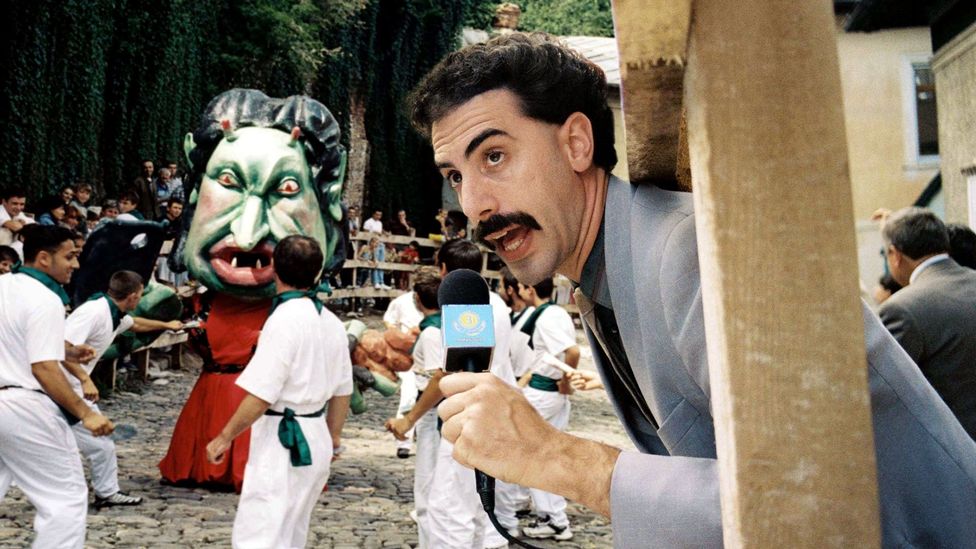 Arguably, Sacha Baron Cohen's Borat has kept the gonzo comic spirit of Jackass alive in film and TV (Credit: Alamy)
Perhaps the most famous of this new wave of pranksters is Logan Paul, who made international headlines in January 2018 when he uploaded a video of himself laughing and joking upon finding a dead body in Japan's Aokigahara Forest. Following an angry backlash, Paul removed the video and apologised, but it's hard to ignore the fact that he used an image of the body in the video's thumbnail; a decision knowingly made to garner the most attention and outrage. Paul's reputation hasn't suffered though – he still boasts 22.4 million subscribers on YouTube alone. There's an awful lot pranksters can apparently be forgiven for.
The crucial difference between Jackass and the prank culture that followed is the inherent wholesomeness of the show, which was all about hanging out with your friends and being silly – that is to say, not punching down. In the never-ending quest for more views, today's Jackass-inspired comedians often resort to performing increasingly desperate acts in order to make headlines, which are not so much outrageous as morally suspect.
Meanwhile, if anyone has kept Jackass's gonzo comic spirit alive within film and TV most strongly, it's Jackass contemporary Sacha Baron Cohen – who made his name pranking celebrities and politicians with characters including Ali G and Bruno. This week sees the release of Baron Cohen's second Borat film, featuring his roving Kazakhstani journalist creation travelling around America again, despite his vow to retire the character after Borat became too recognisable to garner the same uninhibited reactions from his unwitting subjects.
As for Jackass? Speculation about a reunion was rife for years – and, to the delight of prank-lovers around the world, Jackass 4 was announced in December 2019. Having started filming, before taking a break due to Covid-19, it will resume again soon with the original cast involved. All being well, we can expect to see the boys back on screen in September 2021, and Raab says the magic is very much still there. "But I'm holding a camera on this one," he laughs. "Something crazy happened on set and Rick Kosick turned to me and said, "Aren't you glad you're behind the camera now?!"'
Love film and TV? Join BBC Culture Film and TV Club on Facebook, a community for cinephiles all over the world.
If you would like to comment on this story or anything else you have seen on BBC Culture, head over to our Facebook page or message us on Twitter.
And if you liked this story, sign up for the weekly bbc.com features newsletter, called The Essential List. A handpicked selection of stories from BBC Future, Culture, Worklife and Travel, delivered to your inbox every Friday.