Perry Mason review: A detective show for our dark times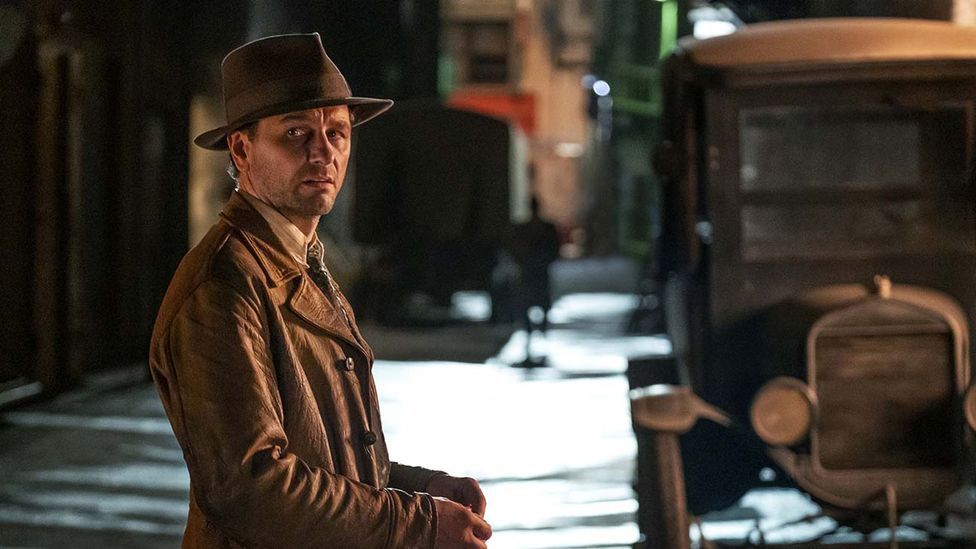 Matthew Rhys stars as the scruffy, no-nonsense noir hero, fighting for justice against corruption and fraud. The series' shadowy world suits the current mood, writes Caryn James.
I
In dark times like ours, there is something especially comforting about noirs: the shadowy world that suits our mood; the hero who is no better than he has to be; the crime that will inevitably be solved, restoring the world to at least some kind of order. Television's latest noir hero is, improbably, Perry Mason. He is best known as the no-nonsense lawyer played by Raymond Burr in the 1950s and '60s television show that usually ended with Mason exonerating his client by getting the real culprit to confess in court. Without Perry Mason there might be no Law and Order, or countless other crime-solving legal series.
More like this:
– Ten TV shows to watch in June
– The best TV shows you've never heard of
– The cartoon with the meaning of life
The radically different and welcome Perry Mason in the new HBO series is a scruffy, down-on-his-luck private investigator in Los Angeles in 1931, who comes with the great advantage of being played by Matthew Rhys. Rather than break the noir mold, the series embraces its genre elements. This Mason is a Fedora-wearing, unshaven, cigarette-smoking hero first seen on a rainy night eating at a restaurant called Ptomaine Tommy's, staking out a case. Mason, along with the good and not-so-good people he tangles with – and the swerving, multi-layered case that obsesses him – make the series smoothly engaging. It is never spectacular or terribly original, but it is always absorbing.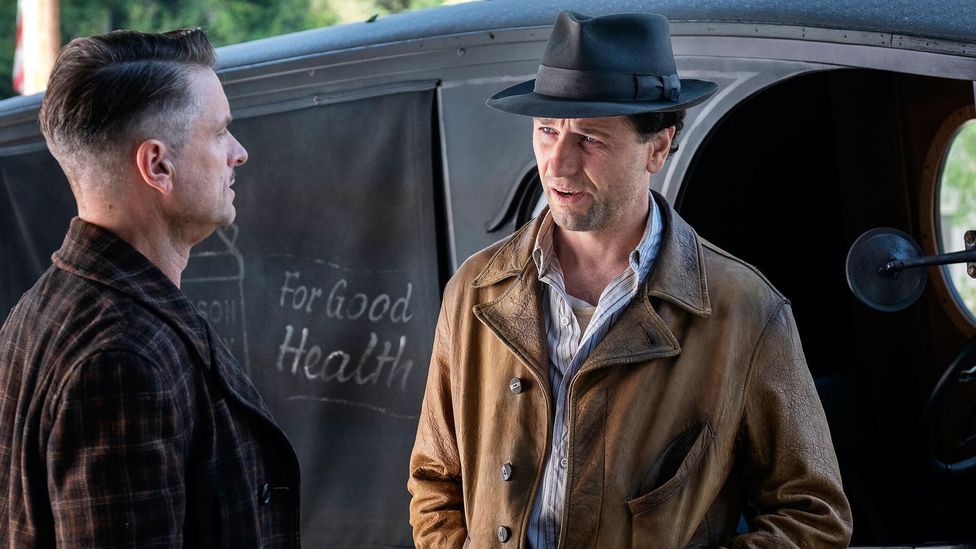 For a long stretch, it seems this reinvented hero could have been named anything at all. He is given a detailed history that is not in the classic television show or the fiction that inspired it, the dozens of novels and stories that Erle Stanley Gardner began writing in the 1930s. Here he is haunted by his time in battle during World War One, seen in occasional flashbacks. He is in debt, living in a ramshackle farmhouse his parents left him, next to a private airfield with an 'Airplane Crossing' sign sticking out of the dusty ground.
Unlike so many noir detectives, this Mason is no womaniser. Now and then he has convenient sex with Lupe (Veronica Falcon), a blunt, hard-drinking pilot who owns the airfield and is the opposite of a glam noir femme fatale. He has an estranged ex-wife, a young son and no visible future.
Rhys plays him with absolute clarity. Sometimes Mason will break into a house and steal evidence. "The way I see it, there's what's legal and there's what's right," he says. Smartly, Rhys doesn't go for a stereotypical tough-guy delivery, but has a calm, straightforward, slightly defeated tone. At times Mason is a selfish jerk, but we see that his behaviour comes from a desperate need to simply survive. Mason often works as an investigator for a gentlemanly lawyer, EB Jonathan (John Lithgow), who draws him into the case that runs through the series. A baby is kidnapped, with gruesome results, and when the child's meek parents become suspects, Jonathan takes on the defence. But the parents, the police detectives, even Jonathan himself, have murky secrets in their pasts. In one of the series' many delightful small touches, Lithgow adds a sly, contemporary nod to the line, "Who tells the truth anymore?"
Some grisly images, particularly of corpses, are scattered through the series. Those scenes are so jarring, the jolts may be harder than intended. Like the World War One flashbacks, which seem tossed in half-heartedly, these elements are not organically blended in. But the character and plot are nicely balanced. As Mason's character evolves, the story becomes more intricate, and he becomes fiercely determined to solve the case, even while the likely suspects keep shifting.
Gayle Rankin (Sheila the She-Wolf in GLOW) is especially nuanced as Emily Dodson, the kidnapped child's distraught but mysterious mother. She is in the thrall of a money-making church and its glamorous, peroxide-blonde preacher, Sister Alice (Tatiana Maslany). More entertainer than spiritual leader, Sister Alice is a radio preacher who promises her congregation miracles, including to raise a loved one from the dead. There is something so suspicious about Alice, her overbearing mother (Lili Taylor), and the wealthy businessman who supports their church (Robert Patrick), that we're constantly wondering who is the most sinister. Their plot glancingly touches on themes of fame, belief and fraud.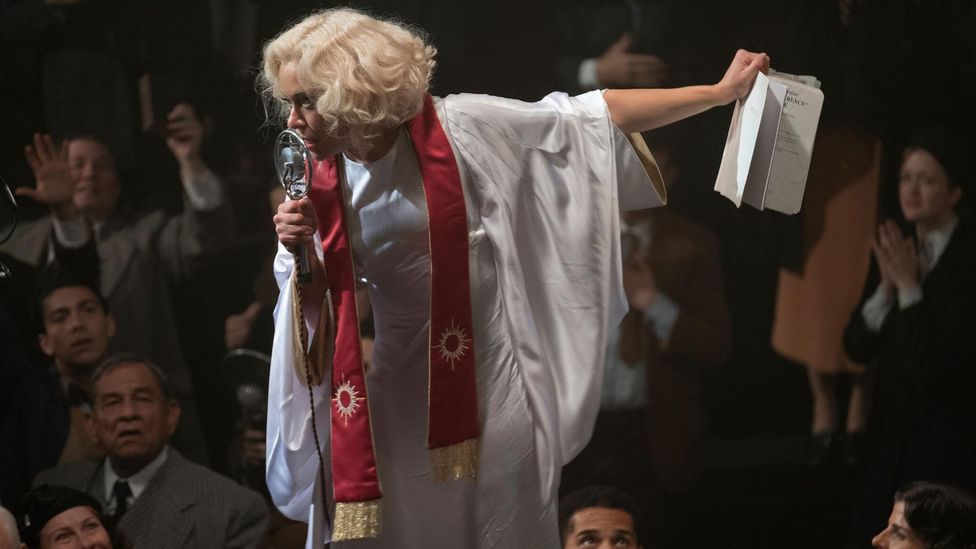 You don't have to know a thing about the old Perry Mason to appreciate this series, but anyone who does will identify two characters. Jonathan's assistant is Della Street (Juliet Rylance), smarter and better informed about legal issues than most of the lawyers around her. We know from the classic stories that she becomes Perry Mason's assistant, but the new show reinvents aspects of her identity, too. Paul Drake (Chris Chalk), a police officer here, is Mason's private investigator in the classic version. One of the new series' better tweaks is to cast a black actor as Drake, and to create a strong subplot exposing the racism and corruption in the police department. As Drake grapples with choices about his own future – he is a cop but forbidden to handcuff a white man – Chalk gives the character a strength and sternness that make him almost as compelling as Mason.
Late in the series, we can see that this is an origin story after all, as Mason's trajectory takes him toward the law. All along, we've known he could clean up very well. He's Perry Mason and he's Matthew Rhys. What are the odds he'll stay scruffy? And like all good noirs, the series ends in a world as dark as ever, with a tiny bit of justice restored.
?????
Perry Mason premieres on 21 June on HBO.
Love film and TV? Join BBC Culture Film and TV Club on Facebook, a community for cinephiles all over the world.
If you would like to comment on this story or anything else you have seen on BBC Culture, head over to our Facebook page or message us on Twitter.
And if you liked this story, sign up for the weekly bbc.com features newsletter, called The Essential List. A handpicked selection of stories from BBC Future, Culture, WorkLife and Travel, delivered to your inbox every Friday.