The cuff is the perfect blend of empowering and sexy, and its story spans Ancient Egypt and 1970s New York, Wakanda and Wonder Woman. Cath Pound explores an iconic item of jewellery.
T
The cuff is having a moment this year. Not only will Gal Gadot as Wonder Woman be storming back on to our screens in her legendary bracelets of submission but Elsa Peretti's iconic Bone cuff, created at the height of the women's liberation movement, is celebrating its 50th anniversary. The style, which can be traced back thousands of years, has long had associations with power. First sported by the Ancient Egyptians and the Mayans, the cuff is a fashion item whose bold form has made it a highly visual indicator of status. Decorated in intricate symbols or patterns, it has also provided powerful links to a people's spiritual and cultural identity. Unsurprisingly, since the early 20th Century it has been the wrist adornment of choice for stylish women who refuse to bow to convention.
More like this:
– The millennials redefining sexy
– Why more men are wearing jewellery
– The floral fabric that was banned
By the time of the First Dynasty (c 2680 BC) Egyptians were wearing rigid gold cuffs that opened and closed with a hinge. For the elite, those were often inlaid with stripes of semi-precious stones and a type of coloured glass that was first discovered in Egypt and initially extremely rare and expensive. In Mayan culture, elaborate gold jewellery played an integral role in the royal dress codes. An important indicator of rank, cuff bracelets would only be worn by the king.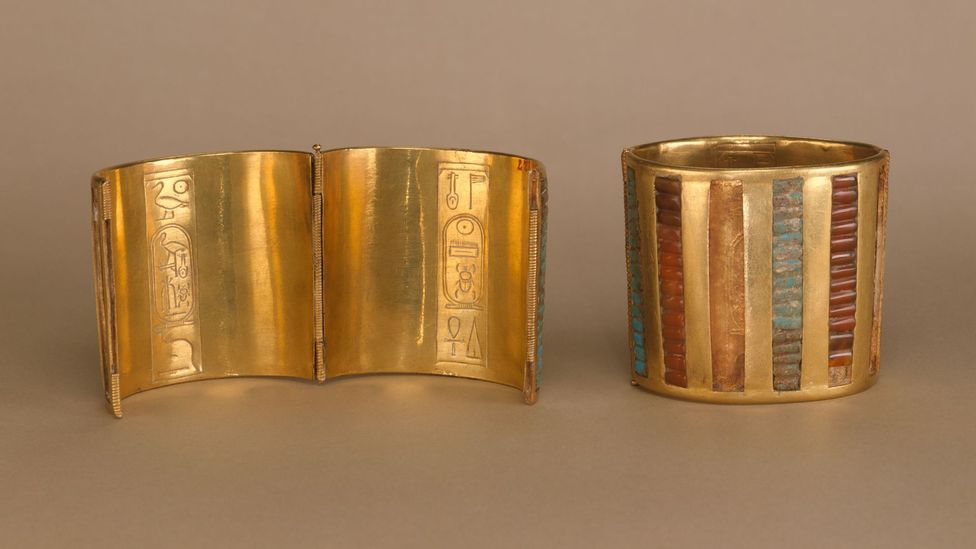 Ancient Egyptian hinged cuffs believed to have belonged to the wives of Thutmose lll, who ruled Egypt for more than 50 years (Credit: Met Museum)
However, cuffs did not have to be made of fine materials in order to indicate status. In the West African Kingdom of Benin, which reached the height of its power in the 16th Century, materials imbued with a spiritual meaning such as ivory, coral and brass were decorated with symbols that linked the Oba (king) with his spiritual counterpart, the sea god Olokun. This included the unusual combination of mudfish and the faces of Portuguese merchants, with whom the kingdom traded.
As Beth Carver Wees, curator of American decorative arts at New York's Metropolitan Museum of Art tells BBC Designed, "mudfish were amphibious, and they believed the Portuguese, who arrived in these big ships, were amphibious too". Both therefore spoke of the king's ability to cross between the earthly and spiritual realms.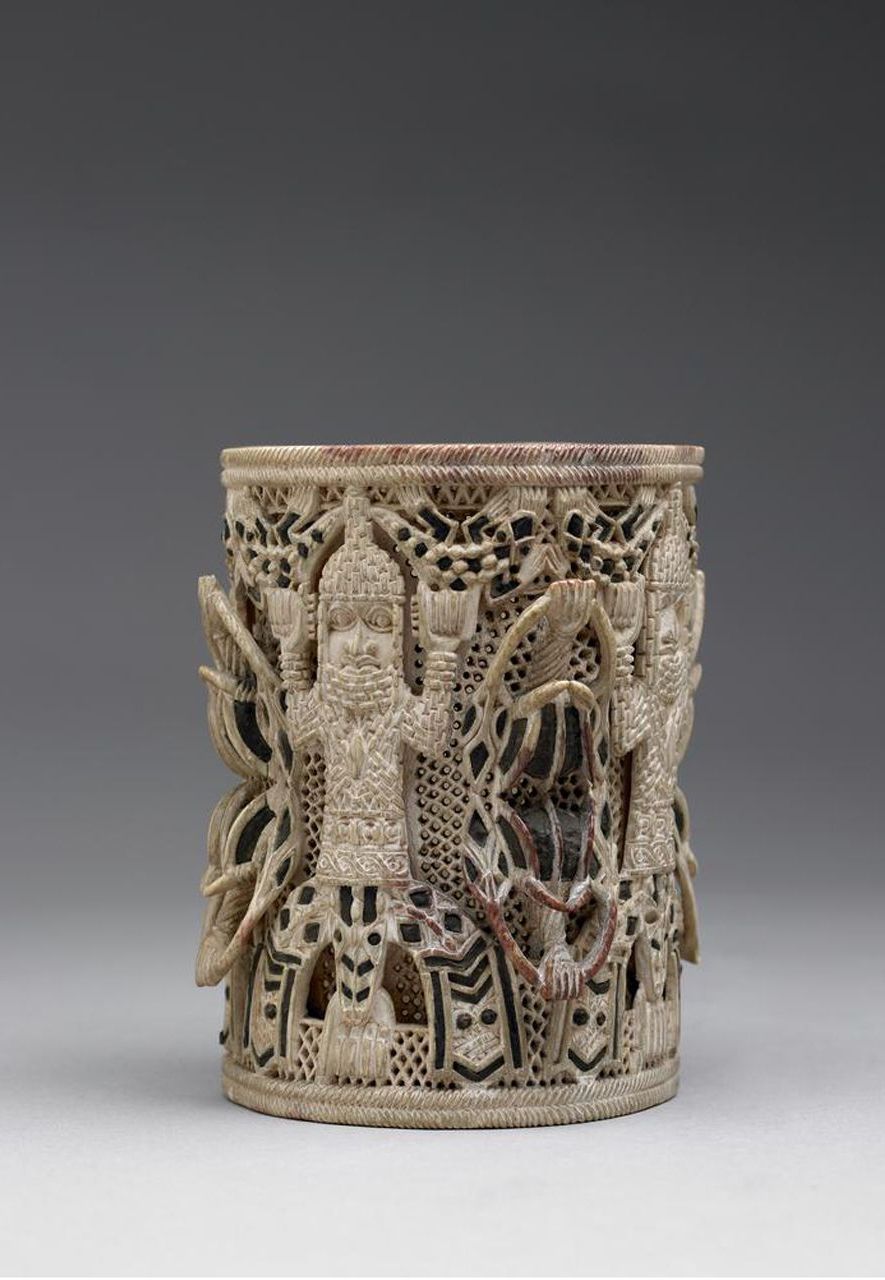 An ivory armlet depicts the Oba (king) of the African kingdom of Benin with symbolic mudfish legs (Credit: British Museum)
Carver Wees also points to the "magnificent" cuffs made by Native American jewellers, in particular those from the Navajo Tribe. Native Americans had worn cuffs of leather or finely crafted beadwork for centuries. In the late 19th Century they learned from the Spanish how to work silver, and began to craft beautiful designs featuring silver leaves, flowers and beads. These were often embellished with stones such as turquoise. These cuffs had a spiritual, aesthetic or monetary value. Multiple cuffs would be worn to show status as a matriarch or patriarch.
Native American-made jewellery was popular with Anglo-American tourists from the late 19th Century as a wearable souvenir of their travels across the southwest, but the large embellished cuffs were not to their taste. Smaller, more delicate versions were made for the tourist trade and sold in hotels and retail stores managed by the Fred Harvey Company.
Bold cuff design in Western culture did not really appear until the 1930s, in part because of the prohibitive costs that would have been involved in creating fine jewellery in that form. Coco Chanel overcame the problem in her own inimitable style by getting her friend and jewellery designer Fulco di Verdura to set some of her stones in base metal cuffs covered in white enamel. "She and de Verdura were just having a good time. They were so irreverent about their use of materials and quality level. They were just going for the effect," says Marion Fasel, editor of online jewellery magazine The Adventurine and an expert in 20th-Century jewellery. Chanel loved her Maltese Cross cuffs, whose mismatched designs are a loose interpretation of the star of the Knights of Malta, and was rarely seen without them. Her unique sense of style meant that she could effortlessly combine them with both casual and formal wear.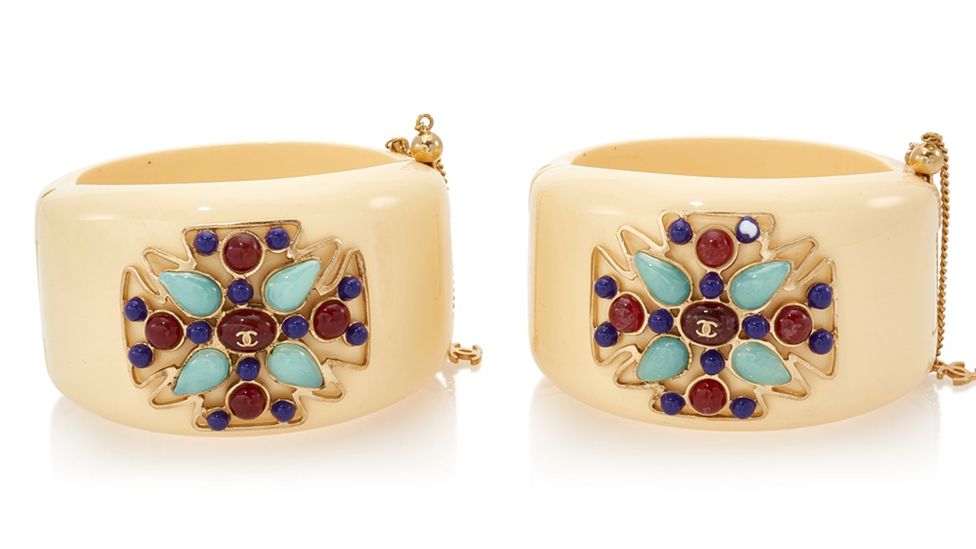 Chanel cuffs in the style of the famous Maltese Cross cuff were recently auctioned at Sotheby's (Credit: Sotheby's)
The cuffs have become one of the most iconic designs in jewellery history. Reinterpreted in fine materials, they have been worn by contemporary style icons including Sarah Jessica Parker and Sofia Coppola. However, with examples retailing at between $35,000 (around GBP28,000) and $49,000 (around GBP39,000), they are most certainly for the select few, and perhaps lack the charm of Chanel's quirky originals.
In the 1960s the legendary magazine editor Diana Vreeland made cuffs her own. She shared the irreverent attitude of Chanel, and happily sported elaborate costume pieces which suited her maverick sense of style. Most associated with a warrior-style pair, featuring three ivory coloured bands, she also frequently wore copies of Verdura's cuffs by the costume jeweller Kenneth Jay Lane.
Powerful and feminine
Despite some intriguing Bakelite pieces appearing in the 1930s the cuff largely remained the provenance of stylish iconoclasts like Chanel and Vreeland, until Elsa Peretti created her ground-breaking Bone cuff in 1970. Its sensual undulating form that rises above the wrist bone and envelops the wrist was both powerful and feminine and perfectly encapsulated the era. As did Peretti herself.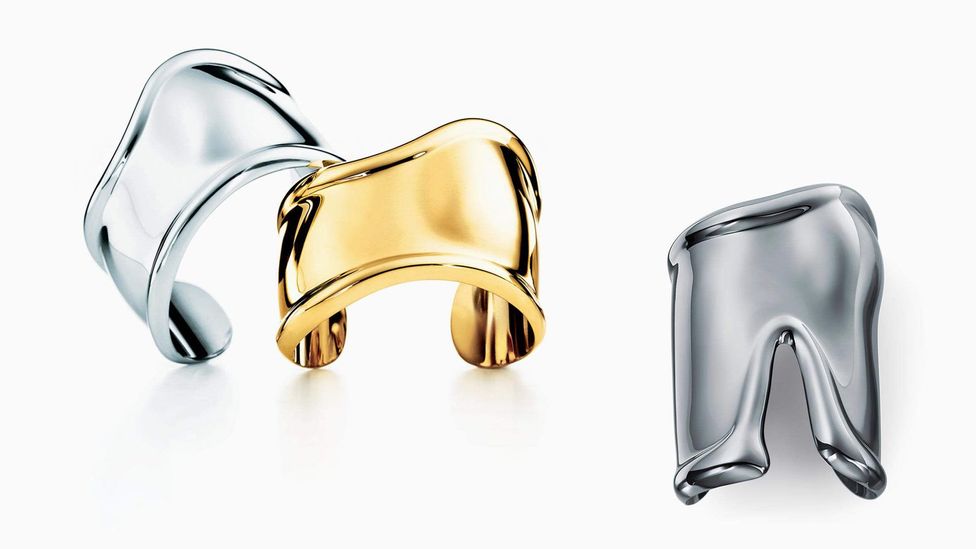 The Tiffany Bone cuff by Elsa Peretti celebrates its 50th anniversary this year (Credit: Tiffany and Co)
Born into one of Italy's wealthiest families, Peretti was a strong-willed young woman who was determined to go her own way even if it meant the purse strings being cut. After a spell of modelling in Barcelona, she arrived in New York and became a regular on the city's decadent, debauched party scene. She soon became one of Halston's favourite models, and it was at his suggestion that she began designing jewellery for his collection, taking the unusual step of working in silver, which at the time was considered less desirable than gold. The Bone cuff was one of her first pieces and an instant sensation, worn by the likes of Liza Minnelli and Sophia Loren.
"They were really reflective of the women's movement that was happening in America at the time… they had that empowering silhouette that can be traced back to Greek and Roman times," explains Fasel. And being made of silver, they were not only available to an elite. "She was very in tune with what was happening on the streets of New York. When she started at Tiffany in 1974 she did a press interview where she said she designed jewellery for the working girl," says Fasel.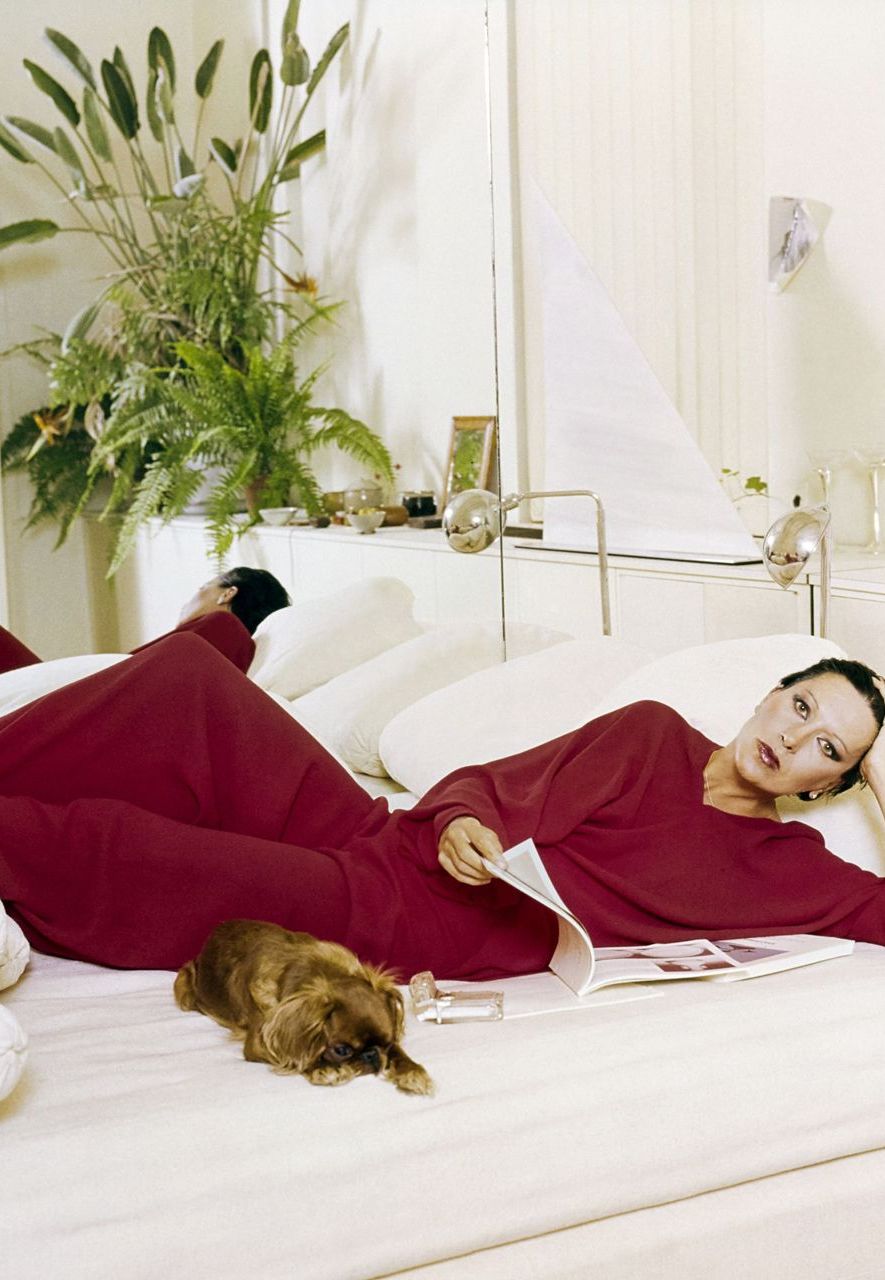 Designer of the iconic Bone cuff, Elsa Peretti, pictured in Halston pyjamas for Vogue in 1976 (Credit: Getty Images)
The cuff became the wristwear of choice throughout the 1970s, and with the price of gold at an all time low, it meant that more extravagant examples also made an appearance. Jackie Onassis famously wore a pair of Van Cleef & Arpels hammered-gold cuffs at a charity event where she was photographed with Muhammad Ali. Clasping his hand, she is the epitome of confident 1970s womanhood.
In the 21st Century cuffs have seen a revival of interest helped no doubt by their appearance in superhero films. In Black Panther they are worn by the Dora Milaje, the elite group of female bodyguards who are also part of Wakandan special forces. The wire cuffs, which extend from wrist to forearm, are undeniably powerful looking while also being beautiful enough to be considered wearable in the real world. This is probably because the pieces were, unusually for a film, created by a jewellery designer, Douriean Fletcher. Fletcher also makes cuffs for her own collection and has spoken of her desire for the women who wear them to feel empowered.
Wonder Woman's legendary cuffs – or 'bracelets of submission' – as worn by Gal Gadot in the 2017 film (Credit: Alamy)
Wonder Woman's bracelets of submission, which deflect bullets and create a defensive forcefield when clashed together, are the ultimate power accessory, though somewhat unobtainable for mere mortals. However, in the new film, set in 1984, Wonder Woman is also seen sporting a cuff when off duty. The cuff in question is a yellow-gold medium Bone cuff. "We would have died if it had been anything but Elsa Peretti," laughs Fasel. "Just because of what it represents, and what she represents. She's a female jewellery designer. She's always been an empowered, independent woman. And the bracelet is as iconic as Wonder Woman herself." Those wanting to embrace their inner superheroine may well be tempted to invest in their own.
If you would like to comment on this story or anything else you have seen on BBC Culture, head over to our Facebook page or message us on Twitter.
And if you liked this story, sign up for the weekly bbc.com features newsletter, called The Essential List, a handpicked selection of stories from BBC Future, Culture, Worklife and Travel, delivered to your inbox every Friday.